Fauja Singh An oldest Marathon Runner
Fauja Singh who is also known as 'Turbaned Tornado" is the oldest marathon runner although he is retired now but before getting retired he made numerous world records. He is Indian but moved to London at the age of 83 in the late '90s. His career started at the age of 89 in 2000 and since then he started making records and inspired people with his enthusiasm at such old age. He fought with all the odds of his life and came out of a traumatic situation in such an inspirational way. But it wasn't easy at the life of Fauja Singh has been a roller coaster ride and he endured a lot so let's know more about an Indian sensation from the beginning itself.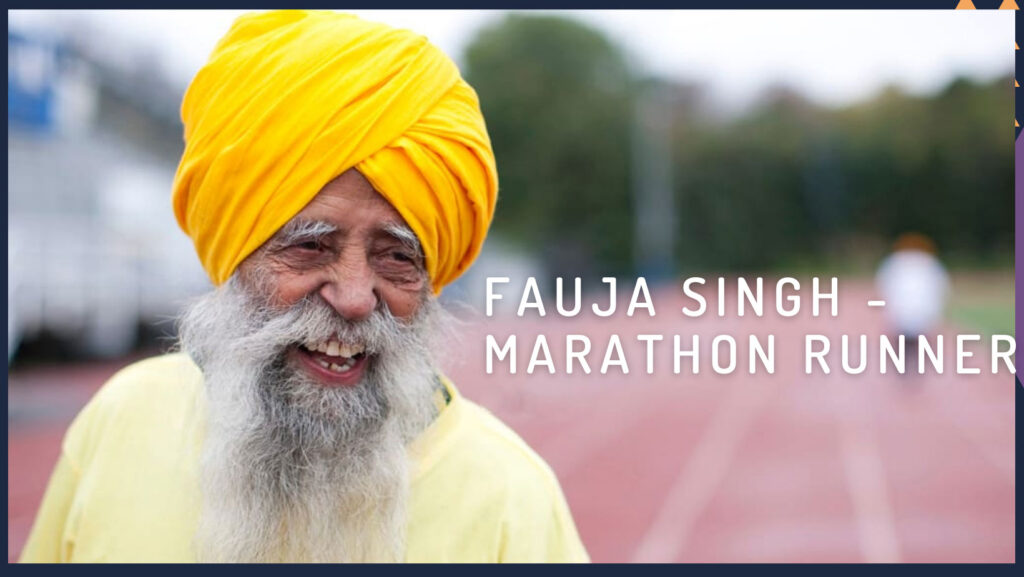 "The Secret to a long and healthy life is to be stress-free. Be grateful for everything you have, stay away from people who are negative stay smiling and keep running."
— Fauja Singh
What is Fauja Singh?
Fauja Singh is a 110-year-old Indian-born, United Kingdom citizen. He is a marathon Runner by profession and he has beaten so many world records by being the oldest marathon runner.
About Fauja singh:
Fauja Singh's birthplace is Jalandhar, Punjab India. He was born on 1st April 1911. He was not like any other child as he was very week even at the age of 5 he wasn't able to walk because of his weak legs but he never gave up and finally, he started walking he was from an agricultural family so he used to help his parents in the fields and all the house works.
His life was pretty much simple now he was completely fit and fine also good looking and hardworking after he reached the age of marriage his parents found a suitable girl namely Gian Kaur for him and they got married and happily lived the usual domestic life they had six children three daughters three sons, though Fauja Singh himself had a simple life he encouraged his children to study well and later on they either got a job or got married and moved to abroad like London or Canada but there one son Kuldip Singh decided to stay with his mother and father in Punjab only so that he can take care of them though they use to visit abroad to meet their children.
In 1992 Gian Kaur wife of Fauja Singh passed away he was disheartened but then he has to move on as this is what life is everything was getting back to normal but Life happened.
His son Kuldip Singh was murdered right in front of his eyes and it happened just after 2 years of his wife's death. It was a horrible incident and Fauja Singh was way too stressed as the scenario of his son's death use to haunt him again and again.
He was just passing days in grief when his children decided to take him with them to London. At the age of 83, he moved to London.
Everything was normal and then on a very fine day, he saw a news on television about the London marathon just then he made his mind that I will participate in it and then there was no coming back as he was so determined about it.
He was coached by Harmander Singh(An athletic coach). Now he got a distraction from his usual bad thoughts he concentrated on the marathon completely for a couple of months before the final marathon and then came the final day of the London Marathon 2000 he ran aside his coach and he won the race when asked about the strategy he simply said " I was talking to the God (Rabb) while running) .
After his first win he kept on working on himself he was vegetarian and never followed ant fancy diet he said I eat simple roti and sabzi with curd and drink the milk also a lot of water.
Gradually after beating numerous world records he became a sensation he won various awards and inspired so many people around. And got various names like "Turbaned Tornado", "Running baba", Sikh Superman".
Marathon's won by Fauja Singh :
London Marathon 2000 (Age 89)
London flora marathon 2001(6:54)
London Flora Marathon 2002(6:45)
Bupa Great North Run 2002(2:39)
London Flora Marathon 2003(6:02)
Toronto Waterfront Marathon 2003: 5:40
New York City Marathon 2003: 7:35
London Flora Marathon 2004: 6:07
Glasgow City Half Marathon 2004: 2:33
Capital Radio Help a London Child 10,000 m 2004: 1:08
Toronto Waterfront Half Marathon 2004: 2:29:59
Toronto Waterfront Marathon 2011: 8:11:0
London Marathon 2012 : 7:49:21
Hong Kong Marathon (10 km) 2012: 1:34 (raised $25,800 for charity)
Parkrun uk 2012 – Age graded record holder: 179.04% with a time of 38:34
Hong Kong Marathon (10 km) 2013: 1:32:28
His personal best was set in the 2003 Toronto marathon in Canada, where he ran the 42.195-kilometer race in 5 hours 40 minutes, a world record for a 92-year-old athlete.
Achievements:
Fauja Singh was featured in Adidas' "Impossible is Nothing" advertising campaign in 2004. "6:54 at age 89," read the tagline on the advertising. At the age of 92, he was up at 5:40 a.m. Kenyans should be on the lookout when he reaches 100."
On October 2011 Fauja Singh created a history when he became the oldest man to be featured in a PETA (People for the Ethical Treatment of Animals) commercial campaign. "I am Fauja Singh and I am a Vegetarian," reads the ad, which shows him in mid-stride. World Record Holder and 100-Year-Old Marathon Runner." He was vegetarian himself.
Also Fauja Singh has carried the Olympic torch twice, in 2004 in Athens and 2012 in London. And this is obviously not a small achievement.
The British Empire Medal (BEM) was bestowed on 103-year-old Fauja Singh by the British Government in 2014 for his achievements and charitable activities.
Books written on Fauja Singh:
"Fauja Singh Keeps Going" is a children book written by Simran Jeet Singh whereas the illustrator of this book is Baljinder kaur.
"Turbaned Tornado" is a biopic written by Khushwant Singh on Fauja Singh's life and achievements.
Why Fauja Singh's Records are not ratified on Guiness world record?
According to Guinness World Records, allegations that a 100-year-old British man is the world's oldest marathon runner are false. And it is so because he Fauja singh had no birth certificate to prove his birth date.
Fauja Singh, from Ilford in east London, gained international attention after finishing the Toronto marathon last week.
"We would love to grant him the record," Craig Glenday, editor-in-chief of Guinness World Records, told the BBC. We'd want to claim that this is a legitimate Guinness World Record, but there's just no proof.
"We can only accept official birth certificates issued in the year of the child's birth." Anything else isn't going to help us at all."
Even it was addressed to the editor that during that time in India there was no such thing called birth certificate but nothing can be done now as passports or other identities are not considered as a proof for Guinness World Records.
Despite the fact that Mr Singh's achievement is posted as a world record holder on the World Masters Athletics website – an organisation that accepts a passport as evidence of age –
Fauja Singh is also said to hold UK records for his age group in the 200m, 400m, 800m, mile, and 3,000m, but British Masters Athletics (BMA) claims these records aren't official because the event where Mr Singh competed was not attended by official timekeepers, and no proof of Mr Singh's age was provided.
Inspiration:
Fauja Singh has made good use of her celebrity. He has become a health and wellness ambassador, encouraging people of all ages to exercise, eat properly, and respect the world and all of creation. He backed PETA's (People for the Ethical Treatment of Animals) vegetarian diet efforts, and he has often stated that balanced, nutritious nutrition is the key to a long life.
He refuses to amass personal wealth from his sponsorships, preferring to donate all sponsorship money to charity instead. Fauja Singh has acheived the impossible time and time again in his more than 100 years on this planet, with determination, dignity, elegance, and a servant's mindset. And he's done it with such bravery and elegance that he's impacted the lives of thousands of people all around the world.
Conclusion:
Fauja Singh indeed is an inspiration who taught that there is nothing that can stop you from achieving your goals until and unless you are focused to achieve them. His journey from being in trauma to an influential character has been inspirational.
Navigate to this page for more details about this new blog.
Please follow and like us: