Khushwant singh
Khushwant Singh, one of India's most well-known novelists, was born in Hadali in 1915. (now in Pakistan). He was a historian, columnist, outspoken political commentator, and social critic in addition to being a writer. He was a man of many abilities who dedicated himself to the Indian legal system, Indian journalism, and Indian literature with equal zeal and dedication. Khushwant Singh is recognised for his clear-cut secularism, humour, and a profound passion for poetry. He was a notable post-colonial writer in the English language. In the age of 99, Singh died of natural causes at his Delhi home on March 20, 2014. He is pride of India. Let's know more about his legacies, career, awards and achievements.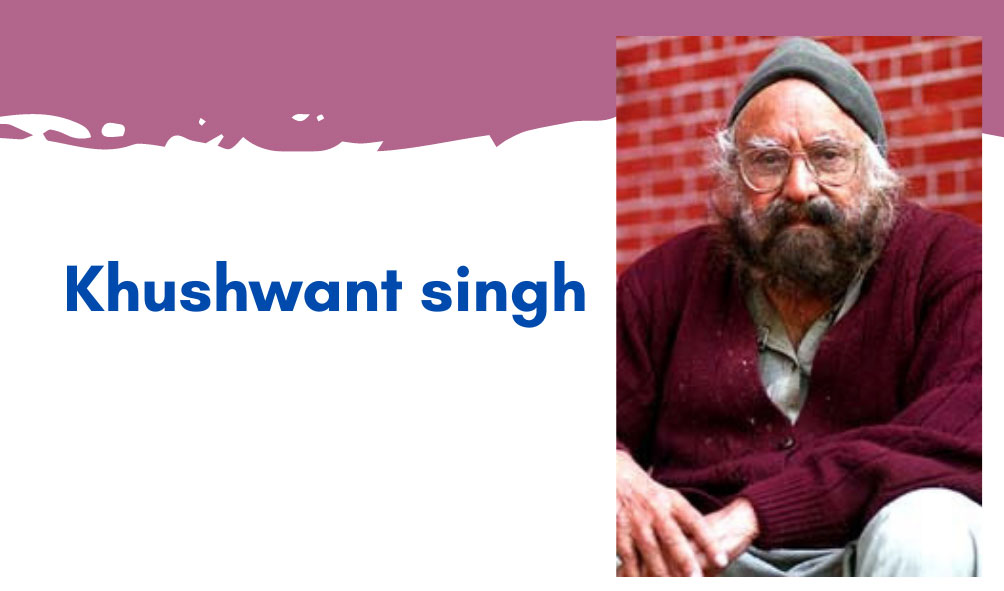 "Your principle should be to see everything and say nothing. The world changes so rapidly that if you want to get on you cannot afford to align yourself with any person or point of view."
Who was Khushwant Singh?
Khushwant singh was renowned novelist, social critic, lawyer and journalist. He was known for his upfront secularism and witty sense humor. He was a regular contributor to many national dailies and is best known for his 1956 novel "Train to Pakistan." He was self proclaimed agnostic and aethist.
About Khushwant Singh:
Sir Sobha Singh gave birth to Khushwant Singh in Hadali, Punjab, in 1915, which is now part of Pakistan. His birth name was Khushal singh but aftwer being mocked by friends in school he himself changed his name to Khushwant Singh. His father worked in Lutyen's Delhi and was one of the most notable builders of his period.
Lady Varyam Kaur was his mother's name. He has a son, Rahul Singh, and a daughter, Mala, with his wife Kawal Malik.
He was a man of many abilities who dedicated himself to the Indian legal system, Indian journalism, and Indian literature with equal zeal and dedication. He was a well-educated man who attended Modern School in New Delhi, Government College in Lahore, St. Stephen's College in Delhi, and King's College in London.
Khuswant Singh's work is so well-known that his weekly newspaper column "With Malice Toward One and All," which appears in numerous Indian national daily, is one of the country's most frequently read commentary.
From 1980 to 1986, Khushwant Singh served in the Rajya Sabha. In 1974, the President of India bestowed the Padma Bhushan upon him, but he returned it in 1984 in protest at the Union Government's siege of Amritsar's Golden Temple.
His Career:
Khushwant singh in 1938 as a professional lawyer started his career. He was dedicated lawyer and contributed in legal system of India. He worked for complete 8 years whole heartedly.
In 1947 he witnessed partition of India and Pakistan and after indepence of India in 1947 he joined IFS (Indian Foreign Services).
He began his career with IFS by working as the Government of India's Information Officer in Toronto, Canada. Singh then went on to work at the Indian High Commission in London and Ottawa as a Press Attaché and Public Officer.
He left job of IFS and later joined All India Radio as a Journalist.
He worked at Department of Mass Communications in Paris from 1954 until 1956. In 1956, he entered the field of editorial services and began editing Yojana, an Indian government publication.
From 1969 to 1978, he was the editor of the Bombay-based Illustrated Weekly of India.
Editor-in-Chief of the National Herald in New Delhi from 1978 to 1979.
He was the Editor of the Hindustan Times from 1980 until 1983.


Awards/Achievements:
He was awarded with Padma Bhushan in 1974 by President of India. But he returned it in 1984 as he was against the siege of Amritsar Golden temple by The Indian Government.
He was then awarded with Padma Vibhushan in 2007.
In 2006 The Punjab Government awarded him with Punjab Rattan Award.
He was awarded as "Honest man of the year" by Sulabh International.
In 2001 was honoured with Sahitya Akademi Fellowship from India's Sahitya Akademi.
Uttar Pradesh Chief Minister Akhilesh Yadav has received the 'All-India Minorities Forum Annual Fellowship Award in 2012.
Tata Literature Live! has given him a lifetime achievement award. In 2013, the Mumbai Litfest was held.
'The Grove Press Award' is given to the outstanding work of fiction.
From 1980 until 1986, he was a member of the Indian parliament's Rajya Sabha.
In 1954, he received international praise and the Groove Press Award for his book "Train to Pakistan," which was initially published in 1956.
Books written by Khushwant Singh:
Both fiction and nonfiction were featured in Khushwant Singh's work. He primarily wrote in English.
The Mark of Vishnu in 1950 along with other short stories.
The History of Sikhs in 1953.
Train to Pakistan, (Novel) published in 1956.
The Voice of God and more short stories in1957
I Shall Not Hear the Nightingale, (Novel) in 1959
The Sikhs Today in 1959.
The Fall of the Kingdom of the Punjab in1962
A History of the Sikhs in1963
Ranjit Singh: The Maharaja of the Punjab in 1963
Ghadar 1915: India's first armed revolution in 1966
A History of the Sikhs in 1966
A Bride for the Sahib in 1967
Black Jasmine in 1971
Tragedy of Punjab
The Collected Stories of Khushwant Singh, N.p., Ravi Dayal Publisher in 1989
Delhi: A Novel in 1990
Not a Nice Man to Know: The Best of Khushwant Singh in 1993 We Indians in 1993
Women and Men in My Life in1995
Declaring Love in Four Languages,by Khushwant Singh and Sharda Kaushik in 1997
India: An Introduction,by Khushwant Singh
The Company of Women, (Novel) 1999
Truth, Love and a Little Malice(an autobiography), 2002
The End of India in 2003
Burial at the Sea in 2004
Paradise and Other Stories in 2004
A History of the Sikhs :1469–1838 in 2004
Death at My Doorstep in 2005
A History of the Sikhs: 1839–2004 in 2005
The Illustrated History of the Sikhs in 2006
Land of Five Rivers in 2006.
Why I Supported the Emergency: Essays and Profiles in 2009
The Sunset Club in 2010
Gods and Godmen of India in 2012
Agnostic Khushwant: There is no God in 2012
The Good, the Bad and the Ridiculous in 2013
More Malicious Gossip 1989 – Collection of Writings
Sex, Scotch & Scholarship in 1992 Collection of Writings
Big Book of Malice in 2000 Collection of Writings
Khushwantnama, The Lessons Of My Life in 2013
The Freethinker's Prayer Book and Some Words To Live By in 2012
Death:
Khushwant Singh died on 20th march 2014 in Delhi. His death was natural and during his last rites President, Prime minister and Vice president mourned on his death. He left a legacy behind him which still inspires many.
Conclusion:
Khushwant Singh indeed is a pride of India. He was an amazing writer, lawyer, critic, and a great man as wherever and as whatever designation he worked he aced it with his dedication and hard work.
Navigate to this page for more details about the Semrush pricing and features.
Please follow and like us: