He didn't run. He used to fly. Name. The flying Sikh, Milkha Singh.
Born in year 1935. A resident of Lyallpur. Milkha Singh had to.. ..leave his house and flee. And he survived the riots because of his talent of sprinting. These were the riots which took place during India's partition. Lyallpur after partition, now in Pakistan. When India and Pakistan were formed.. My father & mother were killed in front of my presence…people were in a madding frenzy. There was bloodshed on both sides. The last words said by Milkha Singh's father were run Milkha run. He fled from his house.
His life changed when he joined the army. Army changed his life. This happened at a night in 1951.. .. it was announced that there will be a cross country race. And around 500 people would participate in it. This race finished and Milkha Singh was in tears.. ..because he was among the top ten runners. Milkha Singh participated in 80 international races all over the world. And won 77 out of 80. This is a fact.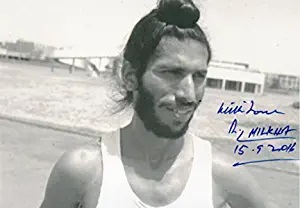 It is a fact that no other athlete has won.. ..so many international races till date. And Milkha Singh became a big name overnight from nothing. It is also noteworthy that Milkha Singh.. ..would race with a train. This was time when meter gauge trains would run. And these trains would criss cross through the localities of Secundarabad. While racing with the trains, Milkha Singh.. ..didn't know that one day he'll start to fly. And he'll get the title of the flying Sikh. Constable Gurdev Singh guided him in the army. And Brigadier George Abrahim who has retired now.. ..was the captain and team manager then. He also encourged Milkha Singh a lot. He said, "Milkha, you didn't run against Pakistan." "You went to Pakistan and flew." "So Pakistan will give you the title of the flying Sikh."
Milkha Singh represented India for the first time in 1956.. ..in Melbourne Olympics. This was the time when Milkha Singh didn't have the experience.. ..that could help him win a medal at the international level. And then in the 1958 Asian games.. ..Milkha Singh won gold medals in 200 and 400 meters. And then once again Milkha Singh won a gold medal.. ..in the 400 meter race in Cardiff Commonwealth games in 1958. Milkha Singh is the first Indian to represent independent India.. ..in commonwealth games and won a gold medal. In 1960, there came a moment when Milkha Singh.. ..got an invitation from Pakistan. He didn't want to go to Pakistan. The reason was clear. Pakistan was the land where Milkha Singh spent his childhood. But this was also the land where he had such horrific scenes.. ..which had shaken him badly. And he didn't want to revist those memories. When my parents were murdered in front of my eyes. When India and Pakistan were formed.. ..people were in a mad frenzy. Under the circumstances, the prime minister of India.. ..Pandit Jawaharlal Nehru explained to Milkha Singh.. ..that time is the best healer. You will have to go there. But Mr. Pandit called me. Pandit said, "No, Milkha.
It is our neighbouring country." "Sport increases love and brotherhood." "We must go to Pakistan." This was a 400 meter race. And he was competing against one of the best sprinters of Asia. Abdul Khalig. When I went to the hotel I found a paper. There was a paper in which it was written.. ..Milkha Singh and Abdul Khalig go head to head. India and Pakistan go head to head. When I read that I thought these people.. ..shouldn't have published such things. We have come here for something else.. ..and these people have published this. Everyone was wondering how will this scrawny sikh.. ..be able to compete against Abdul Khalig. But when this race started Milkha Singh proved everyone wrong. In this race Milkha Singh beat Abdul Khalig hollow. All the burka glad women in the stadium.. ..lifted their veils and tried to catch a glimpse of this flying sprinter. And there were 10,000 burka clad women sitting there. And they lifted their veils saw that this Sikh.. ..has done something amazing here. The Pakistani general Ayub Khan had also said that.. ..Milkha didn't run. In fact he flew. And that is how Milkha Singh became synonymous.. ..with the title the flying Sikh. General Ayub came to the victory stand to put the medal. I was standing there. And these were his words. He speaks in Punjabi. He said," Milkha, you didn't run in Pakistan today." "You flew in Pakistant today." "Pakistan gives you the title of the flying Sikh." In the olympics of 1960 and 1964.. ..Milkha Singh represented India.
In the 1960 Rome olympics Mikha Singh made a great start. He improved his timing with every round of the 400 meter race. And the hope of getting a medal was getting stronger. Milkha Singh was deprived of the medal by a very small margin. I would want an athlete among us Indians.. ..to rise and bag the olympic medal that I so narrowly missed. The regret of not winning an olympic medal did stay with Milkha Singh. But this flying Sikh gave people hope.. ..that even Indian athletes can win medals in the olympics. And after many years, Abhinav Bindra did this amazing feat.. ..when he won a gold medal in shooting. If we look at the legendary Milkha Singh's personal life.. ..then we come to know that he was married to Nirmal Kaur. Nirmal Kaur, who has been the captain.. ..of the Indian Volleyball team. His son Jeev Milkha Singh is a well known golfer.
Milkha Singh is the Indian athlete.. ..whose tale, passion and enthusiasm.. ..will keep inspiring generations to come. For bollywood's latest news and gossip.. ..log onto facebook.com/UltraHindi.. ..and Twitter.com/UltraHindi.
Please follow and like us: