Phulkari – The tradition of Punjab
The word "Phulkari" reminds of Flowers and Punjab and it is a traditional embroidery of Punjab and is one of the most detailed and beautiful embroidery. Phulkari exists since 15th century and is loved equally as before dupattas also called odhni with phulkari embroidery are most famous and women's love them so much.
The stitching is complicated and lovely, but the color scheme, stitches, and pattern make it even more stunning and lovely. It is made from a variety of fabrics and is utilised in a variety of ways. Nowadays, phulkari can be found not only on clothing, but also on bed sheets, pillow covers, curtains, and wall hangings, and it is in high demand in the market by people all over the world.
Phulkari work is a bit of a challenge because it is done with a tiny needle and vividly colored threads that are primarily red, orange, blue, yellow, green, or other similar colors.
Phulkari Details:
Punjabi women's mastery of the darn stitch resulted in a plethora of enticing and intriguing motifs and patterns. As Phulkaris are used for marriages and other events, red and its tints are the most popular. Hindus and Sikhs both regard crimson to be auspicious. Brown, blue, black, and white are some of the other colors available. In Bagh, elderly ladies wore white. Kashmiri, Afghani, and Bengali silk threads were used in the strands. China produced the highest-quality silk.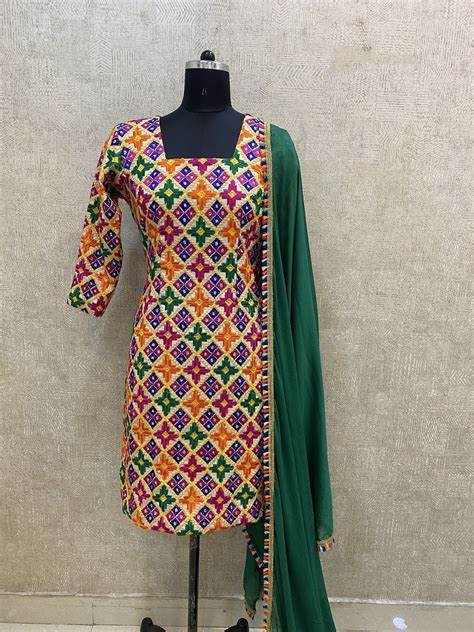 Phulkari was a term used to describe village life. Punjabi women's inventiveness has resulted in a plethora of sophisticated geometrical patterns. The majority of the motifs, on the other hand, were borrowed from everyday life. A popular pattern is wheat and barley stalks with ears.
Motifs:
The patterns aren't drawn or traced. They are the result of embroiderers' ingenuity and inventiveness, and they become stylized as a result of the darning stitch's straight lines. The lives and environment of humans inspire a wide range of motif patterns.
Horizontal, vertical, and diagonal stitches are used to create diverse patterns on a phulkari dupatta or fabric's motifs. The floral design, an eight-petaled lotus that represents purity, is the most popular. A 'bagh' is a design in which the floral patterns are so numerous that the underlying fabric is no longer visible.
Phulkari takes inspiration from a wide range of sources; the only limit to what can be printed on the cloth is the maker's imagination.
Types of Motifs:
Shalimar Bagh was named after the Mughal gardens of the same name.
Surajmukhi is made up of sunflowers.
Pancharanga is a five-colored thread pancharanga.
Satranga is made up of seven different coloured threads.
Danga is a river-themed design with blue waves and stripes on a white cloth.
Phulkari Types:
Chope : Chopes frequently have embroidered borders. It is given to the bride by her grandmother at a pre-wedding ceremony.
Straight embroidered "Chopes" with two-sided line stitching that looks the same on both sides. Chopes are normally stitched in a single color, unlike Phulkari and Bagh, which use a variety of colors.
Bagh: It means "flower garden," and the word divides the flower phulkari, so the stitching is so intense that the ground color is no longer visible, and the embroidery becomes the fabric itself.
Unlike Phulkari, the garden takes more time, patience, and material, resulting in higher costs. As a result, the bagh has become a status symbol.
Reshmusheesha: The base colour of this phulkari is navy blue, with geometrical motifs stitched in white floss to give the image of a silken mirror, or reshmusheesha.
Ghunghat bagh: Also known as sari-pallau, is the pallu and the piece that covers the head. A triangle embroidered area may be found on the pallu and the head portion, whereas the rest of the material is just stitched on the borders.
Tilpatra: This is a low-cost shawl with little dots embroidered all over the field. On significant occasions, these were given to servants.
Darshan Dwar: It is a gate that allows visitors to see the deity. It is embroidered mostly for presentation in a temple or Gurudwara.
Saloo: This is a shawl made of plain red khaddar that can be worn every day. In the field of the shawl, there is a flowery Buti embroidered at a distance.
Conclusion:
More patience and artisan skill increases are required for this style of needlework work. The majority of phulkari embroidered designs are highly sought after by worldwide buyers, prompting fashion design students of the current generation to create new designs in order to supplement their income. This is how you can carry forward the traditional legacy of Punjab Phulkari.
Navigate to this 
page
for more details about this new blog.
Please follow & Share us 🙂
Please follow and like us: