Beauty bloggers from all around the globe use Instagram to showcase their different appearances, which highlight their various nationalities, faiths, and ethnic origins. Tapping over their content emphasizes how closely beauty and everyday living are linked. Beauty is a domain that pulls practically everyone together, irrespective of age or occupation. Today we will find out about Sikh bloggers on Instagram. The beauty bloggers who influence with their unique yet practical beauty tips and styling to stay updated and look elegant.
These beauty bloggers educate about what skincare routine you should follow and what to avoid. More about lipsticks and of course those challenging eyeliner tutorials and whatnot. Now if you are interested in learning beauty basics you must follow these Sikh beauty bloggers on Instagram.
5 Sikh Beauty Bloggers:-
Priya Sidhu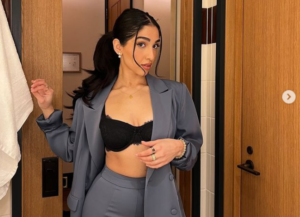 Priya Sidhu is an Indian but she lives in Toronto presently. Priya has 161k followers on Instagram as they follow her to get some beautiful, Fashion and lifestyle lessons. You could visit her Instagram profile to see how aesthetically she maintained her profile and so is life. Priya shares makeup tutorials on her Instagram. The reason why she has so much of a female following is her affordable yet high-end fashion and beauty lessons. She often shared the links of her clothes and accessories so people could buy them for themselves. Priya is not just the best beauty blogger but also a Certified Medical Aesthetician.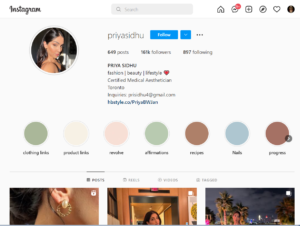 You can spot so many of her pictures in Indian Ethnic attires as she adores and embraces Indian traditions from her heart. And without a doubt, she aces all the looks. The things Priya loves are pets, working out, makeup and styling. If you would like to make your profile and styling aesthetics just follow her and get your inspiration. As an individual, she is a strong-headed lady with higher aspirations.
Her dad passed away when she was very young. Since then she gracefully handled herself and set an example that women could do anything they want to fearlessly. She is very humble and loves her younger sister quite so much.
Gurkirat Randhawa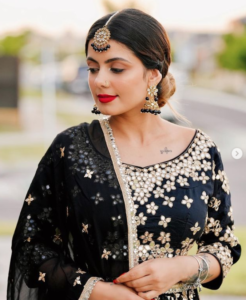 Gurkirat aka Kirat is not just a blogger but an actress too. She has worked in a Punjabi movie alongside parmish Verma and the movie's name is "Rocky mental". People appreciated her acting skills and beauty. Gurkirat has 666k followers on Instagram and she also has her YouTube channel with 407k subscribers. The name of the channel is Inder and Kirat. Inder is her husband and people love this beautiful couple as they set such major couple goals. She is Indian and speaks Punjabi well. Although, presently she lives in Melbourne.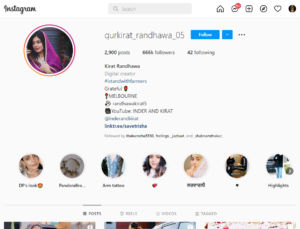 In her YouTube channel, you can watch her unfiltered life through her vlogs. Also, she posts makeup videos on Youtube as well as Instagram. Kirat just loves wearing traditional suits. Hence, you could see her wearing suits and beautiful huge accessories which suit her so well. You can try any looks inspired by her for the next celebrations or even for daily looks you can follow her.
Puneet Kaur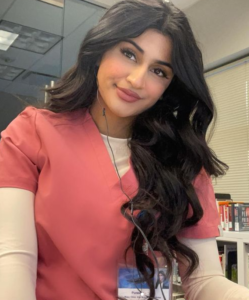 Puneet Kaur aka Kaurbeauty is a beautiful blogger and a medical student. Kaur lives in Northern California and is pursuing her medical degree. She is an Indian Punjabi. Now if someone ever told you that you cannot study and do fashion altogether then you need to watch Puneet. She is the real definition of balance in work, life, and happiness. She is doing great in her academics while following her passion too successfully.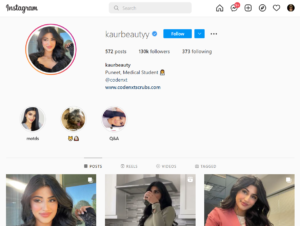 Also, how could we forget to mention that she owns a clothing line called CODE NXT where she sells Medical and staff classic dresses. So basically she is a medical student, Beauty blogger, YouTuber, and also entrepreneur. Doesn't it seem unreal but we can't deny the fact that Kaurbeautyy the actual beauty with brains is acing it all and how ideally?
So you need to follow Puneet Kaur if you also love fashion, styling but never got into it just because of peer pressure then get up and take some inspiration from Puneet and just follow your passion. Kaur possesses 278k Youtube subscribers and 130k Instagram followers which shows her popularity.
Seerat Saini
Seerat is an Indian but lives in America and calls herself Indian-American Feminist proudly as her Instagram bio says. Seerat has 160k followers on Instagram. Seerat had always aspired to work in the fashion and cosmetics industry. People benefit from her content because it makes them laugh, embrace their sexuality, or try a new product. She aspired to be a role model who isn't scared to speak up about important topics or to help others. Her friends, other influencers, and she collectively raised a significant amount of money for Khalsa Aid, something she is pleased about. Sikh influencers, she believes, should elevate the voices of anybody who needs it.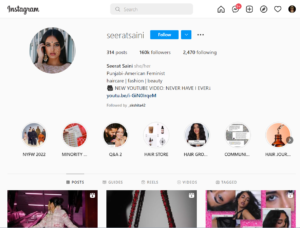 Her routines are heavily influenced by Punjabi traditions, which emphasize internal as well as external beauty. She oils and braids my hair regularly to protect my scalp. She also tries to include organic foods in her routine due to their health benefits.
Meghna Kaur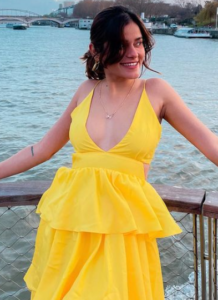 Meghna Kaur has already been a visionary in her area in more respects than anyone, with amongst the most artistically attractive feeds out there. She has established more than just a devoted fan base in her complex journey to becoming one of the most coveted after faces by businesses on social media these days, as she is known as 'shetroublemaker.' Meghna has always been way ahead of the game, from her clothesline to her own cosmetics company. Her plan is quite clear. She's an eager beaver with an evident camera presentation and a nice and engaging demeanor. She intends her content to provide joy to others.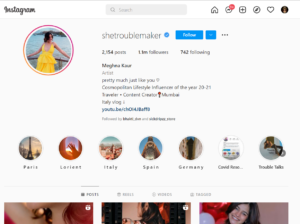 Meghna has 1.1 Million of a huge fan following which is increasing with each passing year. Also, she won Cosmopolitan Lifestyle Influencer of the year 2020-21. She also runs her YouTube channel where she shares lots of styling and makeup videos along with her amazing travel vlogs. Meghna is Mumbai based beauty blogger.
Please follow and like us: