Gurdial Singh, a well-known Punjabi novelist, short storey writer, and poet, was born in 1933. He had eight novels & five volumes of short tales to his credit. He depicts socioeconomic hardship through emotions and comprehension. He received his bachelor's degree in 1964 and his master's degree in Punjabi in 1967. Gurdial Singh began his teaching career in primary education in 1954, and in 1963, he was appointed to instruct middle and high school pupils.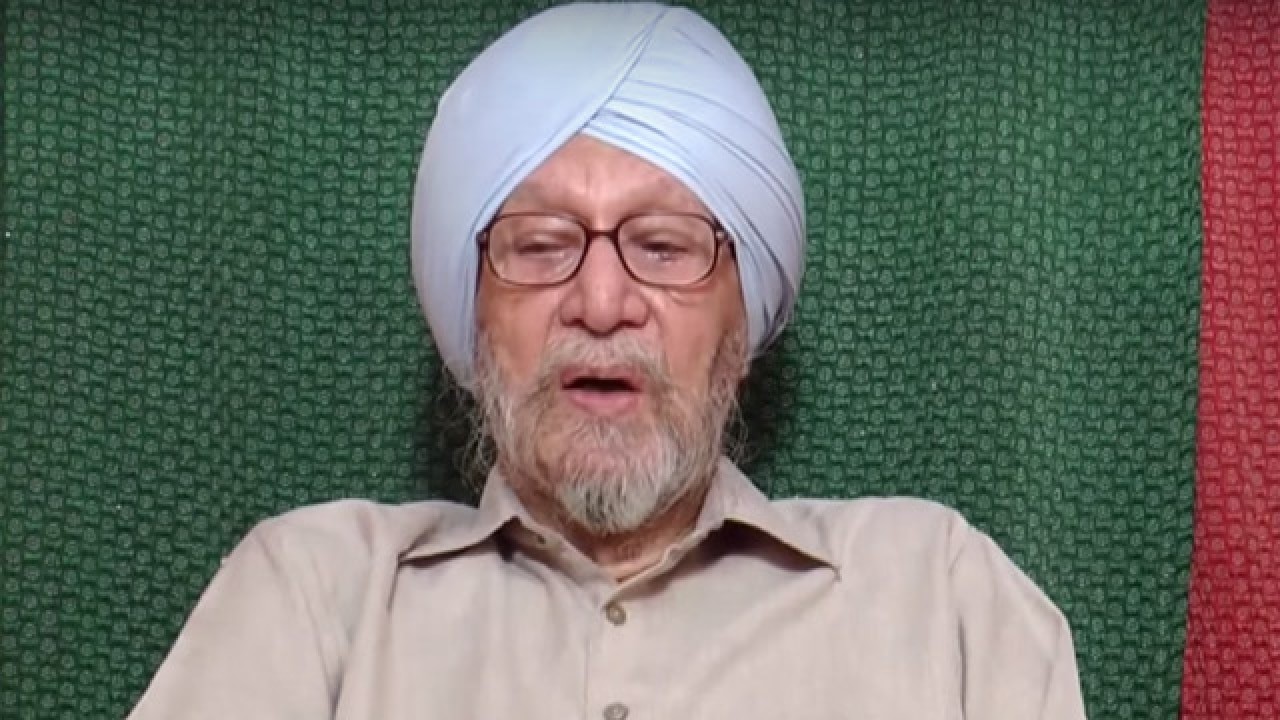 He taught Punjabi at the Government Brijjindra College in Faridkot (Punjab). In 1962, he began his literary career as a short storey writer by his collection Saggi phul, followed by Chan da boota (1964). Opra admi (1965) and Kulta te admi (1966) are his later short storey collections (1972). But it was the publication of his first novel, Marhi da diva, that cemented his reputation (1964). The Punjabi literary community regarded this book as being one of the best novels written in a regional (Malwai) dialect, and it earned him a literary prize from Patiala's Language Department (Punjab).
Anhoe (1966), Kuwela (1968), Raite de ik muthi (1969), Adh chanani raat (1972), that won the Sahitya Akademi award in 1975, Authen uggan (1974), and Anhe ghore da dam (1976) are his later novels (1976). In addition, his works Bakalam khud, Tuk khoh lai kawan, and Likhtam Baba Khema contain significant books for children. He also had transcribed a numerous of works into Punjabi from those other languages. Gurdial Singh is much more effective when he depicts the rustic personalities of Malwa, his home state. He has a good heart and a profound compassion for the impoverished and downtrodden, and he portrays their financial and social struggles with compassion and empathy.
For him, regional identity is both a strength and a weakness. It has given him reputation and acclaim, as well as the title of highly praised Punjabi novelist, but it has also limited his appeal to a specific segment of Punjabi culture. Marhi Da Diva tells the storey of the catastrophe that befalls the farmers' menial workers in the Punjab villages of the Malwa region. The farmers Dharam Singh, his wife Dhanno, his son Bhanta, their menial Jagsir, his father Thola and his mother Nandi, the barber Nikka and his wife Bhani, and the waterman Raunki are the central characters in the novel.
Parkash Singh Badal, the Chief Minister of Punjab, expressed his condolences on his death. He described Gurdial Singh as "a son of the soil," saying he was among the most recognised Punjabi writers who has often concentrated on the financially and culturally marginalised in rural Regions via his short tales and novels.
Gurdial Singh is noted for using a high level of simplicity in his tale and book works to convey powerful ideas. In the literary community, he was renowned as "a Spartan whom have taken it all in step."
Gurdial Singh had dependent on the inventiveness of a craftsman to construct an organic whole, it is believed, as he progressed from a carpenter to an author of substance.
His writings are downtrodden people's stories without any revolutionary didacticism.
His first work was a historical novel called "Gangsar da Shahid." In 1957, he published his first storey, "Bhaganwale," in the magazine "Panj Dariya."
He also authored a lot of short stories for kids. While still at F.A., he began taking transcription for the very first time. Maxim Gorky's autobiography was the subject of this transcription.
His works have been translated into a number of Indian languages as well as English.
For several years, he tutored at Punjabi University's regional centre. Gurdial Singh received numerous major awards and honours, including the Padma Shri, Jnanpith Award, Sahitya Akademi Award, and others.
Sahitya Akademi awarded him a fellowship earyl this year. The Akademi's highest honour is the fellowship.
"When he received the coveted Jnanpith and Padma Shri awards, he inspired every Punjabi individual."
Mr Singh worked as a teacher and retired from Punjabi University, Patiala in 1995 as a professor. Padma Shri in 1998, Jnanpith in 1999, Sahitya Akademi Award, Nanak Singh Novelist Award (1975), Soviet Nehru Award (1986), Punjabi Sahitya Akademi Award, Bhasha Vibhag, and others have been bestowed upon him.
Literary
Singh's literary career began in 1957 with the publication of "Bhaganwale," a short storey in Panj Darya, a journal edited by Mohan Singh. Preetlari, edited by Gurbaksh Singh, presented his later stories. Marhi Da Deeva, his most famous work, cemented his status as a novelist. Over the span of four years, Singh wrote four multiple versions of the book before deciding to release the 4th one in 1964. The novel's different characters were remakes of real-life persons mixed into a hypothetical tale by Singh. Sahitya Akademi transcribed it into English as The Last Flicker.
Awards
Singh won the Sahitya Akademi Award in Punjabi in 1975 for the novel Adh Chanani Raat, the Soviet Land Nehru Award in 1986, the Bhai Veer Singh Fiction Award in 1992, the Shiromani Sahitkar Award in 1992, the Jnanpith Award in 1999, and the Padma Shri in 1998. Nirmal Verma, a Hindi language author, and he received the Jnanpith Award.
Death
Gurdial Singh, a well-known Punjabi writer and Jnanpith awardee, died on Tuesday in Bathinda. He was 83 years old when he died.
For the past ten days, he has been receiving treatment in a private hospital in Bathinda.Gurdial Singh, a native of Faridkot's Jaitu town, was really the only current Punjabi author to receive the Jnanpith Awards.
Real Name
Gurdial Singh Rahi
Date Of Birth
10 January 1933
Birth Place
Bhaini Fateh Near Jaitu
Family
Father – Jagat Singh
Mother – Nihal Kaur
Nationality
Indian
Profession
Writer, Novelist, Coach
Died
16 August 2016
Please follow and like us: