10 Sikh Gurus History in Punjab
Since the birth of Guru Nanak Dev in 1469 until the death of Guru Gobind Singh, the era of the ten gurus of Sikhism, a monotheistic faith that emphasises doing good throughout life, covers roughly 250 years. Guru Gobind Singh donated his title of guru to the Sikh text Guru Granth at the time of his death in 1708.
Sikhs see Sikhism's ten gurus as embodiments of a single guiding light that transmitted from one guru to the next. The scripture Siri Guru Granth Sahib now houses that guiding light. Sikhs number around 20 million worldwide, with virtually all of them living in India's Punjab area, where the faith was formed.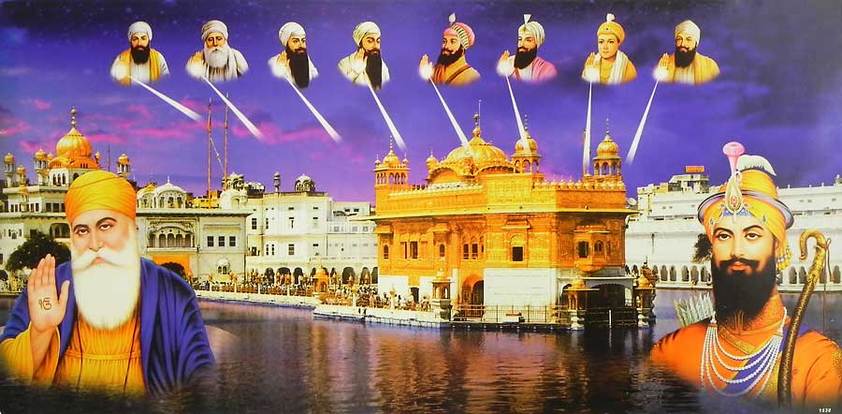 1. Guru Nanak (1469-1539)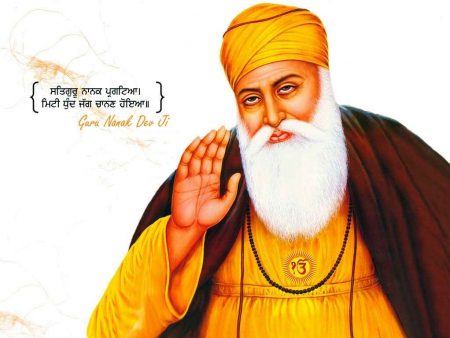 The meaning of Sikh is student who have to learn. The most important aspect of learning is to recognise that God is inside us. We are surrounded by God. We are a part of God, and God is a part of us. That is why Guru Nanak began with "Ek Ong Kar," which means "There is One Creator of All Creation."
It was a novel idea. God manifested himself in a variety of ways. There was a concept of one God somewhere, but man never had the ability to acknowledge himself as a part of it.
Guru Nanak is the founder of the Sikh faith. He was 70 years old when he died. His physical body was born in Talwandi, Pakistan, and he died in Kartapur Ravi, Pakistan. Mehta Kalyan Chand was his father's name, although he was known as Kalu Ji. Mata Tripta Ji was his mother's name. Mata Sulakhni Ji was his wife's name. He was the father of two sons. Baba Sri Chand Ji was his elder son, while Baba Lakshmi Das Ji was his younger son.
Guru Nanak, who was born into a Hindu family, rejected the idea of religious distinctions between individuals. He preached the Creator's Oneness and the intrinsic brotherhood and sisterhood of all people. He claimed that every person possessed the Divine experience, hence there was no distinction between persons based on caste, creed, gender, or nationality.
Human existence can become a profound experience of love, truth, patience, peace, and contentment when lived in awareness of the Divine Light within all.
Guru Nanak attained enlightenment, or realisation, when he was around 30 years old.
Guru Nanak travelled for 15 years over India, Asia, and Persia. He brought people from all walks of life together to sing Divine hymns in honour of the Creator, the Creation, and the spiritual journey across time and space. He also collected songs from other mystics throughout this time that coincided with his own visions and experiences of the Divine.
2. Guru Angad (1504-1552)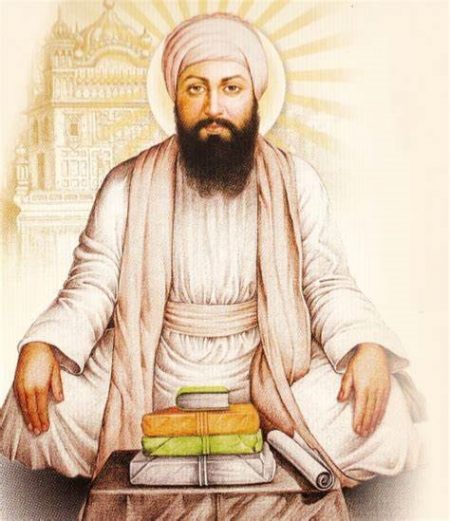 Guru Angad is the second Guru of the Sikhs. He was born in the Indian town of Sarai Matta. Pheru Mall Ji was his father's name, and Daya Kaur Ji was his mother's. Mata Khivi was his wife. Dassu Ji and Dattu Ji were their sons, while Bibi Amro Ji and Bibi Anokhi Ji were their daughters.
Guru Angad continued to preach Guru Nanak's teachings. He also had mystical visions and wrote songs based on his personal experiences. Guru Angad standardised the Gurmukhi script to aid the people in learning to sing these songs. Gurmukhi means "from the Guru's mouth."
The Gurmukhi script helped people to pronounce Guru Nanak's, Guru Angad's, and the mystics' songs from different nations and languages that Guru Nanak had collected thanks to its simple and obvious principles of pronunciation.
Mata Khivi, Guru Angad's wife, furthered the development of langar, or the communal meal, under Guru Angad's guidance. People from various castes or socioeconomic strata did not eat together in India. Guru Nanak started a tradition of letting people of all castes sit and dine together as a method to build community and break down illusory social class distinctions.
3. Guru Amar Das (1479-1574)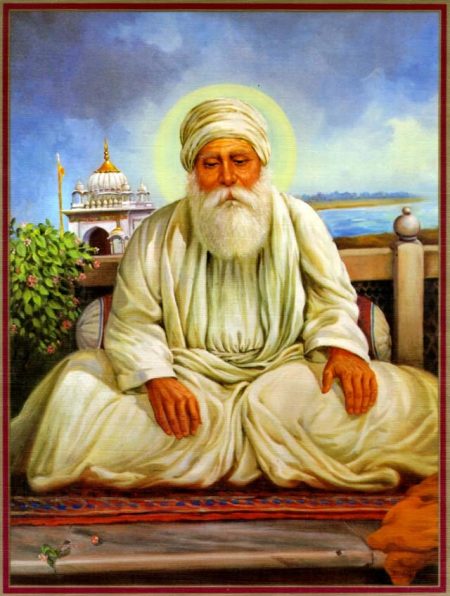 The third Sikh Guru is Guru Amar Das. He was born in the Indian city of Basarke. Tej Bhan Ji was his father's name, while Mata Lakhmi Ji was his mother's. Mata Mansa Devi Ji was his wife. They were the parents of two sons and two daughters. Mohan Ji and Mohri Ji were his sons, and Bibi Dani Ji and Bibi Bhani Ji were his daughters.
Guru Amar Das was already an elderly man when he became Guru. He proceeded to spread and expand the Gurus' teachings. He had mystical experiences as well, which he expressed via singing. One of the five daily prayers for someone who has taken Amrit is the Anand Sahib, or Song of Bliss, which he penned. He also composed a number of additional works.
In several regions, Guru Amar Das established langar, or communal meals. He also taught ministers how to promote and spread the Sikh Gurus' teachings. He instilled in women humility, service, dedication, equality, honour, and respect.
4. Guru Ram Das(1534-1581)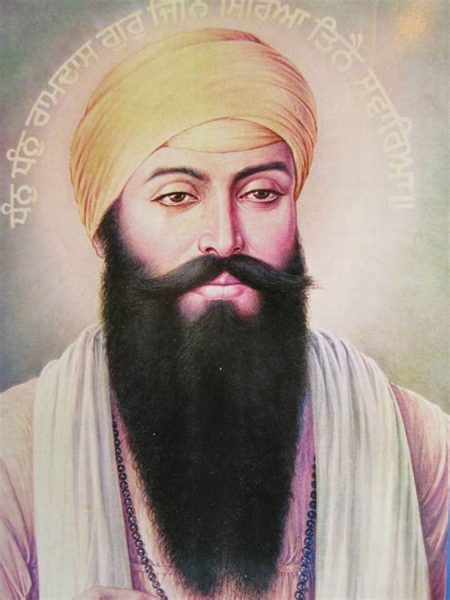 The fourth Sikh Guru is Guru Ram Das. He was born in the Pakistani city of Lahore. Hardas Ji Sodhi was his father's name, and Mata Daya Kaur Ji was his mother's. He married Guru Amar Das's daughter, Bibi Bhani Ji.
Guru Ram Das, like the previous Sikh Gurus, had mystical visions and penned songs that explained the Divine and the human experience. The Lavaan – the Sikh wedding ritual – is one of his pieces, which he created on his own wedding day to Bibi Bhani. He also wrote the Engagement Shabads, a quartet of songs, as well as a number of other works.
Guru Ram Das established the city of Amritsar and began construction on the Harimandir Sahib (Golden Temple), the world's most important temple for Sikhs. He started excavating the tank of water that surrounds the Temple.
He designed the Harimandir Sahib to have four doorways, one on each side of the structure, allowing people of all castes, backgrounds, languages, and religions to enter.
People were also encouraged to create modest companies by Guru Ram Das. He was instrumental in establishing Amritsar as the Sikhs' sacred capital.
5. Guru Arjan(1563-1606)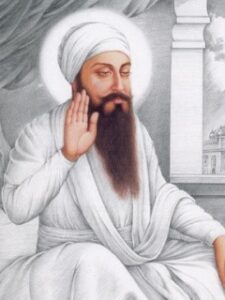 Guru Arjan is the fifth Guru of the Sikhs. He was Guru Ram Das's youngest son. He was born in the Indian town of Goindwal. He passed away in Lahore, Pakistan, where the Dehra Sahib Gurdwara was founded. Mata Bhani Ji was his mother's name. Mata Ganga Ji was his wife, and they only had one son, Hargobind, who became Guru Hargobind Sahib.
Guru Arjan was also responsible for the creation of the Adi Granth, which was the forerunner to the Siri Guru Granth Sahib. Recognizing that the Shabad Guru was the foundation of Sikh practise, Guru Arjan compiled a sacred song collection that contained songs by earlier Sikh Gurus, Hindu and Sufi mystics, and his own sacred writings. Guru Arjan could tell if a song was part of the Shabad's sound current, and those that were clearly from the Universal Teachings were incorporated into the work. Guru Arjan saw the Adi Granth as containing the Shabad Guru's timeless, universal wisdom.
He would keep the Adi Granth on his bed and sleep on the floor next to it, as if he were a servant, while working on it. The Adi Granth exemplified the Sikh Gurus' teachings that the Word, not a human being, is the Teacher.
6. Guru Hargobind (1595-1644)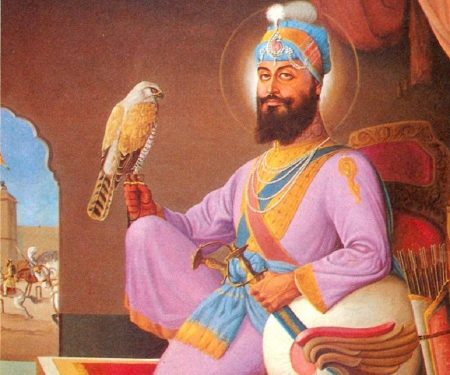 Guru Hargobind is the sixth Guru of the Sikhs. He was born in the Indian state of Wadali and died in the Indian city of Kiratpur. Guru Arjan was his father, and Mata Ganga Ji was his mother. Mata Damodri Ji, Mata Nanaki Ji, and Mata Mahan Devi Ji were his spouses. He was the father of five sons and a daughter.
The Sikh community underwent a significant transformation following Guru Arjan's death. They had built a deep contemplative practise based on peace and tolerance over the course of 100 years. Guru Hargobind, however, saw the need for the society to be able to protect itself after his father's sacrifice. The Sikhs began to pursue martial arts as a result of this.
Guru Hargobind grew to be a formidable warrior who taught the Sikhs how to battle.The Sikh martial tradition has remained anchored in the first Sikh Gurus' teachings of peace and tolerance. The Sikh warrior would never attack, just defend. In the next centuries, the Sikhs would be called upon to defend the rights of all people to freely practise their faith in the face of continuous religious persecution. A conflict was never begun by the Sikh warriors. They never took other people's belongings. People were never enslaved by the use of force.
7. Guru Har Rai (1630-1661)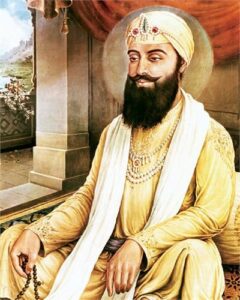 Guru Har Rai is the seventh Guru of the Sikhs. He was Guru Hargobind's grandson. He is recognised as the Guru of "tender-heartedness." He was born in the Indian city of Kiratpur. Guruditta Ji (son of Guru Hargobind Ji) was his father, and Mata Nihal Kaur Ji was his mother. Mata Kishan Kaur Ji, also known as Mata Sulakhni Ji, was his wife.
Guru Har Rai was a gifted healer and herbalist. He was well-known for his use of natural medicine, and he had a lovely herbal garden where he produced his medicines. He was also an accomplished hunter, yet he never killed any animals. Instead, he'd capture the creatures and bring them back to town, where they'd be put in a zoo for the public to enjoy.
8. Guru Har Krishan (1656-1664)
Guru Har Krishan is the eighth Guru of the Sikhs. He became Guru at the age of five and died at the age of eight in New Delhi, India, where the Bangala Sahib Gurdwara was founded. He was born in the Indian city of Kiratpur. Guru Har Rai was his father, and Mata Kishan Kaur was his mother.
In Delhi, there was a smallpox pandemic. Guru Har Krishan travelled to the site of the outbreak and, with his permission, a stream of sacred water arose, capable of curing the people of the disease. He took on the region's misery and illness, contracting smallpox himself and dying to save the lives of others.
9. Guru Teg Bhadur (1621-1675)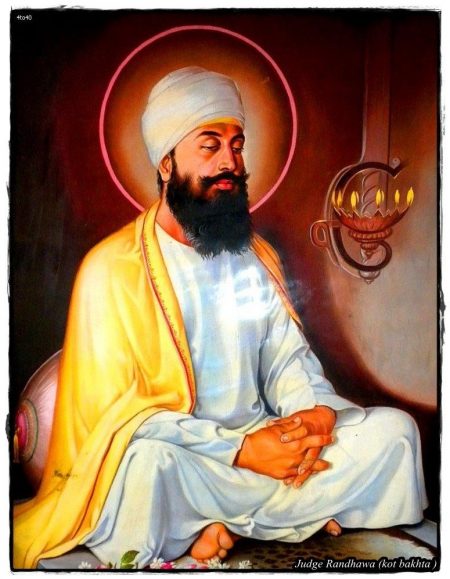 Guru Teg Bahadur is the ninth Guru of the Sikhs. He was born in the Indian city of Amritsar and died in the Indian capital of Delhi. He was Guru Hargobind's youngest son. Mata Nanki Ji was his mother's name. Mata Gujri Ji was his wife. He was Guru Arjan Dev's grandson, and his son, Gobind Rai, subsequently became Guru Gobind Singh.
Guru Teg Bahadur was a highly contemplative individual. He meditated for several years before becoming the Guru. His wife took part in his intense contemplative techniques alongside him. Guru Teg Bahadur, like the other five Sikh Gurus, had mystical Shabad experiences and communicated them via song.
He travelled far and wide, like Guru Nanak, creating new communities and sustaining those that had not been visited by any of the Sikh Gurus since Guru Nanak's time.
10. Guru Gobind Singh(1666-1708)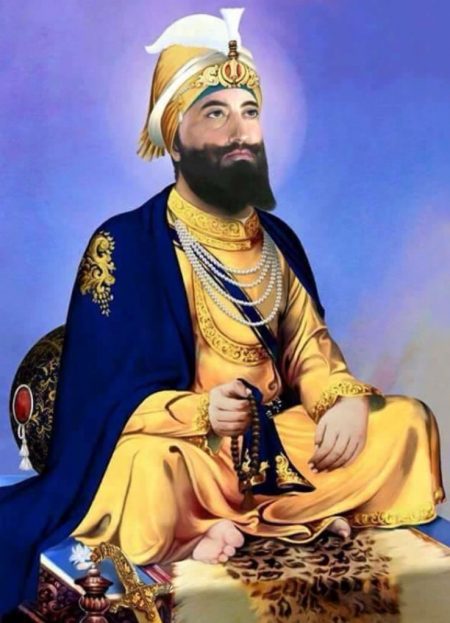 The tenth Sikh Guru is Guru Gobind Rai, who subsequently became Guru Gobind Singh. He was 42 years old when he died. He was born in Patna, India, and passed away in Nanded, India, where the Hazoor Sahib Gurdwara is located. Guru Teg Bahadur was his father, and Mata Gujri was his mother. Mata Jeeto, Mata Sundari, and Mata Sahib Kaur were his spouses.
Ajit Singh, Jujhar Singh, Zorawar Singh, and Fateh Singh were his four sons.
Guru Teg Bahadur's son, Gobind Rai, was just 9 years old when his father was imprisoned, tortured, and killed. He was profoundly affected by the incident. The Sikhs would be called upon many times in the coming years to resist Aurangzeb's soldiers and protect the people from religious prejudice and persecution.
The Adi Granth, compiled by Guru Gobind Singh's great-grandfather Guru Arjan, was lost during Guru Gobind Singh's lifetime. Guru Gobind Singh established his tent and memorised the whole Adi Granth. He also included some of his father's songs, Guru Teg Bahadur's. The Siri Guru Granth Sahib was born as a result of this process.
Guru Gobind Singh handed the Guruship to the Siri Guru Granth Sahib at the end of his life, in 1708. The corporeal Gurus of the Sikhs came to an end at this point. And thus started the Shabad Guru's reign as the Sikh community's Spiritual Light and Guide.
Navigate to this page for more details about this new blog.
Please follow and like us: