Dr. Simran Jeet Singh is a researcher, educator, author, and activist who lectures frequently on topics of diversity, inclusiveness, and fairness. Simran is the first Sikh wire-service journalist in US history, and he is presently stationed at Union Seminary. He is the writer of Fauja Singh Keeps Going: The True Story of the World's Oldest Marathon Runner, which is the first children's book from a major publication (Penguin Random House) to feature a Sikh story. Simran is also working on a Riverhead adults nonfiction book about Sikh teachings to help people through today's tumultuous world. Simran combines personal tales, dad jokes, and a love of contemporary culture to engage with customers where they are. He is an experienced lecturer with university degrees from Harvard and Columbia.
He recognizes that marginalized people won't be able to preach their way to integrity, and that true compassion comes from connecting as fellow humans. Simran engages a wide range of audiences by joking on Twitter (on which he has over 80,000 followers), providing on-air commentary on shows like Trevor Noah's The Daily Show, and hosting Spirited, a new podcast about faith and philosophy. Simran's wit disarms audiences, while his positive vision for a more compassionate, peaceful society inspires them.
Simran is an accomplished writer who has written over 50 opinion pieces for publications such as The New York Times, The Washington Post, and The Guardian. He has established himself as a reliable source of information for reporters and news organizations all over the world, and he routinely contributes to television, radio, and print media. Simran also speaks frequently on topics such as diversity, inclusion, civil rights, religious practice, and hate violence, as well as his initiative has reached a wide range of audiences, such as the White House and Pentagon, as well as academic institutions such as Princeton University and Dartmouth College. Simran is a lifelong Spurs fan and marathon runner who was born and brought up in San Antonio, Texas.
He now lives in Manhattan, New York, with his wife and daughter, while his wife, Dr. Gunisha Kaur, works as an anesthetist focusing on global health at Weill Cornell Medical College. Simran has a Ph.D. from Columbia University, a graduate degree from Harvard University, and an undergraduate degree from Trinity University. He is multilingual.
Simran jeet Singh on his early childhood days in the US
In the 1970s, my parents relocated to this area. My father moved to San Antonio, Texas, as an engineer. There weren't too many Sikh people in the area when he moved. For my father and mother, I believe we needed to remain linked to our Sikhi in some way. As a result, we didn't learn English as children. It was strictly Punjabi at all times. We began learning Punjabi when we were quite little. Back then, we didn't have a Gurdwara. It took over 20 years after I was birthed for it to arrive. Our small group would come together and do kirtan in our houses when I was born in 1984.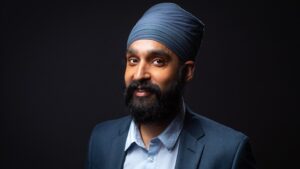 We didn't have had any Giannis or Gurmukhs or anything else like that, so we acquired how to do areas and other things from an early age. That, I believe, was a crucial component of our upbringing. Consider what it would be like to be in a desert. We were cut off from other Sikhs, and there was a good chance you wouldn't be able to keep your history. My parents taught me that if something is important to you, you could make it happen. That is something for which I am extremely grateful to my parents.
We didn't have had any Sikhs where I grew up, yet I went to numerous camps per year all across the state, so we were very deeply linked to Sikhi. However, I didn't really feel deeply attached to Sikhi till I began to learn about history. Growing up in America, witnessing such sort of stories about all other groups was startling to me, but I had no awareness that it was also our community and even my own family. My parents were aware of it, and they had been politically engaged in the past. They named me after a well-known political figure of the period. This was the source of my emotional attachment, as well as my involvement in politics and civic action.
This is awareness of communal suffering, sorrow, and trauma, as well as trying to find out why and how we might help. As my emotional involvement grew, I began to become more religious in my own practice. At the time, a majority of my Sikh mentors were all these great folks that I saw and who had this really powerful linkage to their religion and heritage, which I kept seeing all around me. And this is how it all begins.
Simran jeet Singh on Guru Nanak Dev Ji's philosophy
Amongst the most common assumptions regarding Guru Nanak is that he is only interested in spiritual matters. There is a perception that Guru Nanak and Guru Gobind Singh are not even the same people, even though Sikhi tells us that they are. What exactly does that imply? It signifies that we've separated the spiritual from the political overages. Guru Nanak is thought to be spiritual, whereas Guru Gobind Singh is thought to be political, and these are two separate characteristics of our gurus.
Guru Nanak was well-known for his political activism. He was apprehensive about his social standing. He was a political activist. Seva was a political figure. It's time to take action. It's a form of advocacy. That, I believe, is where we occasionally fall short in our understanding of Guru Nanak, and it's something I'm passionate about delivering back to our communal remembrance of him. It's not only about who he was but also about what he means to us now. You need to be considerate and aware at the same time.
Please follow and like us: