Manikaran is in Himachal Pradesh's Kullu District, in the Parvati Valley on the Parvati River, northeast of Bhuntar. It is located 4 kilometers ahead of Kasol, 45 kilometers from Kullu, and 35 kilometers from Bhuntar at an elevation of 1760 meters. The thermal springs and pilgrim centers in this little village draw travelers from Manali and Kullu. Here is also an experimental geothermal energy facility.
A religious center
Manikaran is a Hindu and Sikh pilgrimage site. Hindus believe that after the deluge, Manu regenerated human life in Manikaran, making it a hallowed site. It has various temples as well as a Gurudwara. There are temples dedicated to the Hindu gods Rama, Krishna, and Vishnu. The area is widely known for its hot springs and stunning scenery. When the Hindu God Shiva and his spouse Parvati were traveling in the valley, Parvati misplaced one of her earrings, according to mythology. Shesha, the serpent deity, took the jewel and vanished into the earth with it. Shesha only gave up the jewel after Shiva performed the cosmic dance, the Tandava, and blasted it up through the water. Gems were still being thrown up in the seas of Manikaran until the Kangra earthquake in 1905.
Sikh Belief
According to the Sikhs, Guru Nanak, the founder of Sikhism, visited this location in 15 Asu 1574 Bikrami with his disciple Bhai Mardana during the third Udasi. Mardana was hungry, and they didn't have any food. Guru Nanak dispatched Mardana to gather food for the langar (the Community Kitchen). Many people contributed atta (flour) for Roti (bread). The only issue was that there was no fire to cook the food over. Guru Nanak instructed Mardana to lift a stone, which he did, and a hot spring appeared. Mardana placed the rolled chapatis in the spring as advised by Guru Nanak, but the chapatis sank, much to his dismay. Guru Nanak then instructed him to pray to God, promising that if his chapatis float back, he would donate one chapati in His honor. When he prayed, all of the baked chapatis began to float. Guru Nanak stated that anyone who donates in the name of God will have his drowned possessions returned to him.
Hindu faith Manikaran's Shiv Parvati Temple
According to the tale of Manikaran, Lord Shiva and Goddess Parvati were wandering around when they came across a lush green area surrounded by mountains. They chose to spend some time there because they were captivated by the beauty of the location. They are thought to have spent eleven hundred years here.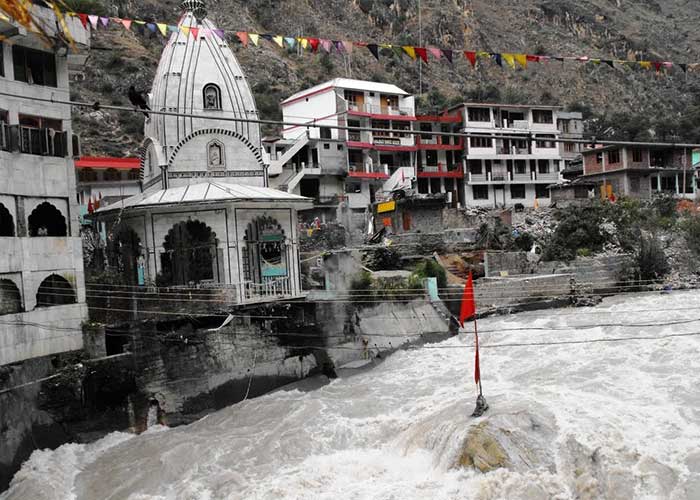 During their visit, Goddess Parvati lost her mani (precious stones) in a creek. She begged Shiva to collect it because she was upset about the loss. Lord Shiva instructed his attendant to locate the mani for Parvati. However, when they failed, he became enraged. He uncovered his third eye, an extremely unlucky event that caused chaos in the universe. To appease Lord Shiva, an appeal was made to the serpent god Sheshnag. Sheshnag hissed, causing a stream of boiling water to flow. The flood spread throughout the land, causing precious stones of the type Goddess Parvati had lost to appear. The outcome pleased Lord Shiva and Goddess Parvati. This legend inspired the name Manikaran. The water is still hot, and it is said to be exceedingly lucky. A pilgrimage to this site is considered complete. It is also thought that after seeing this location, there is no need to return to Kashi. Spring water is also said to have medicinal properties. The water is hot enough to boil rice in it.
Manikaran's Hindu Temples Lord Ram Chandra Ji Temple History
Raja Jagat Singh built the temple in the 17th century.
It is located approximately 35 kilometers from Kullu at an elevation of 1756m.
Springs with hot water
It is reported that these hot water springs emerged with full force even before 1905. Making a fountain 11 to 14 feet tall. Manikaran's springs range in temperature from 64 to 80 degrees Celsius. These springs contain no sulfur.
In these springs, food is prepared.
Bathing here is thought to be an arthritis cure.
Lord Shiva Temple
This temple is highly loved since it is dedicated to Lord Shiva. However, the temple was damaged by an earthquake in 1905 and it got tilted slightly. The importance of Manikaran is also demonstrated by the fact that devas from the Kullu valley pay periodical visits to this location on specific days.
Other interesting locations
The journey to Manikaran can include visits to several spectacular locations. Pulga, 16 kilometers on the river's left bank, is a difficult march with a 1600-meter rise. Khirganga is also well-known for its hot springs with medical characteristics. Pandapul has a long history. Mantala is another wonderful location two kilometers ahead.
In season, Chandra Khannipass, which can only be reached after strenuous climbing, appears to be a floral paradise. Nature's intriguing places abound near Manikaran. Apart from luxurious stays in the premises of the Gurdwara and other guest rooms, Himachal Pradesh Tourism operates Hotel Parvati on the river's banks. In the connected bathroom, you can even take a sulfur bath.
Please follow and like us: