Gurdwara Amb Sahib is a historic site in Mohali (Punjab), about 500 meters from Gurdwara Sant Mandal Angitha Sahib. This holy temple was built with the blessings of Guru Har Rai, the respected Sikh Guru. The Guru blessed his Gursikh here, and he felt satisfied as a consequence. "Amb" means mango in Punjabi.
Historical narrative
Bhai Kuram, a lobana by caste and a Lambian villager, journeyed to Amritsar to see Sri Guru Arjan Dev Ji. It was mango season, and the great Guru Arjun Dev Ji's court was in place. The following were making offerings. Kabul followers arrived with ripe mangoes. Bhagat Kuram regretted having come from the country of mangoes but had forgotten to bring any to the Guru.
The mangoes were given among the worshippers as Parshad when the darbar ended that night. All of the followers retired to their deras. Bhai Kuram did not consume the mango served as parshad. The next morning, he awoke, took his bath, and carried the mango he had gotten as parshad to darbar, where he offered it.
"This mango was given to you as parshad, but you have offered it here," Sri Guru Arjan Dev Ji stated to Bhai Kuram ji. Bhai Kuram bowed before the Guru and replied, "Your Highness, I have come from the country of mangoes but did not bring any for the gift to You, so I kept this one for you." Guru Ji told him to consume the fruit and promised that his offering would be taken one day. The Great Guru Sri Har Rai Ji arrived here from Kurukshetra on the first day of Poh (mid-December), honoring his father's the previous Guru's pledge, and inquired about his follower, learning that he was completely absorbed in meditation in the garden. Guru Ji approached him and ordered Bhai Kuram to keep his pledge of gifting him a mango. He gently informed Guru Ji that he couldn't offer any fruit because mangoes were out of season. You cannot do everything you want.
After hearing his response, Guru Ji instructed him to look up and note that the mango tree beneath which he had been seated in meditation was now full of ripe fruits. In awe, Bhai Kuram bowed to touch The Great Guru's feet. Guru Ji instructed him to bring mangoes to the Sangat. Following Guru Ji Bhai Kuram's orders, he served mangoes to the Holy Guru and the entire Sangat.
Location
The Gurdwara is located in Phase 8 of Mohali, next to Fortis Heart Hospital, the Puda office, and the Punjab School Education Board office. The gurdwara is located on Mohali's major road, near Amb Chownk of 7 Phase.
How can I get to Gurudwara Amb Sahib in Mohali?
Mohali is well connected to other Indian cities and is easily accessible via various modes of transportation. You can get to Gurudwara Amb Sahib by using any of the following modes of transportation:
By Road – Mohali is well connected by road to practically all cities in Northern India, and bus service from all neighboring major towns such as Delhi, Shimla, Amritsar, and Rajasthan is readily available. Mohali Bus Terminal is only 500 meters away from Gurudwara Amb Sahib.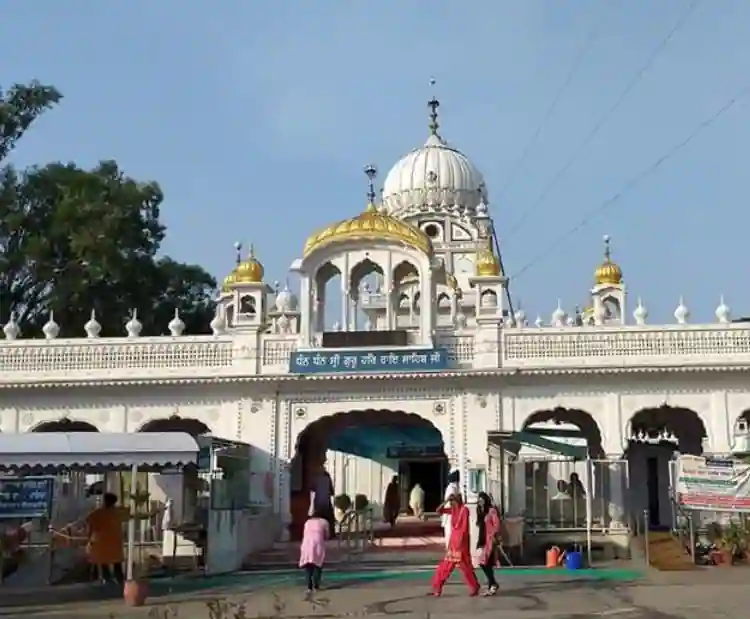 By Rail – The Mohali Railway Station is roughly 16 kilometers from Gurudwara Amb Sahib and is well connected to India's major cities. From the railway station, you may easily order a taxi/cab/autorickshaw to Gurudwara Sahib. To book train tickets online, download the IXIGO app.
By Air – Chandigarh International Airport has daily flights from Delhi, India's National Capital, and other major Indian cities. The flight from Delhi to Chandigarh takes about 50 minutes. Makemytrip.com can be used to book airline tickets. From the airport, you may easily order a taxi/cab/autorickshaw to any place in the city.
What services are provided in Gurudwara Sri Amb Sahib?
Gurudwara Sri Amb Sahib Mohali is often crowded with visitors, thus the compound of the gurdwara is large and offers a variety of facilities:
Places to stay (Sarai): Although you can book hotels near the gurudwara in any category (2-star to 5-star), the gurudwara provides the Sarai (Place to stay) facilities at a very low rate. Sarai "Bhai Kuram Singh" provides 60 rooms for pilgrims to remain the night.
Guru Ka Langar (Free Public Kitchen): Here, free food is available 24 hours a day, and you can eat. Food is produced in sanitary conditions, and special attention is paid to the cleanliness of the premises where food is distributed.
When should you go to Gurudwara Amb Sahib?
You are welcome to visit Gurudwara Sri Amb Sahib in Mohali at any time of the year. During the winter, though, the weather is lovely (October to April). The hot months of May and June should be avoided.
What should you wear at Gurudwaras?
There is no clothing code when visiting gurudwaras. However, it is a sacred site, and followers have strong feelings about these hallowed sanctuaries.
As a result, you should wear simple, sober clothing that covers the majority of your body (Avoid short skirts in case of females). Furthermore, you must cover your head with any fabric or handkerchief. You will not be permitted to enter the main gurudwara premises if you do not wear a head covering. If you don't have a piece of cloth with you, you can get one from the main shrine entrance point.
Please follow and like us: