Punjabi culture is multifaceted, encompassing the Punjabi people's foods, traditions, morals, science, and heritage. The citizens of the Land of Five Rivers are noted for their diverse culture and cheerful attitude. It is said to have one of the world's oldest and most diverse cultures. It's difficult to overlook the kindness and zeal displayed in the Punjabi way of life. Whereas the Punjabis are famed for their tenacity, their culture reflects a diverse range of historical civilizations.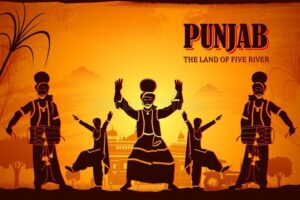 Visiting this magnificent state is truly a once-in-a-lifetime opportunity. Punjabi people are humble and helpful. Their warmth and hospitality will warm your heart. Punjabis take pride in their religion, culture, and tradition. They are devout followers of their religion, and they embrace all of their festivities with enthusiasm and gusto. Let's explore the rich culture and tradition of Punjab.
History of Punjab
"Punjab" is the existence of this word that was recorded since the prehistoric period in various Puranas and veds. In the manuscripts of Ibn Batuta, who explored the land in the 1400s, the phrase 'Punjab' appears for the first time. "Tarikh-e-Sher Shah" was another book in which the "Punjab" appeared related to the fort construction "Sher Khan of Punjab" also mentioned in the second volume of the very same book so it indeed is ancient. Historians have unearthed traces of living as early as 7000 B.C. in the Punjab province. The Indus Valley Civilization arose from the growth of life in and around the Indus Valley circa 3000 BC.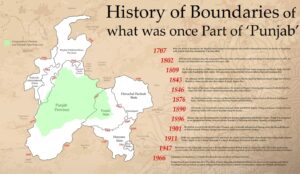 Moreover, Mahabharata's magnificent saga contains the first reference of the Sanskrit version of 'Punjab,' which is defined as Pancha-nada, which means land of five rivers.' In his 'Tuzk-i-Janhageeri,' Mughal Emperor Jahangir also cites the phrase Panjab, which is taken from Persian and adopted by the Turkic invaders of India and means "five" (panj) "waters" (ab), alluding to the five rivers that run through it.
Banda Singh Bahadur, a loner who has become a military commander and, with his battle group of Sikhs, partially freed the eastern half of the state from Mughal authority in 1709–10, set the roots of today's Punjab. After Banda Singh's loss and execution in 1716, a long war ensued among the Sikhs and the Mughals and Afghans on one side and the Mughals and Afghans on another. The Sikhs had cemented their control in the area by 1764–65. After that, Ranjit Singh (1780–1839) developed the Punjab area into a strong Sikh state. Punjab is presently inhabited by India and Pakistan, but the culture remains the same on both sides, separated only physically but not in spirit.
5 rivers of Punjab   
Punjab is also called the "Land of Five Rivers" as there are five rivers that flow within and around a single state even the name "Punjab" means five rivers. The name of these five rivers is Satluj River, Ravi River, Beas River, Jhelum River, Chenab River. The Satluj, Beas, and Ravi are the only rivers that flow through the Indian state of Punjab. Before actually entering Pakistan, Ravi passes via Punjab, largely along India's and Pakistan's boundaries. The Jhelum and the Chenab, the other two rivers, flow through Pakistan's Province of Punjab.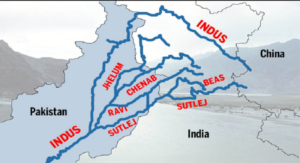 Satluj is originated from Rakshastal Lake in Tibet and later terminated in Chenab River also it is the longest river in Punjab i.e. 1500km.
Beas River originates from Beas Kund in the Himalayas that resides in Himachal Pradesh and later it terminates into the Sutlej River at Harike in Tarn Taran District of Punjab. (470KM)
Ravi River originates from Kangra District of Himachal Pradesh and terminates in Chenab River. (720KM)
Chenab River originates from Upper Himalayas in Lahaul and Spiti district of Himachal Pradesh and later merges with Sutlej and forms Panjnad River which flows into the Indus River. (960KM)
Jhelum River originates from Verinag Spring in Kashmir and terminates in Chenab River. (725KM)
Punjab Cuisine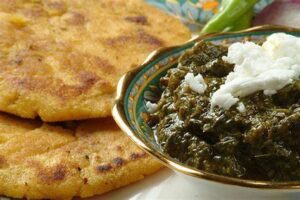 Punjabi cuisine is an essential aspect of North Indian cuisine, and it appeals to a wide range of tastes. The residents of this state prefer spicy cuisine and use a lot of oil and ghee in their cooking. There are no complicated seasoning blends or complex condiments here, just a lot of masalas and a lot of oil or ghee.
Punjabi people prefer wheat to rice, although they could eat rice sometimes. You'll find such a vast variety of roti that you'll be left wondering about Punjabi cuisine's adaptability. Makki ki Roti (corn chapati) and packed paranthas, Pinni, Chole Bhature, Aaloo Parantha, Dal makhani are extremely popular. Milk and dairy products are very popular among the locals. A Punjabi dinner is incomplete without curd and buttermilk. Lassi, a curd-based drink from Punjab, is a famous summertime drink that satisfies thirst.
A traditional clay furnace is frequently seen in the lawns of Punjabi families, the Punjabi tandoor has now become a vital aspect in cooking numerous Punjabi delicious food. In the remote areas of Punjab, there is also a custom of holding collective tandoors. A Punjabi tandoor is a bell-shaped furnace that is either raised above or buried in the ground. The tandoor is used to make a variety of bread such as roti and naan, as well as delectable meat meals such as tandoori chicken, which is made by roasting chicken mixed seasonings and yogurt.
Butter Chicken is Punjab's greatest culinary triumph. This cuisine is a must-have for any party. Juicy chicken chunks are soaked in a luscious butter sauce and mildly seasoned before being served with naan or rumaali roti.
Climate and Land
Punjab has a well-balanced climate with hot summers, rainy monsoons, and frigid winters. Since all three seasons are so evenly spaced, you may experience each one separately. Punjab, due to its northeast location, is subjected to extremes of summer and winter. It also receives a lot of rain, making the state extremely fertile.
Summer
Punjab's temperature begins to rise in February. The genuine summer season, on the other hand, begins in April and continues through June. As a result, the post-winter changeover season is defined as the period around February and the start of April. From June to mid-July, the weather can be fairly intense.
Monsoon
The monsoon season in Punjab starts in July and ends in September. The state receives rainfall and ranges from  250 mm to 1000 mm throughout this time. The amount of rain falls differently in different parts of the state. The Bay of Bengal provides Punjab with its monsoon current. The monsoon rains are extremely beneficial to increasing the land's productivity
Winter
Winter begins in Punjab begins from October end and mostly from December mid to February beginning does the weather turn cold and icy. As a result, October and November are generally post-monsoon months, during which the state receives some rainfall. The temperature might drop to 0 degrees Celsius in December. During the wintertime, the climate in the state is extremely cold.
Land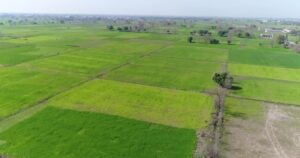 When India was divided in 1947, the majority of Punjab was given to Pakistan. The lesser half of India has partitioned into three provinces in 1966: Punjab, Haryana, and Himachal Pradesh.  Punjab consequently accounts for around 1.6 percent of the country's land area. Punjab is bordered by Pakistan on the west, Jammu, and Kashmir on the north, Himachal Pradesh on the northeast, and Haryana and Rajasthan on the south. The state is physically separated into two parts: the sub-Shivalik Strip and the Sutlebj-Ghaggar Plain. The Sub Shivalik strip runs through the districts of Ropar, Hoshiarpur, and Gurdaspur. The Sutlej-Ghaggar plain encompasses all of Punjab's other divisions.  The Land of Punjab is vast as well as fertile and also referred to as Golden Harvests. Punjab's economy is based on agriculture. Wheat, rice, and cotton are the main crops. Food-related industries come in a variety of sectors. Punjab region is India's largest manufacturer of wheat.
Human Population
With about 57% of the population, Punjab is inhabited by the Sikh/Punjabi minority. Punjab is India's most agriculturally productive state and has the highest per capita income. Punjab's Sikh community is dominated by Jat Sikhs. Punjab's population has been steadily increasing since the country's independence. Punjab's population was predicted to be 20.19 million in 1991. By the end of 2001, it had risen to 24.3 million. About 20% of Punjab's overall population is migrant from other parts of India. Punjab has a literacy rate of 75%, which is somewhat lower than the national average.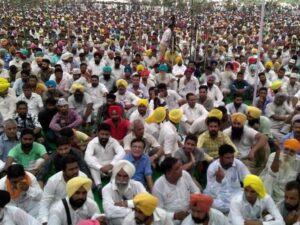 Punjab's statistics took place in 2011. Punjab's population is expected to reach 31,623,274 people in 2021. Punjab's population is expected to reach 31,254,208 in 2020. In comparison to the figure of 30,841,832 for the year 2019, the population has decreased (30.8 million). The very same population was recorded as 30,452,879 in 2018.
The most populated district in the province is Ludhiana, with an approximate population of 3,498,739 (2011). It is also Punjab's largest district in terms of land.
Sikhs make up more than 60 percent of the state's entire population. Hindus are the second-largest religious group, accounting for 34% of the total. In Punjab, Islamists account for 2% of the population. The remainder of the state's population comprises Christians, Jains, and people of other faiths.
Punjabi cultural dress
Punjabi traditional male attire is the 'Punjabi Kurta' and 'Rehmat,' particularly the popular Muktsari style, which is being phased out in favor of the kurta and pajama in current Punjab. The Punjabi Salwar Suit, which has supplanted the ancient Punjabi Ghagra, is the traditional outfit for ladies. Also popular is the Patiala salwar.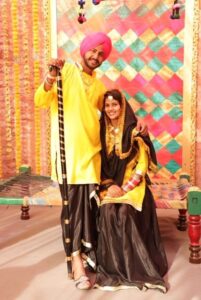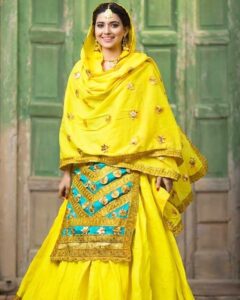 Phulkari is quite popular in Punjab, and it is enjoyed by people of all ages. Phulkari is a floral handicraft, and its origins may be traced back to the 15th century Punjab. This art is really old, but it is quite beautiful. The wonderful art of phulkari is portrayed in many various narratives relating to Punjabi culture, one of which is Heer-life Ranjha's story. The cultural importance of this craft in Punjab is readily apparent, as it is practiced by the vast majority of Punjabis regularly.
Turban is a cultural headdress for men that Punjabis refer to as Pagg or Pagri. Men wear the Jama, which is a long length of cloth. JAMA's history may also be traced back to the regal Punjab when it was worn by Kings and other nobles. On the head, the Jama is worn with a turban. It truly looks great on men and is now donned by women as well, but it was designed specifically for guys.
Traditional Dance and Music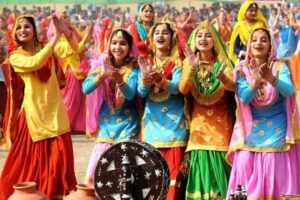 Punjab is known for its unique music and dance traditions. The lyrical music and dancing traditions of Punjab are used to commemorate important life events such as birth and death, love and separation, wedding and contentment, and so on. Dhadi, Tumba-Algoze, and Tappa, among many other regional versions, are examples of Punjabi traditional music.
Dhadi
The ideas of collaborative composition are followed in this ballad style of folk music. Dhadi singers sing about characters like Hir-Ranjha and Mirza-Sahiba, who were immortalized in folklore. The Tumba-algoze music is comparable ballad-style folk music found in the Malwa- Majha region.
Tappa
These are short verses prompted by the daily lives of the people in the village. Some verses are built around couplets and funny lines, while others are built on important life interpretations. Instrumentation such as the dhol, algae, sarangi, chimta, Kato, supp, budgo, tumid, and that are used to bind lyrical lyrics in music.
Bhangra
Among traditional forms of Punjab, Bhangra is the most well-known. Bhangra was originally played to commemorate the changing of the seasons and the harvesting on Lohri and Baisakhi, correspondingly. Bhangra is now linked with the Punjabis' (people of Punjab) joyful temperament.
Gidda
Gidda is among Punjab's most well-known dance genres. The gidda is characterized by hand-clapping and dancing to the rhythms of the dhols and drums. On the lines of bolis, the gidda is performed.
Dankara
Dankara is a male-dominated celebratory dance genre that is frequently practiced during marriages. Two men with staves of various hues dance alongside each other to the rhythms of the drums and then tap their sticks together in the dankara dance movements.
Jaago
Almost the entire neighborhood or community is invited to the marriages in villages. The females of the household announce the marriage to the entire neighborhood by carrying pots (gaggers) of water on their heads and singing songs with tongue-in-cheek lyrics.
GDP of Punjab, Resources, and power
Punjab has the 16th largest state economy in India, with a gross domestic product of 5.29 lakh crore and a per capita GDP of US$2,090, placing 19th amongst Indian states. Punjab's GDP was 53 million INR Rupees in 2020. Punjab's GDP grew at an annualized rate of 8.00 percent from 26.7 million INR lakhs in 2011 to 53 million INR lakhs in 2020.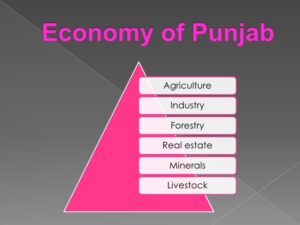 Punjab gets its electricity mostly from thermal facilities that use imported coal due to a lack of fossil fuels. Hydroelectricity plants, on the other hand, provide a large quantity of power, as do solar energy plants to a lesser level. Punjab's demand for power continued to outstrip supplies in the early twenty-first century.
Manufacturing
Ever since the late twentieth century, the manufacturing industry (which includes construction) has grown significantly. Enterprises producing silk, wool, and other textiles, processed foods and beverages, steel industries and machinery, transportation equipment, and furniture employ the most people. Leather goods, chemicals, rubber and plastic products, and hosiery are all key industries.
Services
Trade, handling, and transportation, financial sectors, real estate, public administration, as well as other services are all part of Punjab's services industry. Since the late twentieth century, the industry has expanded quickly. It had grown to be the most important part of Punjab's economy by the early twenty-first century.
Agriculture
The agriculture sector employs a large portion of Punjab's population and contributes significantly to the state's gross domestic product. Punjab generates a large amount of India's foodgrain and contributes a significant amount of wheat and rice stock. The agriculture sector employs a large portion of Punjab's population and contributes significantly to the state's gross domestic product. Punjab produces a significant amount of India's foodgrain and contributes a significant amount of wheat and rice stock.
Punjabi Arts and crafts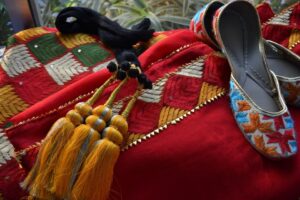 Punjab's traditional arts and crafts are well-known around the world. Punjab is a multicultural province in India's northwest. Punjab's historical arts and crafts encompass a wide range of handicrafts. Punjabi artisans are talented and deft. In addition, the Punjab Arts & Crafts are primarily carried out by local women.
Punjabi basketry
Basketry is an ancient handcraft practiced throughout Punjab. Rural ladies are mostly interested in basketry as a source of income. Such baskets were originally mostly used for household needs.
Punjabi Durries
Durries are plain weaved rugs that are both utilitarian and visually appealing. They are either used as floor carpeting or as beddings. The unique blend of artistic motifs distinguishes them from ordinary carpets and bedcovers.
Punjabi Folk Toys
Punjabi folk toys are the result of a wonderful blend of artistry and societal ideals. Punjab's first handcrafted toys are from the Indus Valley Civilization, which lasted from 2500 to 1700 BC. The extraordinarily huge quantity of miniature terracotta carts is one of the most iconic toys.
Paranda Punjabi
Paranda is among Punjab's local handicrafts. The majority of Punjabi ladies wear their hair in plaits and then knot a paranda at the ends. Paradis come in a wide variety of styles and hues. They're produced from a slew of silk threads that have been artistically braided with other skilled works.
Punjabi Phulkari 
'Phulkari,' which means "flower crafting," is a technique for enhancing the appearance of clothing. It is an art form in which fine stitching is done in a basic and minimalist pattern on shawls, sarees, and headscarves. In certain situations, the whole cloth is wrapped in thick designs, obliterating the base cloth.
Ghagra
The ghagra is a four-piece garment that emerged in Punjab and is now popular in Haryana and areas of Himachal Pradesh. This outfit is typically used during Giddha, a popular Punjabi folk dance in which females swirl around in mesmerizing colors while performing traditional Punjabi melodies.
Government and society, Health and welfare
The national constitution of 1950 determines the organization of Punjab's government, as it does that of all other Indian states. The state is governed by a governor who's been elected by India's president. A Council of Ministers, headed by a chief minister and reporting to the unicameral Legislative Assembly, assists and advises the governor (Vidhan Sabha).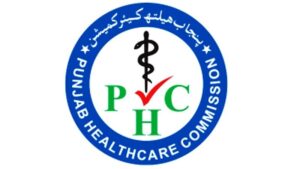 The High Court, which is administered with the Haryana and is based in Chandigarh, is at the apex of the judicial. The Supreme Court of India hears appeals from the High Court. District courts sit below the High Court.
The state is organized into around two dozen districts, each with its income division. A deputy commissioner oversees each district. The districts are also subdivided into tehsils or subdivisions.
Health & Welfare
Punjab has superior health than the majority of Indian states. A pervasive public healthcare network includes hospitals connected to medical institutions, district and sub-divisional healthcare centers, rural medical centers, and multiple dispensaries.
Government and non-profit groups provide a wide range of social services. The government pays pensions to the aged and runs a network of job exchanges to help unemployed people. Scholarships, job services, and various loans and subsidies for business activity are among the state's programs to help persons from typically socially deprived groups.
Education
Private groups along with the government have served an important role in the expansion of education at the elementary, middle, and postsecondary levels all through the province. For students aged 6 to 14, education is obligatory and free. In-state schools, secondary education is also free of cost. Broadcasting has played a critical role in the spread of technical and cultural education across the state.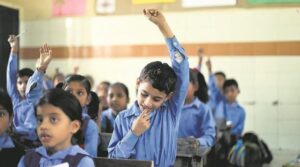 Punjabi University (1962) in Patiala, Guru Nanak Dev University (1969) in Amritsar, Panjab University (1956) in Chandigarh, Punjab Agricultural University (1962) in Ludhiana, Punjab Technical University (1997) in Jalandhar, and Baba Farid University of Health Sciences (1998) in Faridkot are among the state universities in Punjab. In addition, there are over 200 technical and specialized colleges in the area.
Cultural Life
Punjabi culture is truly awe-inspiring. The mouthwatering Punjabi cuisine satisfies your taste senses such as never before. Bhangra and vibrant extravagant costumes attract you like nothing at all. Whenever you visit Punjab, you will find it to be a welcoming and touching place. Punjabis are noted for being friendly, welcoming, and passionate. They extend their hearts to everyone. Punjab's magnificence is as enchanted as it becomes.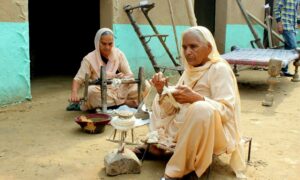 The Culture of Punjab, which is rich in religious ideas from several respected Sikh Gurus, reflects an age-old heritage of captivating rituals. The Cultural Center of the State, being related to the oldest of civilizations, boasts a wonderful symphony of varied traditional activities that have created a synonymous image for the place.
The Festivals of Punjab are known for their joyful traditions, bright costumes, and great dance styles. The state's festivities enchant people with its never-ending allure, from Bhangra, Gidda, and Baisakhi to traditional music and dhol thumping. All of the festivals, which are held at various times throughout the year, represent the enormous energy and joy of the locals.
All who come to visit this bountiful land of traditional customs and contemporary delights are enchanted by the cheerful demeanor and enigmatic spirit of Punjab's People, Culture, and Festivals.
Custom and Traditions
Khatris and Jats are the two major ethnic groups of Punjab. They've been in the agricultural business for a long time. However, the state has since opened itself to trade and commerce. A sizable portion of the population still adheres to the joint family arrangement, which has proven to be unique. The sense of connection is palpable here, as they vow to be there for each other at both happy and terrible times.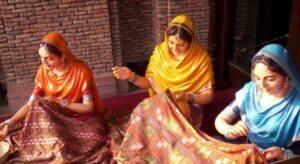 Punjabis take pride in their traditions and relationships. Every event or ceremony has its own set of rituals that must be performed to the letter. Whether it's a birth or a marriage, a haircut or a burial, following customs is a requirement, as per them, because it deepens a relationship and exhibits proper social cordiality.
Dussehra, Diwali, Baisakhi, and other spiritual and seasonal holidays are celebrated by Punjabis. There are also many anniversary festivities honoring the Gurus (Sikhism's ten holy gurus) and renowned saints. Dance is a common component of such celebrations, with bhangra, jhumar, and Sammi is one of the most various styles. Giddha is a hilarious song-and-dance genre sung by ladies and is a Punjabi custom. Semi-classical Mughal styles like the khyal dancing and the thumri, ghazal, and qawwali vocal performance genres, in contrast to Sikh religious music, remain dominant.
Festivals of Punjab
Punjabi festivals are what everybody should see at least once in their lives. The Punjab community in the northwestern area is known for being vocal, active, and enthusiastic about practically everything. Punjabi celebrations are heavily centered on agriculture, as it is a farming-based region. Harvest season is a time of joy and anticipation.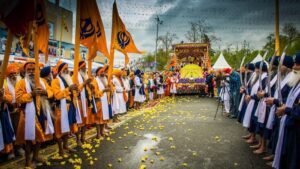 Punjab is a place of vibrant colors, upbeat music, and kind gestures. All of this, paired with intense dancing hours, results in the many vibrant festivities that the region is famous for. Let's have a glance at such festivals.
Lohri
Lohri is a Punjabi festival that celebrates the completion of a severely cold winter by ushering in lengthier and warmer days. People dance and sing around campfires lit by households throughout the state. It's also a community event, with a large number of families gathered around a communal bonfire.
Baisakhi
Baisakhi has a special meaning for Punjabis. This not only commemorates the state's spring harvests and solar new year, but it also commemorates the foundation of the Khalsa in Sikhism. Baisakhi is observed with visits to gurudwaras, kirtan festivities, and local fairs throughout the state.
Teeyan
Teeyan, often spelled Teej, is a celebration that marks the beginning of the monsoon season. Teen is a Punjabi and Northern Indian festival marked by dancing, music, folk songs, fasting, colorful traditional attire, and prayers.
Hola Mohalla
Hola Mohalla is a festival held every year. The Nihang Sikhs put on exhibitions of bravery and military capabilities incorporating traditional battle tactics and animals as part of the celebrations. Sikhs from all across the province and the globe come to Anandpur Sahib for this three-day festival. In langars, meals are served communally.
Gurupurab
Gurupurab is a festival commemorating the life of the Sikh Gurus, usually on their birth or grave dates. Throughout the year, a variety of gurupurabs is honored, with Guru Nanak Dev Ji's birth anniversary being one of the most important. People attend gurudwaras, partake in the langar, burn crackers, and adorn their houses with lighting during Gurupurab.
Tikka
Tikka is a festival that honors the bond between brothers and sisters. In this case, the sister places a red tikka on the brother's forehead, which is intended to ensure his brother's long and healthy life. The brother, in turn, presents gifts to his sister as a mark of his care and devotion. Everybody puts on good clothes and is filled with a warm sentiment of siblinghood.
Popular tourist attractions
Airway Services
Chandigarh and Amritsar are the two airports in Punjab. All of the main airlines fly to both of these airports regularly, linking them to India's big cities.
Train services to Punjab:
Punjab has a well-developed railway network that connects it to the rest of India. The province's main railway stations are Chandigarh, Ludhiana, Amritsar, Jalandhar, and Pathankot, which serve many significant trains.
Road travel to Punjab:
All of Punjab's major cities are connected by an outstanding network of roadways and state roads. The National Highway 1 (NH1), also known as the Grand Trunk Road, connects the state to most of the important locations in northern and eastern India.
Punjab is best visited in the spring, between February and April, and in the autumn, between September and November.
Amritsar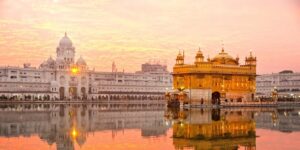 Amritsar, the place is famous for mythology, nationalism, and spirituality is always at the number one spot when it comes to religious locations to explore in Punjab. This is one of the most important sacred sites for Sikhs, as it is a house to the Golden Temple or Sri Harmandir Sahib. There are numerous significant landmarks in Punjab. Amritsar's small streets are lined with stores offering bright juttis, suits, and other accessories.
Chandigarh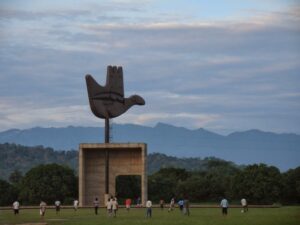 Chandigarh is one of the most well-known Punjab destinations because it is a fascinating mix of current civilization and earlier traditions. It's also among India's finest cities, which would be a welcome contrast from the rest of your travels. You must explore the lovely Rose Garden, the International Dolls Museum, and spend some time relaxing at Sukhna Lake.
Ludhiana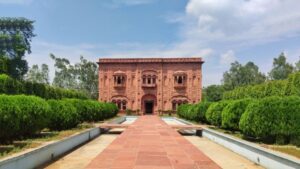 Simply touring this city would reveal the actual attractiveness of Punjab's state and its agricultural situation. You may experience the people's simplicity in their manner of living while also witnessing the beautiful grandeur of nature. You must go to the Museum of Village Life to have a better understanding of the culture. The Maharaja Ranjit Singh War Museum and the Phillaur Fort are well worth visiting.
Anandpur Sahib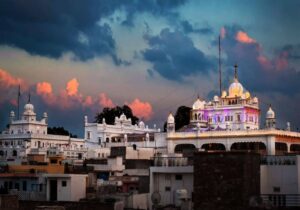 Anandpur Sahib, approximately 2 hours north of Chandigarh quite close to the Himachal Pradesh boundary, is flanked by a 17th-century fortification and set between a high mountainous region and river. For centuries, this sacred site has been a popular pilgrimage site for Sikhs. It is renowned as the "Holy City of Bliss," and the stunning new Virasat–e-Khalsa museum depicts the narrative of the Sikh community there.
Bathinda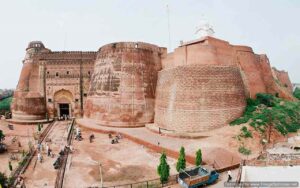 Bhatinda, the City of Lakes, is a small city that is nonetheless one of the must-see tourist destinations in Punjab. Various monuments in the city, ranging from AIIMS to thermal power stations and the Central University of Punjab, have aided significant development in the region. As the fragments stand as spectators, the city relates mythical tales of history. In the past, rulers such as Mahmud of Ghazni, Muhammad Ghori, and Prithvi Raj Chauhan waged wars and dominated the city.
Harike Wetlands and Bird Centuries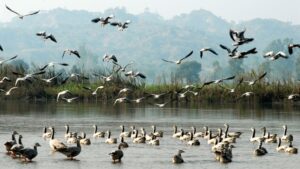 Harike Wetlands has not been promoted as a tourist site, therefore it is devoid of amenities and frequently goes unnoticed by visitors. It is, nonetheless, a popular breeding ground for migratory and permanent waterfowl, with over 360 species documented. Although boating is prohibited without official permits, there are trails approachable only by a vehicle that provide excellent bird watching opportunities. Entry is free, and permits are issued by the Harike Wildlife Office. The best months to visit are November to February. For nature enthusiasts seeking peace, it's an intriguing vacation.
Life of People: Male/Female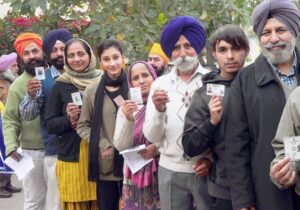 Punjab's demographic is made up of a diverse blend of tribal groups and social strata. Greeks, Scythians, Rajputs, Huns, Pathans, and Mughals all came to this land, established down, and were entwined in its multicultural nature. The Jats, Khatris, Aroras, Brahmans, Vaishyas, Lohars, Gujjars, Tarkhans, and Sansins are the most powerful tribes among the numerous tribes. Awans, Arians, Kalals, Ahluwalias, Labanas, Pathans, Nais, Sainis, Kambohs, and Soods are among the area's minor groups. The majority of them can be grouped into tribes and familial groups.
Every Punjabi hamlet has its unique set of customs and ceremonies. Every group has its own set of social customs that are distinct from others. Even though a Jat and a Khatri live next door to each other, some cultural aspects differ significantly. Despite their diversity, the Punjabis as a whole is united by a common strand of uniformity. People of all ethnic backgrounds mingle to form a true air of multi-dimensional bonding and togetherness.
Punjab's villages are lush with vegetation, and most residents rely on farming to earn a living. Villages are a treasure of Punjab, where people speak their mother language Punjabi.
In the last decade, the Punjab rural culture has radically transformed. People used to sleep outside their houses in the 1990s. The majority of homes now have air conditioning units. Punjabis have strong attachments to the places where they were born and raised. Rather than going to cities, they desire to enjoy a decent lifestyle. The pure Punjabi language is the precious treasure of Punjabi culture. It's a joy to converse to listen to Punjabi.
Female Life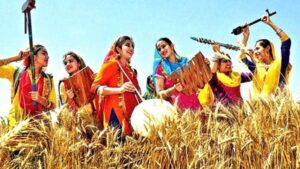 The life of women in Punjab is extremely good compared to other states as in Punjab women are equally treated and celebrated as men there's not any sector that exists in Punjab where women cannot work. In past decades Punjabi females have proved them time and again be it in any field alike they are cheerful, loud, and vibrant also ththeirense of fashion is amazing. It is the belief of equality by the Punjab community that women in Punjab are empowered enough. Parents of females never restrict their daughters from achieving their goals instead they support their women to excel in life.
Punjabi Wedding Traditions
Punjabi wedding ceremonies are vibrant, boisterous, and often over-the-top celebrations with plenty of opportunities to sing and dance one's heart out. Punjabi weddings can be modest or extravagant, but they always guarantee a lot of fun and festivity. A Punjabi wedding is a long and delightful occasion due to a slew of pre-and post-wedding customs. Although Punjabis never miss an opportunity to have a good time, their weddings demonstrate their proclivity for upholding age-old traditions, just with a traditional touch on occasion.  Let's glance at some of the many wedding customs.
PRE-WEDDING RITUALS
Thaka and Roka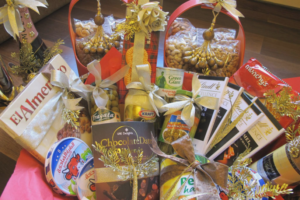 Once all aspects of the wedding appear to be acceptable, the bride's family pays a visit to the groom's home to bestow blessings on him as well as numerous presents for the family, such as fruits, delicacies, clothing, money (often referred to as shaman), and so on. The Roka is the name for this custom. In most cases, the bride is not involved at the Roka. The groom's family repays the favor by paying a subsequent visit to the bride's family with gifts. Thaka is the name for the welcome back ritual. These are usually low-key gatherings with just close family members in attendance. The Roka ritual, which usually begins with a little puja called Ardaas.
Mangni/Sagai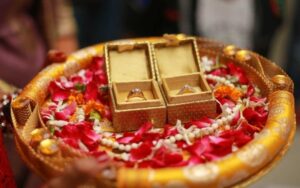 This is the couple's first official engagement ritual. This is usually a spectacular ceremony that takes place a few months before the wedding. The groom's family feeds the bride cooked rice and milk. The pair swaps rings in a joyous atmosphere. The sagai ritual officially seals the match.
Chunni Chadai and Shagun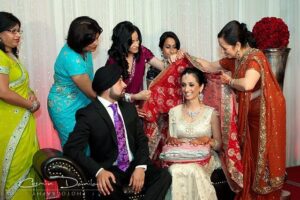 The Chunni Ceremony is held to commemorate the bride's admission into the groom's family. On the occasion of the Sagai and the day before that, a bunch of women arrives at the bride's house. The Chunni is draped over the bride's head and used as a veil to conceal her face. Chunni Chandana is the name given to this ritual. To make the ritual auspicious, a small dot of mehndi is put to her palm. Shagun is the name given to these presents given to the bride.
Sangeet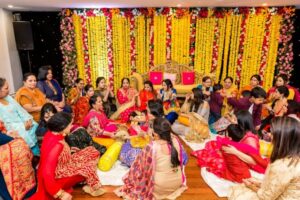 It is the Punjabi form of the foreign Bridal shower, and it can last one day or several days. It is typically held in a function room, with females singing traditional Punjabi music.
Mehndi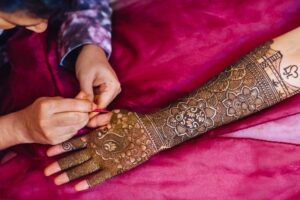 A mehndi evening set in a party environment. Mehndi is applied to the bride and other females' hands and feet. The prospective Mother-in-Law sends the henna to the bride.
Wedding day rituals/Mayian
Kund Paat Puja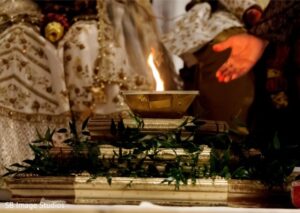 This ritual is voluntary, however, it is strongly recommended for a long and happy marriage. It's a three-day praying period before the rest of the festivities begin. The Guru Granth Ji Sahib is present and recited continuously, as well as divas and fragrances. Guests are welcome to attend whenever they like throughout the first two days of the prayer, but they must be present in the early hours on the third day of the prayer. Since Sikhs think that the mornings are the most serene period of the day, it is done at the same time. Breakfast, lunch, and dinner are served during this prayer, based on how long you are there.
Chuda Ceremony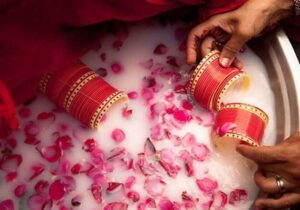 The bride's maternal uncle and aunt are in charge of this ritual. All attending touch the chuda to express their compliments and well desires for the bride. Kaliras are tied by the girl's maternal uncle and aunt, friends, and cousins. The bride must strike one of her unmarried female acquaintances or cousins with her kaliras before leaving for her husband's house. As per common belief, the next person to marry will be someone who is tapping in this way.
Vatna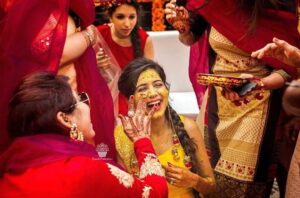 The bride-to-be must remain at home in her old clothing for a few days before her wedding as part of this tradition. Female relatives and acquaintances apply vatna, a paste of dried turmeric and mustard oil, to her face before her bath. At the groom's home, both the ghara ghardoli and the vatna rituals are done.
Jaggo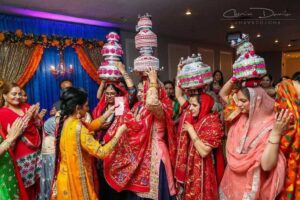 This family event, which takes place the night prior, is a boisterous celebration in front of the magnificently adorned house with music, fireworks, dancing, and sweets that lasts late into the night. Copper vessels are ornamented with lit candles and carried by the maternal aunt, who is accompanied by another lady shaking a stick with bells. The family sings folk songs as they visit their neighbors' and relatives' homes, where they are fed sweets and invited to join in the festivities.
Anand Karj
Sarbala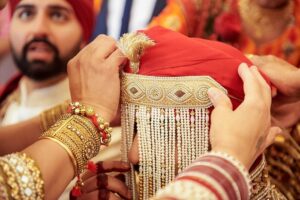 A young nephew or relative wears the same outfit. He is known as the sarbala (groom's keeper) and accompanies him. Sehrabandi: his turban or sehra is blessed by his relatives.
Varna
Surma lines the groom's bhabi's eyes (kohl). The groom's siblings and cousins feed and adorn his horse after that. A ritual to ward off the evil eye is known as varna. The money is distributed to the less fortunate.
Milani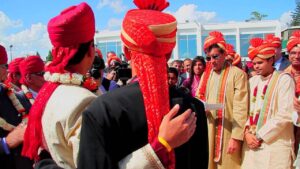 The priest performs the Ardas, which is followed by the ceremonial presentations of the families' principal male participants. Both of the elder Chachas (father's younger brother) will come together and swap floral garlands and gifts. Ladies will perform the same activity during or after the marriage.
Jaimala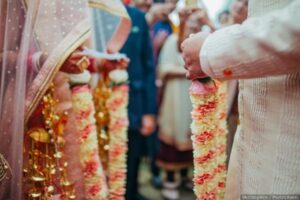 Following Milni, the bride and groom walk to the center of the circle, where the family is gathered, and place a large garland of flowers on each other to signify that they accept one other and will love and live together.
Kanyadaan
The groom's father places a ring on the boy's finger before presenting his daughter to him.
Pheress/Lavan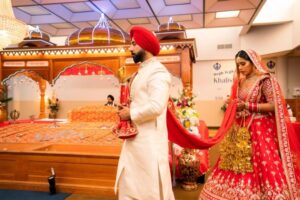 The Wedding couple will walk in tow around the Guru Granth Sahib four times at fixed intervals, depending on whether it is a Hindu Punjabi Wedding or a Sikh Wedding.
Juta chhupai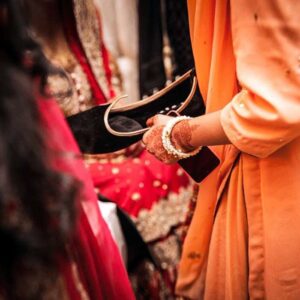 It's when the bride's younger cousins take the groom's unattended shoes and hide them until the ceremony when they will be returned for a charge of gold Kalecharis for the bride's sisters and silver Kalecharis for her cousins. Juta chhupai is the name given to this pleasant custom.
Rituals Following the Wedding
Vidaai/Doli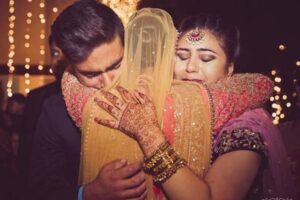 The bride bids her parents a sorrowful farewell and tosses a handful of rice over her shoulder in their direction. She conveys her thanks to them for taking good care of her for so long in this way. She would then be driven to her husband's house in a decked vehicle. Doli is the name given to the return bridal procession.
Paani Varna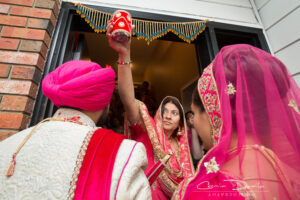 When the Doli arrives, the groom's mother performs an arti of the bride with a pitcher of water. The mother-in-law tries to drink a sip of water after every circle, but the bride prevents her from doing so. After the sixth round, she finally gives in. After tipping a pot of rice with her right foot, she enters the doorway.
Mooh Dikhai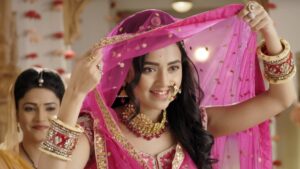 The newlyweds are then led to the family deity to seek prayers. The bride is then seated and her cover is lifted in front of all of her family members and friends. The bride's elders then bestow their prayers on her and present her with cash and jewels as gifts.
Reception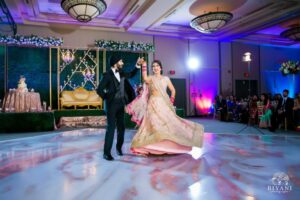 In honor of the newlyweds, the groom's family throws a magnificent celebration party. A Punjabi reception is a joyous celebration, complete with delectable food and lively music.
Pag Phera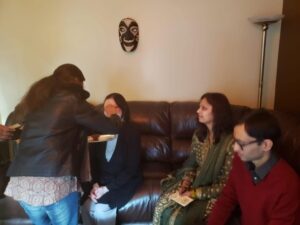 The newly wedded couple return to their parents' house. With a lavish brunch, the parents greet their daughter and son-in-law. The couple will have to stay at her parents' house for the night. She comes to her husband's house the next day with a large number of gifts for her in-laws. The wedding festivities come to an end at this point.
Language and Religions
Punjabi is a language so abundant in refinement that this is the world's eleventh major language. It is also regarded as a member of the Indo-Aryan language family. Punjabi is the primary language in Punjab, as well as the rest of northern India.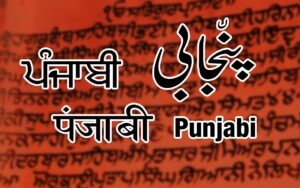 Punjabi has received a lot of recognition throughout the world because of its rich literature. The Punjabi language, which has millions of speakers in India, is used to transcribe the majority of religious or spiritual works of literature. Its dialect, like that of any other Major language, varies every few hundred kilometers. Among the most well-known dialects are:
Majhi is the Punjabi language that arose in the Majha region. Majhis are people who live in the central section of Pakistan's Punjab district, as well as in the Indian districts of Amritsar and Gurdaspur.
Doabi: Doabi is a language spoken in India's Doab area, and it refers to a location that lies between two major rivers, the Beas and the Satluj. The primary districts where Doabi is being spoken frequently are Kapurthala, Jalandhar, Nawanshahr, and Hoshiarpur.
Malwai: The Malwa region, located in west-central northern India, holds a particular place in the hearts of all Punjabis. Malwai is the Punjabi language that has developed through the years to the point where it is now used to sing most folk tunes.
Powadhi is a Punjabi dialect that is widely spoken in the eastern part of the province.
Pahari is a language spoken in the Indian subcontinent's mountainous terrain. Pahari is a Nepalese, Indian, and Pakistanis language. The people of the Mountains speak Punjabi in this dialect.
Dogri: Dogras in India and Pakistan speak an extremely musical localization of Punjabi called Dogri.
Multani is a language used by traders in Pakistan's Eastern Punjab.
Religions
Punjab is a region where a diverse range of religions coexists in perfect peace. The state's principal religions are Sikhism and Hinduism. Several religions, such as Islam, Christianity, Jainism, and Buddhism, thrive as well, though in smaller numbers. Let us learn more about the major religions practiced in the state of Punjab.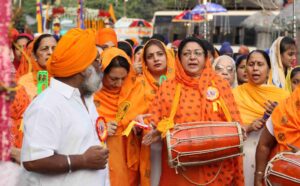 In India, Sikhism is the predominant religion in Punjab. It is the 5th largest religion, founded by Guru Nanak Dev as well as the other nine Gurus. Sikhism's core belief is in "Waheguru," which means "Universal God." The religion believes that salvation can be attained by meditating on the Divine systematically and intimately. Sikhs worship the ten Gurus as well as the Holy Scripture Guru Granth Sahib, which is regarded as the eleventh and ultimate Guru.
Albeit not as frequently practiced as Sikhism, Hinduism is an important religion in Punjab. In addition, it is the state's second most widely practiced religion. Hindus live a liberal lifestyle, and the majority of them attend gurdwaras to worship. They primarily engage in trade and business. Khatri (Kshatriya in Hindi), Brahman, Baniya, and Rajput are by far the most frequent castes in Hinduism, as practiced in Punjab.
Islam is another prominent religion in Punjab, however, it is practiced by just a small percentage of the population. The majority of Muslims in Punjab fled to Pakistan after the split in 1947. Despite the small population of Muslims in the state, there are a large number of mosques. Notable religious sects in the state include Christianity, Jainism, and Buddhism.
Literature and Philosophy
Punjabi literature, notably literary works published in Punjabi, is a feature of India's and Pakistan's historical Punjabs, as well as the Punjabi diaspora. The Punjabi language is recorded in numerous scripts, the most prevalent of which are Shahmukhi and Gurmukh in Pakistan and India, correspondingly.
Urdu and Hindi scripts are also used to write Punjabi. Sikhs who speak Punjabi use the Gurmukhi script, which was created by Guru Angad Sahib Ji. Guru Ji did not create Gurmukhi from start, contrary to the common perception; instead, he changed the Landa (land) script. He improved the landa script to resemble what is now recognized as Gurmukhi, including pronunciation and accurate tonal phrases. Well before Guru Ji, the Landa had existed for millennia.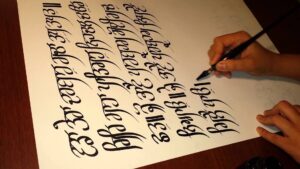 Some of the most well-known names in West Punjabi literature written in Pakistan since 1947 are Najm Hossein Syed, Fakhar Zaman, and Afzal Ahsan Randhawa. Shafqat Tanvir Mirza, Ahmad Salim, and Najm Hosain Syed, all West Punjabi intellectuals and poets, have contributed to the development of literary theory in Punjabi.
Some of East Punjab's most famous writers and poets are Amrita Pritam (1919–2005), Jaswant Singh Rahi (1930–1996), Shiv Kumar Batalvi (1936–1973), Surjit Patar (1944–), and Pash (1950–1988). (India). The Sahitya Akademi awarded Pritam's Sunehe (Messages) in 1982. Pritam explored the effects of social morality on females in it. Kumar got the Sahitya Akademi Award in 1965 for his epic Luna (a dramatic version of Puran Bhagat's narrative). There have been great authors, poets in Punjab and still exist with commendable skills.
Punjabi Newspapers
Even though Punjabi speakers are widely dispersed throughout India, Punjabi newspapers and periodicals are exclusively published and grown in the northern states. Punjabi newspapers are widely distributed in India, a few sections of Pakistan, and western nations such as Canada, the United States, the United Kingdom, and Australia. In Pakistan, the language lacked official support and, as a result, will never emerge into a major language like Urdu. As a result, genuine progress through media and activism took place only in India.
Punjabi journalism expanded explosively during these years because there was no greater vehicle of protest than newspapers. According to historians, approximately 80 periodicals and journals were published in the early twentieth century, primarily expressing the sentiments of ordinary Indians opposing British authority.
Here's the list of top Punjabi Newspapers:
Ajit:Business, politics, agriculture, health, sports, and other topics are covered in one of the most frequently read Punjabi publications.
The Tribune Trust publishes the Punjabi Tribune, a broadsheet-format daily.
The leading Punjabi-language daily is Jag Bani.
Rozana Spokesman: Mohali-based Punjabi-language daily newspaper.
The Tribune is a leading English-language daily newspaper based in Chandigarh, India. In Punjab, Himachal Pradesh, Haryana, and the Union Territory of Chandigarh, The Tribune is one of the most influential publications.
The Jagran group's newspaper was distributed in Amritsar, Jalandhar, Bathinda, Chandigarh, Doaba, Gurdaspur, Kapurthala, and other Punjabi cities.
Zamana Nawan: The Jalandhar-based daily covers politics, business, sports, education, health, music, and other topics.
Ajj Di Awaz: From Jalandhar, Punjab, comes a Punjabi-language newspaper.
Punjab Times is a newspaper published in Punjab, India
Janjagriti is a Punjabi-language newspaper based in Ludhiana.
5 Dariya News
Sach Kahoon
Nirpakh Awaaz(Rupnagar)
Punjab Post
Aashiana
Quami Ekta (Punjabi: ਕੌਸੀਏਕਤਾ)
Sky Hawk Times(Mohali)
Punjabi News Online
Azad Soch
Indo Times(Australia)
Desh Doaba
Hamdard Weekly(Canada)
Times of Punjab(USA)
Punjab Mail USA
 Punjabi Channels
The language that has wholeheartedly accepted enthusiasm and friendliness, is Punjabi, the world's 9th predominant language. Punjabi has had an undeniable impact on Northern India, with roots extending back to the 7th century. It is widely used in Punjab (India and Pakistan), the Jammu region, Haryana, Himachal Pradesh, and Delhi, the country's capital. Even though it is spoken by over 130 million people worldwide, India is the only country where it has been granted official recognition.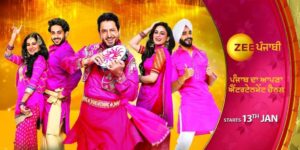 It has been designated as the norm for all government communications, including administrative and the media. There are numerous Punjabi channels currently and the way impact of Punjabi is growing Punjabi media could reach a new height. Have a glance at top Punjabi Channels around the world.)
India
Greater Punjab News
Chardikla(Patiala)|Time TV]] (Chardikla)
Peddler Media (peddler media)
Azad Soch
Daily Ajit
The Tribune(The Tribune)
Punjab Newsline
Punjab Times
Rozana Spokesman
DeshVidesh Times
Punjab Hotline
Punjabi News Online
Punjab News Express
Doaba Headlines
Punjab Mail
Monthly Wariam Jalandhar
Ghanchi Media
Zee Punjabi
Italy/Canada
The Tv Nri
TBN The Benipal Network
Asian Vision
FYI Media Group Ltd
Punjab Newsline
Punjabi Daily
Sikh Press
Sanjh Savera
Ajit Weekly
 Pakistan
 UK
 USA
TBN The Benipal Network
FYI MEDIA GROUP LTD
Punjab Mail USA
Quami Ekta
Map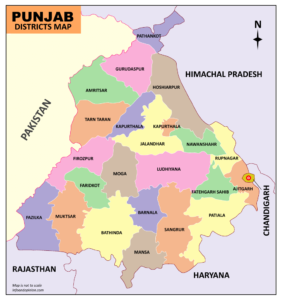 Punjab is located in the nation's northwest quadrant. It is bordered on the north by J&k, on the eastern by Chandigarh, on the north and northeast by Himachal Pradesh, on the south and southeast by Haryana, and on the southwest by Rajasthan. Punjab, a Pakistani state in the west, meets a global boundary.
Chandigarh serves as the administrative capital of Punjab. Punjab is among the wealthiest provinces in the country.  Amritsar, Barnala, Bathinda, Ferozepur, Fatehgarh Sahib, Faridkot, Gurdaspur, Hoshiarpur, Jalandhar, Kapurthala, Ludhiana, Mansa, Moga, Mohali, Muktsar, Patiala, Pathankot, Rupnagar, Sangrur, Shaheed Bhagat Singh Nagar, and Tarn Taran are among the 22 districts that make Punjab.
Gatka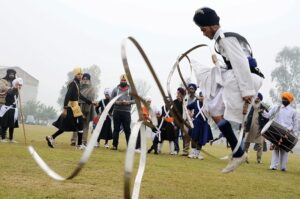 Gatka is an ancient type of self-defense martial arts. It is also a spiritual practice and is known as Khutka. It's a marriage of physical flamboyance and spiritual dedication. It's also known as 'Adi-Shakti Yoga,' or Yoga for Self-Empowerment. It is more than just a martial art; it is a way of looking at things and life that is full of joy and satisfaction.
History of Gatka
Gatka's history shows that following the second Anglo-Sikh War, which lasted from 1848 to 1849, and the establishment of British rule, this sport experienced a major setback. The consequences were so severe that even farming equipment and tools were prohibited. The Akali Nihang was considered anti-colonial by the British government in India. The British Empire executed about 1,500 Nihangs for plotting revolt. Some allegedly fled and spent the remainder of their lives in the mountainous regions, as per legend. Of course, the Sikhs subsequently aided the British during the insurrection of 1857, and numerous gatka techniques were employed.
Gatka's development
Gatka has evolved tremendously throughout time as a result of historical, political, and cultural shifts, and it has now evolved into a performing art instead of the basic skill of self-defense. The akhara, or arena, is a pit dug in the earth of a gurdwara or an open field. There, one can hear spiritual melodies from Sikhism's holy books, Sri Guru Granth Sahib, and see religious poems being performed. The males, vowed to celibacy, commence with the chant "O Lord, grant me so much force that I never dread completing a good deed," and then perform the Fateh Namah, or weapons worship, based on Guru Gobind Singh's (1666-1708) concept that swords symbolize divine might.
Gatka's Art
Following that, they engage in a range of martial activities and Gatka techniques. Gatka is an art form that uses Gatka methods. Double-edged spears or 2 swords are severely but methodically spun around the torso in the first solo exercise. In the next, a 2 feet in length pipe attached to a 30-inch chain having half a kilogram of load connected to one end is handled in a dance with strong movement and hops.
Other Facts:
Punjab is a place of bravery and good joy. It is also a region that provides mouth-watering cuisines. Punjab's mustard farms are well-known, as is the Punjabi people's sense of service.
Punjab was a significant province in British India before India's division in 1947. Punjab has split into two parts after Separation: Indian Punjab and Pakistan Punjab.
Punjab translates to "Land of Five Rivers." Pun denotes five, while Aab denotes water. The ancient Rig Veda, Hinduism's holy scripture, refers to Punjab as "Sapta Sindhu."
Punjab and Haryana share Chandigarh as their capital. It is a part of the Union. Chandigarh is a well-planned metropolis with a reputation for being one of India's most attractive cities. Le Corbusier, a French architect, designed the city. Chandigarh is well-known for its academic institutions as well as its numerous tourism attractions.
Punjabi customs and heritage have become ingrained in the Indian consciousness, molded in part by the prevalence of Punjabi music and dance styles in many popular Bollywood films. Moreover, numerous Punjabi foods are popular throughout the country.
Punjab's economy is based on agriculture. Wheat, rice, and cotton are the main crops. Food-related industries come in a variety of shapes and sizes. The province is India's largest manufacturer of wheat. Many other big firms exist.
When you hear the name Amritsar, your mind immediately thinks of the city's most famous allure: the Golden Temple. Various temples and historical sites can be found in this ancient land.
The Golden Temple in Amritsar is by far the most visited tourist attraction in the globe, as per the United Kingdom's World Book of Records. The Golden Temple, also known as Shri Harmandir Sahib, is Sikhism's most popular pilgrimage destination.
Please follow and like us: