7 Facts about Shaheed Baba Deep Singh
On January 26, 1682, Baba Deep Singh Ji was born. Deep's parents nurtured him with a lot of love and dedication because he was an only child. On the Vaisakhi of 1700 A.D., he travelled to Anandpur, where, after receiving baptism, They began learning weapons and horsemanship from the Sikhs.
He started learning Gurmukhi reading and writing, as well as the understanding of Guru's words, from Bhai Mani singh. Following a two-year stay at the Guru's institute.
Baba Deep Singh Ji travelled to Anandpur Sahib to see Guru Gobind Singh Ji, the tenth Sikh guru. They spent a couple of days at Sri Anandpur Sahib, performing sevaa (service) for the Sangat. Guru Gobind Singh Ji urged Baba Deep Singh Ji to remain with him. Guru Ji's instruction was humbly obeyed, and he served him.
Let us discuss 7 facts about Shaheed Baba Deep Singh ji:
1. Baba Deep Singh Ji battled with a two-edged sword that weighed more than 20 kilogrammes (40lbs).
Baba Deep Singh Ji was 75 years old, but his power was that of a youthful fighter. Carrying and fighting with that kind of a heavy sword is not easy. Baba Deep Singh Ji was really a saint with superhuman strength and the ability to wield this massive sword. Consider if you'd be able to handle such a powerful weapon for an extended period of time on a battlefield. Baba Deep Singh Ji proved it time after time.
2. Wazir Khan, who was behind Guru Gobind Singh Ji's younger Sahibzade's Shaheedi, was slain by Baba Deep Singh Ji.
Baba Deep Singh Ji and Baba Banda Singh Bahadur killed the Wazir Khan, who was accountable for the demise of Guru Gobind Singh Ji's younger Sahibzade (Guru Ji's sons) Baba Zorawar Singh Ji and Baba Fateh Singh Ji, as well as Mata Gujar Kaur Ji, in around 1709. Despite the fact that the Muslim army dominated the Sikhs by a large margin, the Sikh army easily defeated the Muslim soldiers.
3. Several copies of Sri Guru Granth Sahib were handwritten by Baba Deep Singh Ji.
Guru Gobind Singh Ji narrated the complete Sri Guru Granth Sahib, while Baba Deep Singh Ji and Bhai Mani Singh Ji transcribed it and gave it to Sikhs. Following its accomplishment, Baba Deep Singh Ji proceeded to hand write four new copies of the Sri Guru Granth Sahib over many years.
Akal Takht Sahib, Takht Patna Sahib, Takht Hazur Sahib, and Takht Anandpur Sahib received those four copies. He then sent another copy of the Sri Guru Granth Sahib to the Middle East, written in Arabic language.
4. Beheaded Baba Deep Singh Ji beheaded.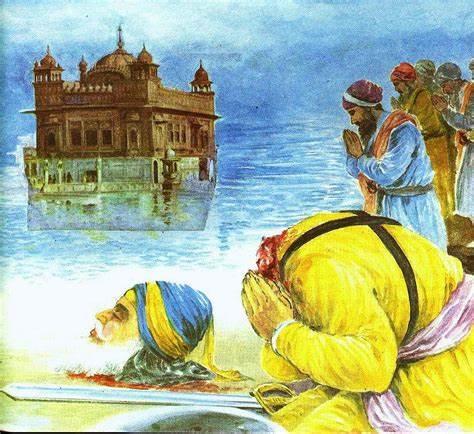 In the final attack with Jahan Khan's near visible Goharwal, Baba Deep Singh Ji and all the Sikhs battled so valiantly that the foe was nearly destroyed. However, Jahan Khan's soldiers received troops soon after, and Baba Ji and the Sikhs kept on fighting and pushing to Amritsar.
Both Jahan Khan and Baba Ji slammed their swords with enormous power throughout the battle, killing Jahan Khan and fatally injuring Baba Ji on the throat. One of the Sikhs recalled him of his commitment to die in the Harmandir Sahib's grounds. He honoured his word by continuing to battle with his 20kg+ Khanda in his one hand while holding his head right up with his left. He made it to the boundaries of Harmandir Sahib, where he died.
Anokhe Amar Shaheed Baba Deep Singh Ji is another name for him. Such a mission could only be completed by someone with spiritual strength.
5. Baba Deep Singh Ji was a multilingual master who spoke Gurmukhi, Sanskrit, Persian, Arabic, and a variety of other languages.
He dedicated himself in his learning of Sikh theology and Sri Guru Granth Sahib, the Sikh holy writings, while at Anandpur Sahib. Even if we learn a language from preschool, it is tough for us to get perfect in it! Imagine being able to communicate in multiple languages.
6. He was also trained the art of horse riding, hunting, arms training, and the use of the arrow (archery) as well as other weapons by Guru Gobind Singh Ji.
He became one of Khalsa Army's bravest soldiers at the age of 20. Even now, his life provides a good example about how to live as a Sant Sipahi for everyone of us (Saint-Soldier).
7. Oath of taking last breath at Harmandir Shahib
Taimur Shah began deconstructing Gurdwaré and dumping trash and booze into the sarovars. When Baba Deep Singh Ji learned about the beadbi and destruction of Sri Harmandar Sahib, he informed the Sangat of Takht Sri Damdama Sahib, saying, "This year, Diwali will be celebrated in Amritsar." Five hundred Singhs lined up to accompany him.
The sacrifice of Baba Deep Singh Ji inspired Sikhs to keep fighting tyranny for several years. His life continues to set an example for all Sikhs about how to live and say bye to your life with dignity, as well as how to not stand or allow the sanctity violation of Sri Guru Granth Sahib Ji or the Gurdwara.
It is a lesson that we should all learn from and strive to emulate, so that Gurdware and people maintain the privacy and courtesy of Gurmat and Sri Guru Granth Sahib Ji.
Please follow and like us: