India is a melting pot of many cultures and religions, and so is the work ethic in creative ideas and media, which no one can deny. And it still functions as a united community. The Sikhs' establishment of the langar tradition attests to this. When it comes to the concept of sharing food, the Sikh community has never believed in the decree, and langar is an example of how the Sikhs have strived to keep faithful to the principle of equality. Langar is the only area where people from various socioeconomic backgrounds can eat together. Many gurudwaras have recently stepped up to provide food and shelter to those in need. Wherever the need occurred, whether in India or overseas, we could find the Sikh community assisting people in the greatest way possible.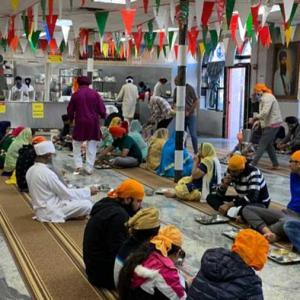 Have you ever wondered how that is accomplished? The meal offered is known as Langar, and the practice of providing langar is not new. Guru Nanak Dev's father gave him some money for business needs. He was advised that good negotiating results in financial advantage. He came across folks who appeared to be inferior or impoverished and needed nourishment. He spent the money on feeding the destitute folks and returned home with no profit. To his enraged father, his only defense was that true profit is found in unselfish service.
The aim behind langar was to establish a common location where people from all origins, regardless of gender, religion, or caste, might sit and dine together, thereby upholding the idea of equality.
Langar, which translates as "an almshouse" or "a place for the destitute and needy" in Persian, is a Sikh community kitchen. The idea behind Langar is that anyone in need of food, regardless of caste, class, religion, or gender, is always welcome as the Guru's guest. Langar preaches equality and loving-kindness in addition to the virtue of sharing. Following a visit to the Guru, i.e. Guru Granth Sahib, devotees or the Guru's visitors sit on floors together in lines known as Pangat and are served with Langar. It is critical to serving simple, vegetarian cuisine for the Pangat because it helps to promote equality and prevents affluent congregations that may transform it into a feast, with wealthy people from displaying their superiority. Even though not everyone in the Sikh community is a vegetarian, the langar is served vegetarian so that everyone, regardless of dietary preferences, can eat langar and not go home hungry.
If you have been to a Gurudwara and have had Langar, then you know that there is no Daal in the whole world sweeter than "Langar wali daal". The cuisine is widely followed throughout the world and includes dal, chapatis, one type of sabzi, and some kheer.
While the concept of Langar has proven to be life-saving for many people, it is primarily life-sculpting for the Sikh community because even making this meal teaches many principles. That is why, in addition to serving, making the Langar is also enjoyable and sends a strong message of unity and 'Sewa' (service). Families congregate at their local gurudwaras to begin preparations for holidays such as Gurpurab and Baisakhi. The view is as stunning as one could expect. On the one side, men and women are cutting vegetables for daal and sabzi; on the other, grandmothers are kneading dough for chapatis and teaching young children how to make chapatis perfectly circular. Sharing the Sewa by assisting one another and then giving food to strangers with eyes full of compassion and mouths uttering the Guru's name, the children and adults learn the lessons of humanity and love daily. While every gurudwara has a modest or large kitchen, The Golden Temple's kitchen is the largest yet. Every day, it serves almost 50,000 people. And the kitchens are open 24 hours a day, 365 days a year.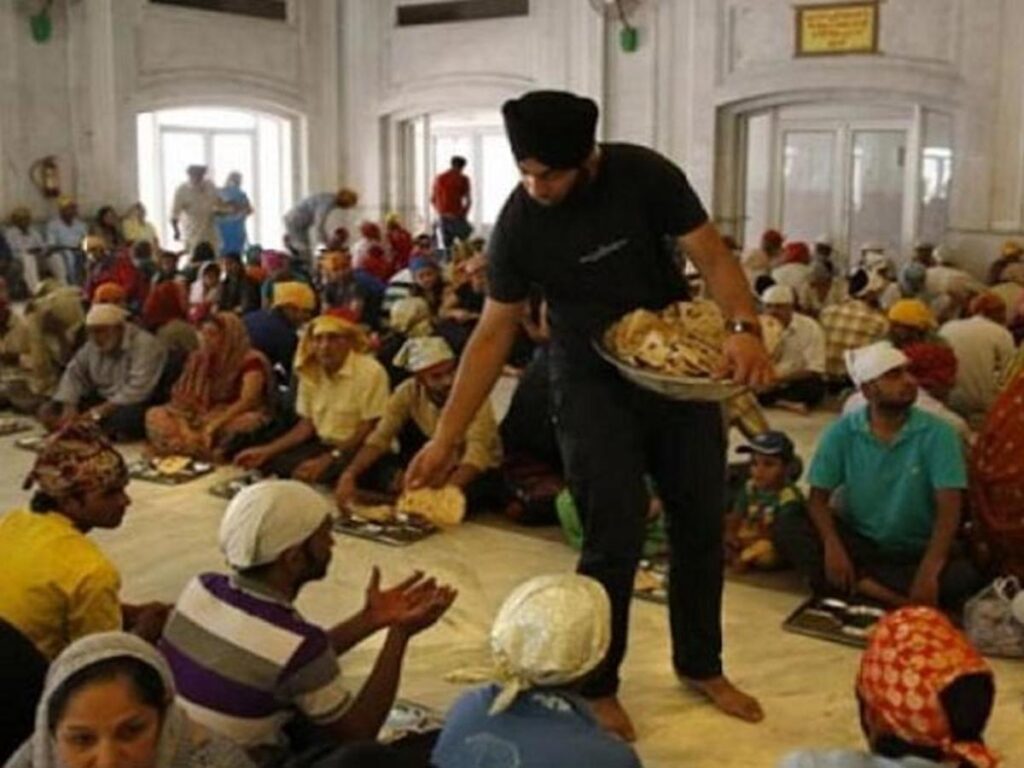 It is reported that when Guru Nanak was a child, his father gave him 20 rupees and urged him to go to the market to practice 'Sacha Sauda' (a good bargain). His father was a well-known trader in his area, and although Guru Nanak was just 12 years old, he wanted him to learn the family business. Instead of conducting a worldly bargain, the Guru instead bought food with the money and fed a huge number of saints who had been hungry for days and that is what he stated was the "real business". The Guru Granth Sahib, the holy book held in all gurudwaras, provides such important Guru teachings and is revered by Sikhs. One of the ideas dearly adopted and followed by taking lessons from the Guru's teachings and actions are, "Naam Japo," "Kirat Karo," and "Vand Chhako," which mean, meditate on the Guru's name, lead an honest life, and earn an honest and dedicated living by walking on the path that the Gurus have made for us, and finally, share what you eat. These three basic pillars of Sikhism are the reason why Gurudwaras prioritize humanism and aid those in need.
Please follow and like us: