Delhi, the nation's capital, has a long and deep relationship with Sikh heritage. Not only have five Sikh Gurus visited this city ever since late 1400s, but it was also the base of political authority throughout the first 300 years of the Sikhism faith's existence, therefore many important events happened here; tragically, two Sikh Gurus died here.
The lifestyle of Delhi is heavily influenced by Sikhs. Together with Hindus and Muslims, they constitute the triangle of Delhi's mixed culture. Despite the fact that Sikhs make up a small percentage of Delhi's population, they constitute an important part of the city's trade. Sikhs, like Muslims, have their own distinct colonies strewn around Delhi. In Delhi, there are numerous lovely and exquisite Gurudwaras that give one a sense of the community's richness.
If you're looking for calm and mental stability, you must pay a visit to these sacred sites. And most of these Gurudwaras highlight the heroic and historical occasions that have occurred throughout the heritage of the Sikh community in Delhi. The magnificence and tranquility of these well-known Gurudwaras in Delhi draw visitors from all around the globe.
When it comes to Sikhism, New Delhi has a plethora of Gurdwaras, the most well-known of which is Gurdwara Bangla Sahib. Besides this, Delhi is home to a plethora of gorgeous and fascinating Gurudwaras which have contributed to the shaping of Sikhism. Also not just the beauty but the tasty langar seva is yet another reason for you to visit these Gurudwaras which you definitely will love to eat or offer seva as well.
Let's have a look at 10 historic Gurudwaras you should know:-
Gurudwara Bangla Sahib
The most well-known Gurudwara in Delhi is Shri Bangla Sahib. It was built in 1783 by Sikh General Bhagel Singh. It is also known as among Delhi's ancient Gurudwaras.
Among all the major Gurudwaras in Delhi, the Gurudwara Sri Bangla Sahib attracts the most tourists. Anyone Sikh holidays are lavishly celebrated, as well as the Gurudwara's doors are indeed open to everyone. They also provide langar, a community-based kitchen that is open to everyone regardless of gender, region, country, or belief.
Gurudwara ShisGanj Sahib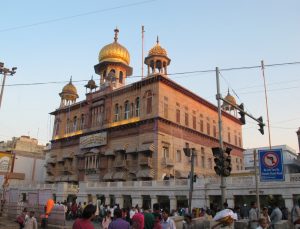 Gurdwara Shis Ganj Sahib is among Delhi's highly attended Gurdwaras, located in the Chandni Chowk neighbourhood of Old Delhi. It was built in 1783 by Baghel Singh and is the martyrdom place of Guru Tegh Bahadur, the ninth Sikh Guru. On the command of Mughal Emperor Aurangzeb, the Sikh Guru was beheaded on November 11, 1675, for declining to change religion. As a result, Baghel Singh constructed this Gurdwara to honor Guru Tegh Bahadur's martyrdom.
Majnu Ka Tilla Sahib Gurudwara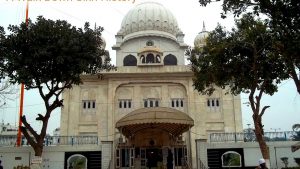 Gurudwara Manju Ka Tilla Sahib was named after Abdulla, who was popularly known as Manju in the area. In the name of god, Manju often used take passengers all across river without any charge. Guru Nanak Dev Ji encountered him in the year 1505, and was delighted by his efforts. He prayed for Manju and took refuge in his Tilla for a while. During his stay, a large number of people came to seek Guruji's graces, and the area became known as Manju ka Tilla. The Gurudwara is located on the banks of the Yamuna River and attracts a large number of pilgrims throughout the year. Manju Ka Tilla was also attended by the 6th Guru, Guru Hargobind Singh Ji, in addition to Guru Nanak Dev Ji.
Baba Banda Singh Bahadur Gurdwara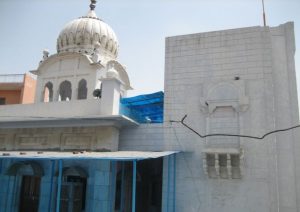 The Gurudwara is a Hindu temple. Baba Banda Singh Bahadur is a well-known Delhi Gurudwara that has played an important and iconic part in Sikh history. The Gurudwara is located in Delhi's Mehrauli neighbourhood, close to the Qutub Minar. The Gurudwara stands on the site of the assassination of Baba Banda Singh Ji, his 4 years son, and 40 more Sikhs.
The Story of Baba Banda Singh Bahadur was also narrated by Rabindranath Tagore. Huge numbers of people attend the gurdwara every year. Thousands people come at the place during the Vaishakhi celebration to attend and arrange a large fair.
Gurudwara Mata Sundri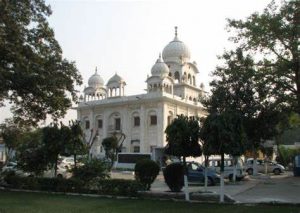 Gurdwara Mata Sundari is titled upon Guru Gobind Singh ji's wife, and it is where Mata Sundari ji died in 1747. In his honour, this location has become a well-known pilgrimage site. When Guru Gobind Singh Ji moved for the Deccan, Mata Sundari remained here. Mata Sundari guided the Sikhs approximately 40 years following Guru Ji's death. Sikhs held him in high regard, and he regarded Mata Sundari as his master for guides. At Gurdwara Bala Sahib Ji, the very last rituals for Mata Sundari's corpse were done.
Bala Sahib Gurdwara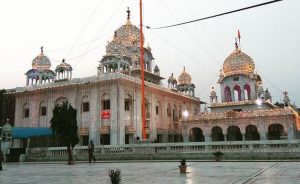 This Gurdwara is associated with the 8th Guru, Sri Harkishan, and Guru Gobind Singh's two spouses, Mata Sundari and Mata Sahib Kaur. Bala Sahib had the privilege of succeeding his father Guru Har Rai Ji as a Guru just at age of five. He is remembered for his therapeutic touch, which aided many cholera and smallpox sufferers in Delhi at the time.
Gurudwara Nanak Piao Sahib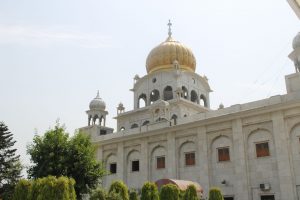 Gurudwara Nanak Piao Sahib is located wherein Guru Nanak Dev Ji established his camp in 1505 under the reign of Sikander Shah Lodhi. He then used feed and water the tourists for free. When the grounds owner decided that the camp's location was sacred, he built the gurdwara.
The location is a very sacred and well-known gurudwara in Delhi that attracts a large number of Sikhs all through the day. People adore the Gurudwara's sacredness, purity, and calm, and consider it the ideal location to offer their devotion to the Almighty.
Gurudwara Moti Bagh Sahib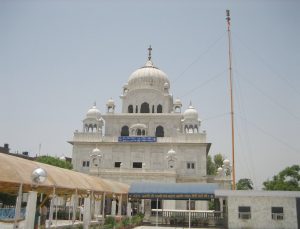 Guru Gobind Singh Ji and his troops first set foot on Delhi's land in the year 1707. Gurudwara Moti Bagh Sahib is established on the site of Guru Gobind Singh Ji's army's resting place. According to mythology, Guru Gobind Singh Ji fired two arrows from this location at the Red Fort, where Emperor Muazzam and Aurangzeb's son seated on the monarch.
The arrows are said to have landed directly in front of the throne, and the episode was thought to be a miraculous until the second shot struck in the same position. People began to believe that Guru Gobind Singh Jo having exceptional abilities as a result of this. Many pilgrims go from all over the world to visit the Gurudwara.
Gurudwara Damdama Sahib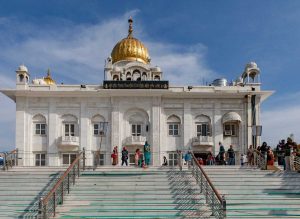 The Gurudwara Damdama Sahib is a well-known Gurudwara in Delhi with a lengthy history in Sikhism. The tenth Sikh Guru, Guru Gobind Singh, and the son of Aurangzeb, Prince Muazzam, met at the Gurudwara Damdama Sahib. They later rose to become the Mughal Empire's sixth emperor.
In the year 1707, a meeting was held. Sardar Bhagel Singh erected the Gurudwara in 1783, and Maharaja Ranjit Singh later rebuilt it. The Gurudwara was refurbished again in 1984 to its current appearance. Outside the Gurudwara, devotees must take off their shoes, cover their heads with a scarf, and wash their hands.
Gurudwara Rakab Ganj Sahib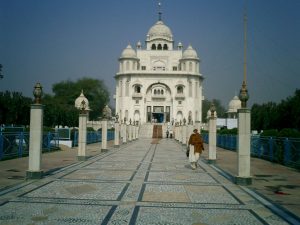 Guru Tegh Bahadur Singh Ji was buried at the Gurdwara Shri Rakabganj Bo. Aurangzeb is claimed to have refused to deliver his body upon beheading Guru Tegh Bahadur. The body was then taken away in the dark by Guru Tej Bahadur's pupil Lakha Shah Vanzara, and his death rites were conducted here. Even now, Sikhs and devotees of Guru Tej Bahadur ji gather to pay their respects to him.
So, now you know that beside street food of Delhi and other monuments you should visit these amazing and sacred Gurudwaras to seek blessings and feel peace from within. Especially if you are someone who loves to visit historical places and don't forget to have langar of Gurudwaras you will love if for sure. Hope by now you discovered gurudwaras to visit on your next trip to Delhi.
Please follow and like us: