Ammy Virk is a  very famous Punjabi actress and singer from India. He was born in Lohar Majra village, Nabha, Patiala, Punjab, India, on May 11, 1992. Ammy is well-known for his work in the Pollywood (Punjabi) film sector in India. In 2015, he made his acting debut in the Pollywood film Angrej and also as a singer in Chandigarh Diyan Kuudia (2012). Ammy began his acting career in Simerjit Singh's acclaimed drama film. In 2016, he had remarkable results in the Pollywood movie Nikka Zaildar and the action picture Bambukat. The collective drama Nikka Zaildar 2 was Ammy's first mainstream triumph of the decade, grossing 24 crore at the movie office.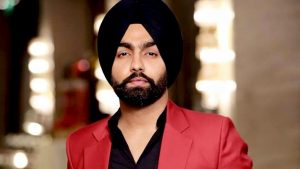 Amrinderpal Singh Virk, often referred as Ammy Virk, is a well-known singer whose been captivating people with his melodic voice. The best part is that his talents are not confined to singing; he also has incredible acting and producing abilities. He has appeared in a number of films and has amassed a large following. He is from Punjab, India, wherein he pursued and received his bachelor's degree in Biotechnology. He comes from a Sikh household and practises Sikhism.
Early Life of Ammy Virk: Family/Studies
Ammy used to be a great athlete in school, and he used to play cricket and handball. He graduated from Punjabi University in Patiala with a B.Sc. in Biotechnology.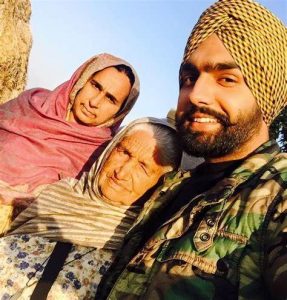 His ancestors came from Pakistan. He had a natural talent for singing from a young age, yet he never won a singing contest in high school or college. Virk's "Patiala royal turban" is widely popular amongst his devotees. Ammy was awarded the PTC Music Award in 2014 for his breakthrough album "Jativism" (2013). He flourished at singing and co – curricular and extra activities such as poem recitation, bhangra, plays, and impersonation during his high school and college years.
During his final semester of college, Virk also sang "Chandigarh Diyan Kudiyan" for fun and published it to YouTube. The audience loved the song, which encouraged Ammy to seek a singing career.
Ammy virk Cars/Income
Ammy Virk's income is estimated to be in the region of 50 lakh rupees. Singing and other sources of revenue are among his many sources of income. He leads a standard and wonderful lifestyle in Punjab. Ammy has a significant automobile collection. Ammy's automotive collection,  comprises the Fortuner and the Land Rover Range Rover Velar.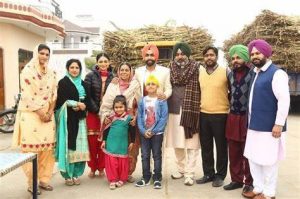 Career
Ammy Virk is a well-known musician, artist, and producer who has positioned himself as a famous figure. He's started a production firm called "Villagers Film Studio" as well as a distributing company called "In House Group." He is best recognised for his role as Nikka in the "Nikka Zaildar" series, but he has also played Shivjit in "Qismat," Harjeet Singh in "Harjeeta," and Hakam in "Angrej." He began his career with a real solitary track for that he became well-known. He sung a song at his cousin's wedding when he was 17 years old. It was around this period that he discovered his love for singing and decided to pursue a career as a famous singer.
He has sang on a number of Punjabi songs and is well-known around the world. He also sang other well-known songs such as "Yaar Amli" and "Jatt Da Sahara," for which he received widespread praise. His first music album, "Jattizm," was launched in 2013 and earned the prize for "Best Album of the Year" at the PTC Music Awards. Another well-known song is "Qismat," which he released in 2017.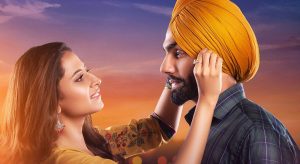 In 2015, he also made his acting debut in the film "Angrej," in which he played Hakam. It was a romance Punjabi movie for which he received the PTC Punjab Film Awards' Best Debut Actor Award. "Bambukat," "Ardaas," "Laung Laachi," and other notable films are among his most well-known. He also made his Bollywood debut in 2020 with the film "83," directed by Kabir Khan and inspired by 1983 Cricket World Cup as well as "Bhuj" released lately.
However, the film is yet to be released. His latest movie is "Qismat 2" Directed by Jagdeep sidhu and Sargun Mehta was his co-actor in this movie releasred on 23 september this movie is again a great success following "Qismat 1"
Controversies
With the premiere of his track "Haan Kargi," wherein he advocated liquor and participated in the Anand Karaj rite in the midst of Palki Sahib, Ammy Virk got embroiled in a controversy.
This was seen as a betrayal of the Guru Granth Sahib. Although, the singer subsequently apologised for insulting the public's sensibilities and stated that the video did not include Guru Granth Sahib Ji.
Lately after his release of "Bhuj" Punjabi community lashed out on him for working with Bollywood and also promoting bollywood movie as people wanted him to support Farmers which he did but still people got offended but later things got sorted and he also apologized for hurting sentiments of farmers.
Real Name
Amrinderpal Singh Virk
Name
Ammy Virk
Date of Birth
11 May 1992
Birth Place
Lohar Majra village, Nabha, Patiala, Punjab, India
Height
5′ 8 ft
Weight
65 kg
Family
Not Know
Marital Status
Unmarried
School
Not Available
College
Punjabi University, Patiala, Punjab, India
Qualification
M.Sc in Biotechnology
Profession
Singer, Actor
Debut
Song: Chandigarh Diyan Kuudia (2012)
Album: Jattizm (2013)
Film: Angrej (2015)
Net Worth
$10 Million
Please follow and like us: