Punjab, known for its rich cultural heritage, is a tourist's favorite place to have an experience of rural traditions. Punjab's greatest gurus throbs with a past embodiment as well as archaeological sites are also the reason behind its rich heritage and beauty. It is no mystery that anyone who visits this country of golden fields with the beautiful and scenic background of the Blue Mountains hasn't ever left without absorbing the ethos of Punjab, and the Punjabis are a strong community known for their kindness and hospitality. If you take a stroll through the Punjab region, you will indeed be greeted with refreshments, glasses of buttermilk and lassi, and requests to stay overnight.
The Punjabis take great pride in their bravery and can respond quickly to slights. They are, however, ready to explode into a boisterous song and dance routine in which both males and females join freely.
Punjab's villages are steeped in tradition and culture. Villages are home to a large number of the state's inhabitants. The inhabitants live a happy and entertaining existence, and they share every celebration. Their celebrations include a lot of dancing and music. Punjabi celebrations are well-known all across the globe. Punjab's villages are also regarded as the state's backbone, as the state's economy, agriculture, and manufacturing strength are heavily reliant on the villages.
What are the best villages in and around Punjab, India? What characteristics make them the best?
Punjab has some of the greatest villages in India. Even though they are in rural locations surrounded by gorgeous fields, they all have access to major highways and roads, electricity, water, schools, religious institutions, and markets. They are very peaceful places with nice people and residences. You will be surrounded by lovely fields and see a lot of agricultural machinery in Punjabi villages.
Longowal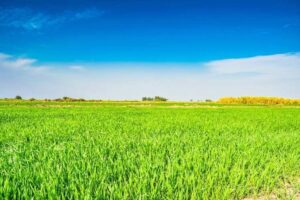 The lovely Longowal village was founded by Baba Alla Singh, but it rose to popularity just after Sant Harchand Singh Longowal became a prominent Punjab leader. With the establishment of the Sant Longowal Institute of Engineering and Technology, the location has now positioned itself on a national level. The area has some fantastic dhabas that serve delectable parathas with handmade butter.
Toosa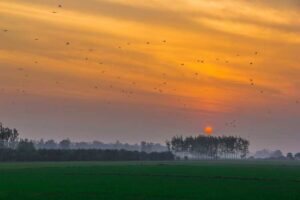 Choose  This little village in Punjab's Ludhiana district lies roughly 23 kilometers south of the city of Ludhiana. The community is famed for its mustard crops and fertile soil. Noosa is the place to go if you want lassi with Sarson ka saag and makke ki roti.
Dadhi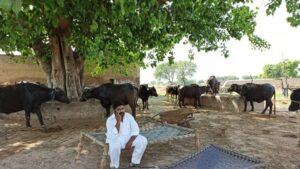 Dadhi is a tiny but prominent village in Punjab, located on the banks of the Sutlej River in the Ropar district. Guru Nanak is reported to have visited the area, and Guru Hargobind lived his final years near the settlement, making it a special destination for the Sikhs.
Chogawan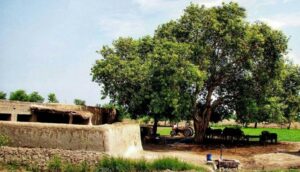 Chogawan hamlet is located in Punjab, about 20 kilometers from Amritsar. If you want to experience the true essence of Punjab, you must go to this village. Farming is the sole source of income in this area.
Baba Bakala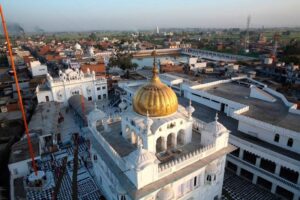 Baba Bakala, another picturesque and historic small town in Punjab, is known for housing the famed Gurdwara Baba Bakala Sahib. Bakkan-Wala, meaning Town of the Deer, was the village's original name. Afterward, the name was abbreviated to Bakala. Deer used to graze on the mound that served as the town.
Raipur Kila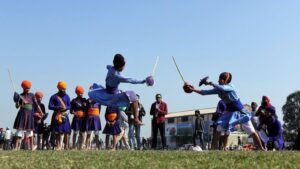 Although all the villages with sugarcane fields, Makki di roti, and sarso da saag would give you a true Punjabi experience, one village near Ludhiana provides a lot more. This community hosts an annual Rural Olympics event in February, which is a must-see for all sports aficionados. Bullfighting and martial arts are two events that will make your jaw drop! People from all around the globe come to witness these rural Olympics.
Pharwala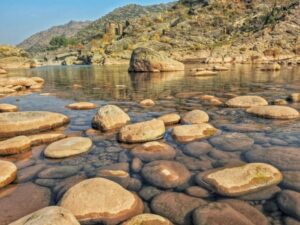 Pharsalia has long been one leader in the field of education. At the turn of the century, a notable educator and philanthropist called Master Maiya Das pushed the development of a middle school and high school, donating his private land and money to construct an amazing institution. Before migrating to Khalsa High School, Bundala, roughly five kilometers away, students from all around the area attended these schools. The present government elementary and secondary schools are located on the same property.  For so many years, Pharwala was the administrative headquarters of the region.
Thablan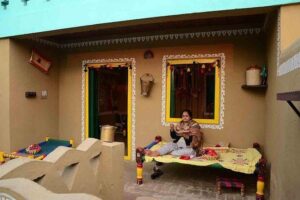 The modern village of Punjab as here panchayat had worked hard and smartly by maintaining hygiene and nobody pollutes water bodies. Also, villagers are provided with Suvidha Kendra, Gyms for girls and boys, skill development centers for economic growth cooperative dairy has been established which further goes to versa. All these things make this village a modernized village.
Sakanwali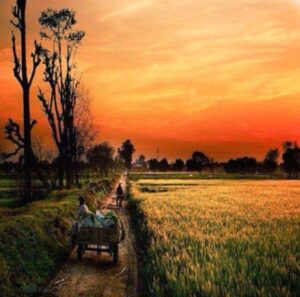 This village is known for pond development that too by villagers itself they worked hard and for several years didn't discard their household wastes in the water bodies hence it remained clean and now after properly making a boundary around it two boats are supposed to be added in the pond this was the greatest achievement by villagers without external or government help.
Man Aspal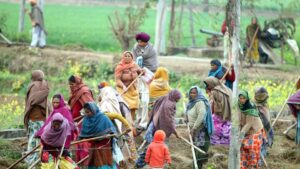 Man Aspal village was rewarded for water conservation in 2017 by the Ministry of rural development as people conserve water by reducing waste disposal on it and created spate pit for waste disposal. It is a small village within District Mansa and got huge appreciation for its initiative.
How many villages are there in Punjab?
Punjab has developed a lot with time like if we talk about the ancient period then people use to sleep at chapati's but now the majority of the population use beds. All the villages persist basic resources for a good life. Although with development comes modernization but that essence of traditions and culture still resides in Punjab villages. Especially the welcoming nature of people is worth appreciation.
Punjab has 23 Districts and in those districts, there are more than 13000 villages with rich heritage and amazing communities.
District-wise list of villages number in Punjab, India
S. No
District
Total Villages
1
Amritsar
777
2
Barnala
133
3
Bathinda
296
4
Faridkot
176
5
Fatehgarh Sahib
454
6
Firozpur
1015
7
Gurdaspur
1630
8
Hoshiarpur
1429
9
Jalandhar
965
10
Kapurthala
697
11
Ludhiana
927
12
Mansa
245
13
Moga
332
14
Muktsar
238
15
Patiala
931
16
Rupnagar
621
17
Sahibzada Ajit Singh Nagar
438
18
Sangrur
585
19
Shahid Bhagat Singh Nagar
476
20
Tarn Taran
493
21
Nawan Sahr
400
22
Fazilka
254
23
Malerkotla
–
Pathankot is the smallest district in Punjab, with a total size of 929 square kilometers. According to reports, Mohali (SAS Nagar) is the smallest district in Punjab, but this is no longer possible. Mohali district has a total size of 1093 square kilometers, which is larger than Pathankot district.
Barnala is the smallest district in Punjab in terms of the total population. Barnala district has a population of 5.96 lakh people, which is fewer than any other district in Punjab. Ludhiana is the most populous and largest district in Punjab. Ludhiana district covers 3767 square kilometers and has a population of almost 35 lakh people.
Best Village of Punjab
Sakanwali Village resides in Muktsar district is the best village in Punjab. Inhabitants of Sakanwali village in Muktsar district have transformed the village body of water into a beautiful lake and intend to bring two boats into the hygienic waters of the lake. Whereas most people in the village use water tanks to store sewage from the village, making them dirty and a severe health fear for the villagers. Villagers didn't just stop throwing waste products into the pond but also started collecting it in a different tank so later carried to drain half of the kilometer away through pipeline pumping which indeed the great step taken by any community.
The entire village deserves credit for the pond's development, however, the government has also been quite kind in providing grants to the village. The community has a population of roughly 2,000 people, with farmers accounting for half of the population.
After visiting Gujarat and seeing the immaculate ponds there, the sarpanch decided to clean the pond. "The town has transcended political divisions, and everyone has banded together to perform good things."
Residents have also enlarged the streets in addition to turning the pond into a lake. Previously, some of the village's lanes were just 10 to 15 feet wide, but now all of the roads are enough wider, thanks to residents who evacuated their homes to allow for street enlargement on their own.
Small Village of Punjab
Malewal is the smallest village in the Chamkaur Sahib Tehsil in the Rupnagar district of Punjab, with a total population of 44 households. Malewal village has a population of 188 people, with 101 men and 87 women (2011 census).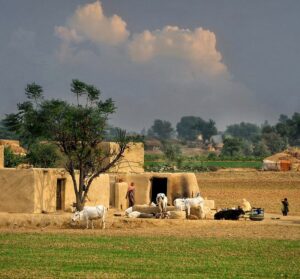 Malewal hamlet has a population of 19 children aged 0 to 6, accounting for 10.11 percent of the total population. Malewal village has an average sex ratio of 861, which is less than the Punjab state average of 895. According to the census, the Malewal child sex ratio is 727, which is less than the Punjab average of 846.
In comparison to Punjab, Malewal village has a higher literacy rate. Malewal village had a literacy rate of 78.70 percent, compared to 75.84 percent across Punjab. Male literacy rates in Malewal are 82.22 percent, while female literacy rates are 74.68 percent.
The majority of the residents in Malewal village belong to the Scheduled Caste (SC). Malewal village has a Schedule Caste (SC) population of 51.06 percent of the total population. Malewal does not have any Schedule Tribe (ST) residents at this time.
In Malewal village, 53 people were working out of the total population. Primary Work (Employment or Earning for More Than 6 Months) accounts for 94.34 percent of workers, while Marginal Work accounts for 5.66 percent of those employed for less than 6 months. 22 cultivators (owners or co-owners) and 16 agricultural laborers were among the 53 workers engaged in Main Work.
Richest Village of Punjab
Qila Raipur is a prosperous hamlet in Punjab, owing to rural Olympics, tourism, and agriculture. It was the year 1933. Inder Singh Grewal, a philanthropist, envisioned an annual leisure meet where farmers from the Kila Raipur area could join together and put their physical endurance to the test. Kila Raipur Sports, the uncontested "Rural Olympics," was born from this concept.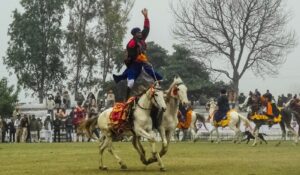 The event has developed from a kid to a prancing, vibrant, youthful organization in nearly six decades. This pioneering rural sports festival has grown into an annual worldwide event that takes place on the first weekend of February every year. Grewal Sports Association, a vibrant group of organizers, has made yet another groundbreaking step in offering rural women a break in sports. Today, more than 4,000 sportsmen and women participate in this rustic festival, which includes both recognized and traditional sports. More than a million people attend the three-day celebration. Moreover, millions of people watch it on TV and publish it in magazines and newspapers.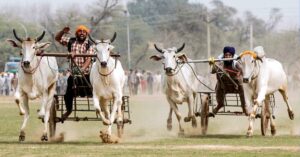 Whether you're in Punjab, Toronto, or Southall, you'll be up to date on all things Kila Raipur Sports. It attracts participants from all over the world. Because it takes months for foreigners in England, Canada, and the United States to pick, train, and send their Kabbadi and Tug of War teams to this event, which has recently become genuinely international, conversation about KILA RAIPUR begins much earlier.
Participants from all across the world are welcome to attend. Professional kabaddi or tug-of-war teams are sent from throughout the world. Kila Raipur is a location where everyone is welcome to join and demonstrate their skills, from teenage boys and females to older men. Several animals compete in different tournaments, including bullocks, camels, dogs, buffaloes, and horses.
Those who have watched this event expand from year to year can attest to seeing thousands of Champions and international players compete on the bald but even playfields of what is arguably the country's largest Rural Sports Stadium.
The Grewal Sports Association focuses its efforts not just on the yearly Rural Olympics, but also on sports marketing. A hockey academy for schoolboys is sponsored and administered by the Association. Currently, 150 aspiring hockey players train at the Academy daily, with 125 being day boarders and 25 being boarders.
The Association intends to expand the stadium, build a new contemporary hostel for the Academy, establish a track-and-field academy, and install a synthetic ice surface for hockey. In practically every major acknowledged sport, Kila Raipur and its nearby villages have made an unrivaled contribution to the national mainstream.
Apart from these endeavors, Grewal Sports Association is honored to be the country's first organized "Rural Sports" organization. It is possibly the only meet that receives sponsors from global corporations and attracts the greatest athletes and female athletes. The organizers are a group of determined, skilled, and well-known individuals who spent their childhoods on the village's playgrounds. In terms of organization and magnitude, no other village sports meet comes close to Kila Raipur. It is still the largest and most distinguished of its kind.
Most important games
Bull racing was a crowd favorite during the festival until the highest court outlawed the activity in 2014 due to animal cruelty allegations.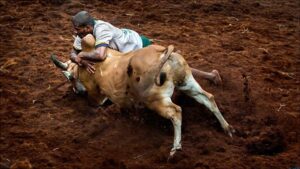 Manual strength is a huge aspect of Punjab's culture since the festival began with farmers getting together and demonstrating their power. Individual strength was required for plowing the fields and caring for the animals, and it became a way of life. Wrestling, sprinting, weightlifting, and ancient forms of martial arts are among the events that put strength and endurance to the test at the Kila Raipur festival. Viewers can also enjoy kabaddi, horseback riding, and traditional Punjabi warfare.
A trojan is a prominent source of female amusement. It's a home-organized gathering of girls who sing and dance to traditional Punjabi folk tunes. The songs cover all of life's essential situations, from happiness to grief. There's also the spinning of wheels, which represents life's wheel.
There are 100-meter, 400-meter, and 1,600-meter races, as well as cycling, wheelchair racing, truck tire lifting sports, and tractor pulling.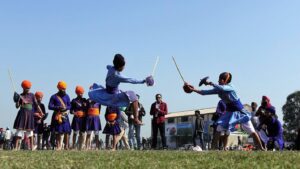 Kila Raipur is unlike other sporting events in that it is a celebration of both sports and Punjabi culture, as well as the significance of farmers to India's economy and people. People and animals alike compete for cash prizes and to show off their enthusiasm for sporting events and resilience at this festival.
Most Beautiful Villages in Punjab
Punjab is regarded as among India's most beautiful states, displaying the country's true rural side. The lovely state is blessed with fertile plains and scenic splendor, as well as warm smiles from the locals. Punjab is also home to some of the country's most beautiful villages.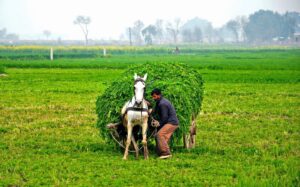 All the villages of Punjab are really beautiful and have their essence. Although Behlolpur, longwall, too, dadhi, chogowan, Thablan, and Man aspal are a few of the most beautiful villages of Punjab. Because of scenic backdrops of amazing sunsets and beautiful green, yellow fields, and their particular specialties.
Magnificent views from Punjab's lively village life, with wonderful mud buildings and lassi being churned in clay pots, are so lovely and deserve to be appreciated. The most important causes for the growing numbers of visitors are the picturesque terrain, rich history, and well-known religious monuments.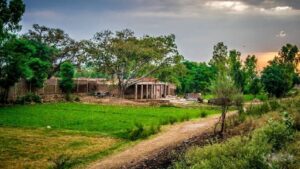 Thablan village is not just beautiful but also modern people still raise cows and buffaloes there but this village is developed like cities as you can't find poor roads in this village. Gyms, parks, suvidha Kendra, skill development centers, cooperative dairy all these superior facilities are there in this village people are aware regarding cleanliness. Hence, special dustbins are kept outside houses so that people can dump their waste material in them, and later all the garbage is dumped outside the village. To engage youth in positive activities cultural activities, sports media are organized and even youth shows full enthusiasm. All these things make Thablan best and beautiful village.
Man Aspal, a tiny village in the state's Mansa district, is setting the standard for water conservation. The Ministry of Rural Development awarded Man Aspal village a national prize for water conservation in 2017.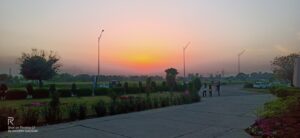 The water saved at the Mansa block is repurposed, preventing pollution of the pond by reducing wastewater flow to the water body. Under MGNREGS, each family is required to install soak pits and septic tanks (concrete tanks used to store used water).
The town has also restored the pond, brick-lined a street, and constructed a potable water pipeline under MGNREGS, in addition to the soak pit project. Man Aspal has become the only hamlet in Punjab to practice water conservation as a result of the MGNREGS application.
How is life in the village of Punjab?
Punjab is India's most rich state and has the highest level of consumption. The best feature is the rural infrastructure, such as rural roads and village conveniences. The atmosphere is fantastic: the lush fields, the large houses, and the fact that there is no power outage in the villages. People are both open-minded and compassionate. Every evening, you will hear Bhai saheb chanting Rehras Sahib, and this is the case in all communities. People sometimes used to sleep outside in their dwellings during the summers a few years ago, but today most of them had air conditioning. The locals speak a pretty nice Punjabi dialect.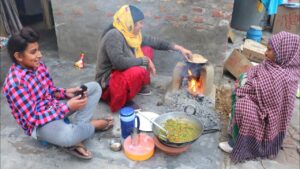 The only commandment here is to LIVE. LOVE. LAUGH. Sarso da saag te Makki di roti greets you with arms wide open and warm hugs. Because of the tenderness in the people's words, you would never have to be concerned about anything; everyone will always be willing to assist or guide you. Whether you are a Punjabi or not, you will feel linked to your heritage once you arrive. At least once in your life, you should taste Punjabi hospitality.
Punjab's villages are incredibly rich in culture and historical tradition. The villages, also known as Pinnds, are home to the majority of Punjab's people (in the Punjabi language). The people live as a family and celebrate all festivals and special occasions with pomp and circumstance. In their celebrations, dance and music play an important role. Most of us are familiar with these events thanks to Punjabi songs and films.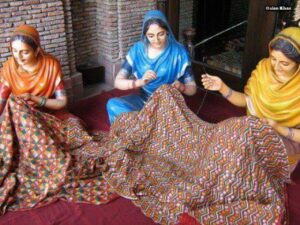 Cultural events, traditional dances, local crafts, songs, storytelling, and, of course, cuisine are all ways to experience Punjab's ancient culture. Local artists, weavers, and folk artists have been hired to provide guests with live performances such as bazaars, gatka, giddha, bhangra, and kikli throughout the day. The dak Ghar, the barat ghar, and the village haveli are all featured in the location. For those who like to enjoy the warmth of a Punjabi hamlet, it also offers a limited number of rooms built within the property.
Many visitors are surprised to learn that Punjabi villages are home to people from several religious sects and beliefs. Other religions such as Hinduism, Islam, Jainism, Buddhism, and others coexist with Sikhism. Khatris, Aroras, Jats, Kambojas, Sainis, Sansis, and other castes make up the Punjabi society.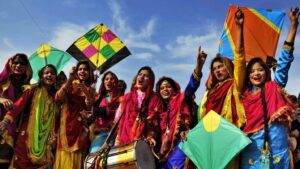 Punjabi villages are known around the world for their fairs and festivals. They dress up in bright traditional garb and end up leaving no stone unturned to guarantee a successful celebration. Food, joy, and diverse forms of traditional dance and music abound throughout Punjab's festivals, which are rich and eye-pleasing. Lohri, Holi, Rakshabandhan, Baisakhi, Diwali, Gurpurab, Tikka (Bhai Dooj), Teej, Vasant Panchami, and others are among the prominent holidays.
In villages of Punjab people loves to work in fields and even the richest farmers work themselves in the field they feel no shame in working that is why Punjabi are known for their grounded behavior. Even the majority of the economy of Punjab relies on agriculture.
Why do some people in the Punjab surnames have their village names?
Punjabi surnames are often derived from the names of ancestral clans within a community, as well as occupation and location.
Although the sole purpose of people having the surnames of their village name is not something very particular people kept their surnames as per the village they reside in and not the complete village but part of it is converted to complete surname. As people would want to honor their village or because they would want people to know from what village they belong to. It's been several years since these surnames were invented and now people have just adopted the same. Also, artists of Punjab often attach their village name with their names is because they want their village to be known and they take pride in it which indeed is a good thing. In Punjab, there are thousands of Surnames alike any other state. Now people have started keeping surnames of their choosing particularly of Scheduled tribe & Schedule castes.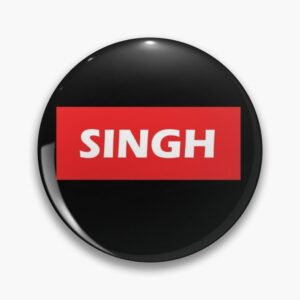 There are two major groups: Juts and Khatris. Landowners, farmers, and warriors have all been Juts in the past. Khatris have traditionally been merchants or, less frequently, soldiers. Although someone with the surname 'Khatter,' a variant of Khatri, maybe a member of the Arora family, this is not always the formal name. Let's explore more regarding Punjab surnames from where they developed.
Ahluwalia has a toponymic origin, alluding to people who used to live in a village called "Ahlu," which was said to be near Lahore during the Sikh Confederacy. The surname also has the "Walia" suffix, which is a typical Punjabi suffix.
Ahuja is a patronymic surname that refers to "heirs of Ahu."
It is most likely derived from the name "Anand," the progenitor of the Anand clan in the Khatri culture.
Aneja the name of a clan within the Arora people inspired the surname.
The surname Arora is of toponymic origin, alluding to people who were originally from the ancient city of "Error," which is today known as Rohri in Pakistan.
Bajaj is most likely derived from a Punjabi word that means "clothier." The Punjabi Arora and Khatri communities use it as a surname.
The word "Bajwa" is derived from the Persian word "Baaz," which refers to a hawk or falcon.
Basra is most likely a toponymic term that refers to people whose ancestors immigrated from Basra, Iraq.
The surname Batra comes from the Arora community's designation for a clan.
The surname Bedi is derived from the Sanskrit word "vedi," which means "one who knows the Vedas." Within the Khatri community, the surname is also the name of a clan."
Behl comes from the Sanskrit word "bahala," which means "strong."
Bhalla comes from the Sanskrit word "Bhalla," which means "bear" or "auspicious." Punjabi Khatris and Sikhs commonly use the surname.
Bhasin is coming from the Sanskrit word "Bhasin," which means "sun." Within the Khatri community, the surname is the identity of a clan.
The Sanskrit word "Bhatta," which means "lord," is the source of the Bhatti surname. It could even have a toponymic origin, referring to people who used to live in the Bhattiana region, which spans Punjab and Haryana.
Bindra comes from the Sanskrit term "bindranath," which means "high hill-tops." Among Khatris and Jatts, it is a common surname.
The surname Brar comes from the Jatt community's term for a tribe.
Deol is a typical Punjabi Jatt surname that comes from the name of a warrior clan and is derived from the name of a town called Diraval.
The surname Dhillion is thought to have originated from the name of a Jatt clan.
Dosanjh, a common Jatt Sikh surname, is most likely of toponymic origin, taking its name from "Dosanjh," a village in Punjab. Dosanjh also means "two joined together."
The name Duggal comes from a clan among the Khatri ethnicity.
Gambhir is a surname derived from the name of a clan in the Arora community.
Among the Punjabi Khatris, the surname Kapoor is very popular. The name Kapoor is thought to be derived from the Sanskrit word "Karpura," which means "camphor."
The surname Kaushal is most likely derived from a sage named Kaushal. Kaushal is a Sanskrit word that means "efficient" and "competence.
Khanna refers to those who were born in the Punjabi city of Khanna. From the Khatri community, it is a prominent Punjabi surname.
Within the Arora community, there is a clan known as Khurana.
Kohli is a common Punjabi surname that comes from the name of a clan in the Khatri group."
Malik is a Punjabi surname that comes from a status name that means "ruler" or "king."
The surname Mehta comes from the Sanskrit word "Mahita," which means "appreciation." The surname Mehta could potentially be derived from the term "Mehta," which means "chief."
The surname Nanda, which is common among Punjabi Khatri, is derived from a Khatri clan name.
Narang is derived from the Sanskrit word "naranga," which means "orange." The surname Arora is common among the Arora community.
The name Narula comes from a clan within the Arora group. Sikhs are also familiar with the surname.
Puri refers to people who were born in the Punjabi village of Puri. In the Khatri community, the surname is found.
Within the Khatri tribe, Sehgal is the surname of a clan.
The surname "Singh" is derived from a Sanskrit word meaning "lion." Warriors used the title Singh as a decorative title. With the emergence of Sikhism, all Sikhs were required to have a surname.
The surname Sobti was derived from the name of a clan in the Punjabi Khatri community.
The word "Sodhi" comes from a Sanskrit word that means "one who has persevered." The surname is common in the Khatri community as well as among Sikhs.
Soni is a common surname amongst Punjabi Khatris, and the surname Soni comes from a Khatri clan name.
The surname Sood is thought to derive from the words "soot" or "good," which indicate "interest" or "gain."
Tandon was the name of a warrior clan from the Khatri tribe.
The surname Taneja is originated from a Sanskrit word that means "grass blade." Within the Arora community, Taneja is the surname of a clan."
Thapar was the name of a clan in the Khatri community at the time."
In the Khatri community, Tuli was the name of a warrior clan.
Vij is a prevalent surname among Punjabi Khatris, and it is thought to have originated from the name of a clan.
What is the village cluster adoption program (VCAP)? What have been the Punjab government's initiatives in developing it?
The purpose of the Village Cluster Adoption Program is to equip and familiarise faculty with the socio-economic aspects of rural areas, the condition of sustainable management, changing preconceptions and ambitions, preferences, and innovative efforts of rural areas for environmental sustainability, and to enable/inspire the society for self-help in rolling out techniques, methods, and procedures to develop sustainable way and create cohesive groups where each individual gets what they deserve.
Village adoption entails inspiring rural communities to dream, plan, mobilize forces, and resources for the long-term development of each member so that he or she can reach his or her full potential and establish an ecology conducive to positive behavioral change.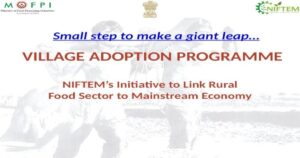 To pursue positive transition and progressive policies in communities through participative, sustainable, and inclusive alternative development approaches.
To serve the greater community by cultivating and maintaining a cooperative living culture that promotes inclusive and long-term growth.
To strengthen the village's marginalized and disadvantaged groups, especially the elderly, women, youth, and children. To create resource and manpower convergence models to accomplish comprehensive growth in line with people's ambitions and capabilities.
Punjab is on the edge of a "white gold revolution," owing to the Vardhaman-led coalition of northern Indian spinning mills and banks, which established the village cluster adoption program (VCAP) in the cotton heartland of Malwa.
The average cotton output has increased to 965 kg lint per hectare, which is 33% more than the global average of 724 kg lint per hectare. With the help of the Punjab Agricultural University, this plan was started in 2003-2004.
The Malwa cotton belt's village cluster adoption initiative, which has encompassed 50 communities, has great wealth and a glimmer of hope to the region's cotton growers.
The fact that the average cotton output has been recorded at 965 kg lint per hectare, which is 33% greater than the global average of 724 kg lint per hectare, demonstrates the program's effectiveness.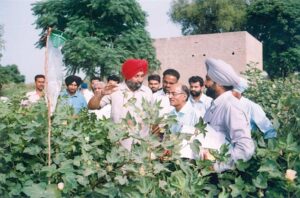 SP Oswal, chairman of the Vardhaman textile company, is the brains behind the village cluster adoption program, which began in 2003-2004 with the adoption of one hamlet. In 2004-2005, 10 villages were added, followed by 25 villages in 2005-2006, and 50 villages in 2006-2007.
The total number of farmers in these 50 villages is 5266, with 43324 acres of cotton planted.
According to Oswal, the goal was to bring the latest knowledge on cotton growing to the cotton growers rather than having them come to experts. These settlements are now acting as "leading lights or beacons of hope" for neighboring Malwa areas where cotton is a way of life.
"Cotton is not just the backbone of the local economy, but also the lifeblood of the social calendar," Oswal says.
The experts from Punjab Agricultural University, led by Dr. K. S. Aulakh, the former vice-chancellor, took steps to visit the villages and guide the farmers in their fields, and they deserve credit for the program's achievement.
The Nahar Group, Trident Group, Aarti Group, JCT Mills, and GPI Textiles Ltd are among the cotton mills participating in the village cluster adoption program, in addition to the Vardhaman Group.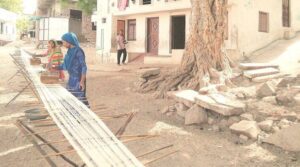 The hardworking, innovative, and clever farmers, and also the university's qualified and dedicated experts and Punjab's director of agriculture, are all credited with the program's success, according to Oswal.
The President, Dr. APJ Abdul Kalam, was so impressed by the VCAP's success that he visited certain communities in the Malwa belt in 2005 and urged the country's cotton producers to follow their example.
The VCAP has also captivated Punjab Chief Minister Parkash Singh Badal, who has requested S P Oswal to adopt 50 villages in the Lambi Vidhan Sabha seat. He has committed to contribute Rs 50 lakh to the Lambi segment's implementation of the scheme.
Especially with the help of Dr. K S Aulakh, the former development commissioner of Punjab, who took up the subject of Bt cotton variety approval with the central government two years ago, the Punjab state as a whole is on track to create new benchmarks in cotton cultivation.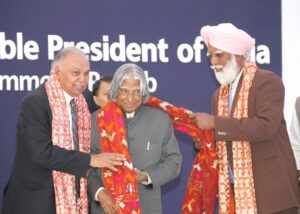 Because of Bt cotton types, the state produced a record 27 lakh bales of cotton this year. Furthermore, cotton growers received a higher price for their crop and saved money because Bt cotton requires fewer sprays than traditional cotton kinds.
Punjab, according to Oswal, has yet to fully realize its cotton potential. If the entire state produces 965 kg lint per hectare, the same yield as 50 villages, it can produce 35 lakh bales, eight lakh bales more than the current cotton-growing area (6.18) lakh hectare. Cotton belt production was increased by Rs 810 crore, bringing an additional income of Rs 810 crore to the state's farmers.
Government supported the program throughout especially the sponsoring by government schemes had indeed been helpful and after the success of the program Chief minister of Punjab himself asked to work on it even more.
What are all the jobs you can get if you live in a village in Punjab, India?
The majority of jobs you could find in Punjab are related to their culture and heritage and farming is the topmost among any other jobs. Engineering or doctors are under secondary jobs when it concerns Punjab villages. But it doesn't mean that you can't be financially stable. If you are smart enough then you can make a huge turnover by agriculture or by other culture-based jobs.
Agriculture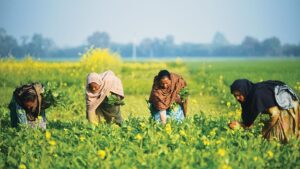 People often with less knowledge feels that farming can't give you financial stability but it isn't the case with Punjab farmers as farmers in Punjab lives a life of King size but they do work as hard-working farmer to get that life although you could also hire workers for farm work. If you know certain techniques of farming then infertile land of Punjab you could make a huge turnover it all depend on your hard as well as smart work.
After Covid-19 people lost their job but farmers are the ones who might face issues due to weather conditions but they won't lose their job. Also, you work on such loopholes with Scientists or researchers to get a solution regarding how to deal with adverse weather conditions to grow your crop protectively and get greater yield.
You can also take advice regarding what crop you should work upon for good income. Farming as an occupation is only possible in villages so one must take advantage of it.
Punjab Khadi and village industry board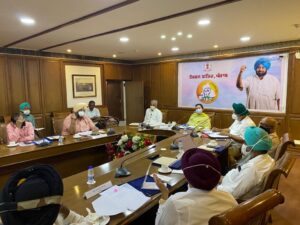 Industries like Punjab khadi are the ones that provide jobs for people who belong to rural areas of Punjab which is again a job opportunity. The sole goal is to create employment for the unemployed in rural areas by providing financial assistance on easy terms to set up Village Industries under the auspices of the Khadi and Village Industries Commission, Ministry of Micro, Small and Medium Enterprises, Government of India, and to make the rural/village population financially sound so that they do not migrate to larger cities and towns in search of work, thereby strengthening the rural economy of the country.
Phulkari Weavers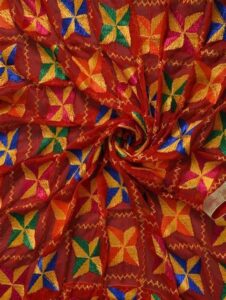 Aditya Arora founded Phulkari Weavers for the social cause of improving the suffering of Punjab's Phulkari weavers. Despite the increasing textile industry, Phulkari weaving's cultural legacy is fading. Bishangarh hamlet and Tripuri Patiala's Phulkari weavers were having trouble keeping up with technology. They are jobless and destitute as a result of the coronavirus outbreak. It is critical to make bread and butter for these traditional artists to preserve Punjabi culture. The goal is to improve their skills and make them financially self-sufficient by providing them with proper financial education, appropriate financing, and connecting them with the appropriate venues to market their produce.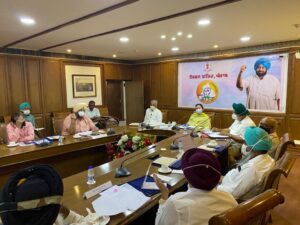 As similar to the above-mentioned industries many industries reside in Punjab villages to offer employment and make people financial stable now it all depends on your capability that either you can open such industries or work in such industries to not just get sound income but also you could spread awareness regarding your cultural heritage and traditions like phulkari, khadi and many more.
The Punjab government has been working hard at the Rural Focal Points to encourage small-scale/tiny and cottage industrial services and business units to create jobs in rural areas. There have been 594 Rural Focal Points established so far, with land made available for 263. The Department of Rural Development and Panchayats is in charge of these focal points.
Mahatma Gandhi National Rural Employment Guarantee Act (MGNREGA)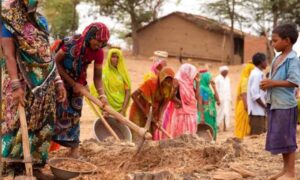 The government enacted this law to ensure that the most vulnerable members of society have the same level of stability. Rural laborers are guaranteed 100 days of work out of the 365 or 366 days in a year under this program This program requires employers to spend 60% of their capital on providing minimum daily pay to their employees and 40% on material purchases.
The Punjab Cabinet has approved the creation of 550 additional positions at Government Colleges in Patiala and Amritsar. This action could help the state's employment numbers.
It isn't like there are any jobs in Punjab or even India there is also a lack o skills and for that government has taken the initiative of skill developments which helped people to learn skills and get financially stable.
Please follow and like us: