Bhai Mati Das Chhibber (Pandit Mati Das) (Punjabi: ਭਾਈ ਮਤੀ ਦਾਸ; died 1675), and his younger brother Bhai Sati Das died in the faith of Sikh history. Bhai Mati Das, Bhai Dayala, and Bhai Sati Das were assassinated in kotwal (police station) in the Chandni Chowk area of ​​Delhi, under the direct orders of Governor Aurangzeb shortly before the death of Guru Tegh Bahadur. Bhai Mati Das was killed by being tied between two pillars and cut twice. Birth
Bhai Mati Das belonged to the Mohyal Brahmin Chibber family.  He lived in the ancient village of Karyala, about six miles [10 km] from Chakwal on the road to Katas Raj Temples in Jhelum District in Punjab (Pakistan). Bhai Sati Das was his younger brother. Bhai Mati Das was the son of Hira Nand, a student of Guru Har Gobind, who had fought under him in many battles and was a great warrior. Hira Nand was the grandson of Lakhi Das, son of Bhai Praga,  who was also a martyr and former Jathedar (leader) in the first battle of Guru Hargobind.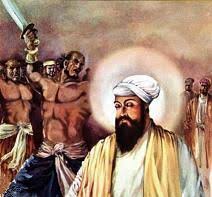 Guru Tegh Bahadur Service
In the period following the death of Guru Har Krishan in Delhi, as well as uncertainty as to who the next Guru would be, Bhai Mati Das, and Bhai Sati Das were sometimes said to have been in search of Guru or later there. Baba Makhan Shah Labana found Guru Tegh Bahadur in the village of Grade where the new Guru lived at the time.
The new Guru entrusted all of his financial affairs to Bhai Mati Das, and as a result was sometimes given the name Diwan Mati Das,  while Bhai Sati Das served Guru Tegh Bahadur as a cook. The two brothers accompanied Guru Teg Bahadur during a two-year stay in Assam.  Guru Tegh Bahadur then bought a hillock near the town of Makhowal, three miles north of Kiratpur, and founded a new village, Chakk Nanaki  now called Anandpur Sahib (a place of pleasure) where Bhai Mati Das and Bhai Sati Das lived there.
Journey east of Guru
Bhai Mati Das and Bhai Sati Das were present on a voyage east of Guru starting in August 1665 which included a visit to Saifabad  </ref> and Dhamtan (Bangar) where they were detained probably because of the influence of Dhir Mal. , or Ulema and the orthodox Brahmins.  Guru was sent to Delhi and detained for one month.  After his release in December 1665, he continued his journey and Bhai Mati Das and Bhai Sati Das were back in his company mainly in Dacca, and Malda.
Guru's arrest
Interior view of Red Fort in Chandni Chowk, Delhi
In 1675 Guru was summoned by Emperor Aurangzeb to Delhi to convert to Islam.  Aurangzeb was overjoyed that all he had to do was hide one man and all Hindus from Kashmir, Kurukshetra, Hardwar, and would follow suit.  Guru traveled to Delhi of his own free will but was arrested in Malikpur Rangharan near Ropar. While Guru was on his way to Delhi his company at this time included his most devoted Sikhs including Bhai Dayala, Bhai Udai, Bhai Jaita (Rangretta), and Bhai Mati Das, and Bhai Sati Das. [19] After visiting a few places where a large crowd of volunteers had gathered, Guru sent Bhai Jaita and Bhai Udai to Delhi to inspect and report to him and Anandpur again.
After his arrest, Guru Tegh Bahadur was transferred to Sirhind and from there to Delhi in a metal cage.  In Delhi, Guru and five of his friends were ushered into the Red Fort council room. Guru was asked many questions about religion, Hinduism, Sikhism, and Islam, such as why he sacrificed his life for the sake of the Janeu and Tilak people while he was a Sikh. The Guru replied that Hindus were weak and weak against oppression. They had come to Guru Nanak's place of refuge, and in the same way, he would have risked his life for the sake of Islam.  In Guru's strong refusal to renounce his faith, he was asked why he was called Teg Bahadur (gladiator or Knight of the Sword; before that, his name was Tyag Mal). Bhai Mati Das quickly responded that the Guru had won the title by severely beating the state troops at the young age of fourteen. Guru Tegh Bahadur was accused of violating the code of conduct and speaking out, and Guru and his associates were ordered to be arrested and tortured until they agreed to accept Islam.
The murder of Guru
Main article: The assassination of Guru Tegh Bahadar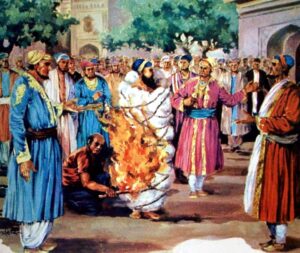 A few days later, Guru Tegh Bahadur and his three companions were again brought before the City Council and the Sikhs reiterated their feelings. Bhai Mati Das was granted the marriage of Nawab's daughter as well as being the governor of the province if she converted to Islam.
On November 11, 1675, large crowds gathered to see Guru , and the assassins were summoned to kotwal (police station) near Sunehri Masjid in Chandni Chowk. Guru, who was kept in a metal cage, and three of his friends were transported to the scene of his death. Records from the Mughal Empire since the 17th century describe the death of Bhai Mati Das as a punishment for challenging the authorities.  Bhai Mati Das, Bhai Dayala, and Bhai Sati Das were then tortured and killed.
Bhai Matidas Bhawan
Bhai Mati Das martyrdom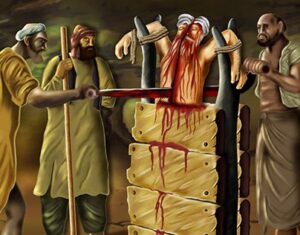 Bhai Mati Das, the first martyr, was asked if he had any last wishes. He replied that he wished to face the priest when he was killed. Bhai Mati Das was made straight in the middle of two poles and placed with a two-headed saw on his head and beaten from head to toe.  While this was happening, Bhai Mati Das mentioned Japuji Sahib. There is a vague belief that Gurbani replication continued and ended even though the body was two separate halves. Seeing this, Dyal Das harassed the Emperor and his officials with this senseless act.
Please follow and like us: