Subedar Joginder Singh Shahnan PVC : Real Hero
Subedar Joginder Singh Shahnan was one of the most courageous soldiers of the Indian Army and he was rewarded by India's highest wartime gallantry military award Param Vir Chakra. In 2018 a film based on his life and bravery was released starring Gippy Grewal. This film was rated 7/10 by IMDB. Let's have a look at their services for the country and their bravery.
Subedar Joginder Singh is one of the heroic sons, who laid his life and gave an exceptional example of valor during the Sino-India 1962 conflict. He was one of three heroic Indian Army men who received the Indian Military's highest gallantry honor, the Param Vir Chakra, for the 1962 war. Sub Joginder Singh commanded a platoon at Bumla during the 1962 war with China.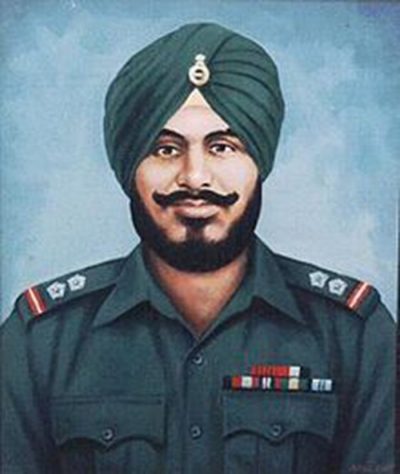 Who was Subedar Joginder Singh Shahnan?
Subedar Joginder Singh joined the British army on 28 September 1936 and He was well-known in the unit for his excellent fighting skills and discipline. His inspiring Leadership in the Sino-India war was commendable and will always be remembered.
About Subedar Joginder Singh Shahnan :
26 September 1921 was the birthdate of Subedar Joginder Singh. He was born in the Mhakalan village of Moga which resides in Punjab. He joined The British Army on 28 September 1936 and was stationed at several locations along the Burma Front. Subedar Joginder Singh was assigned to the Sikh Regiment when India gained freedom.
He belonged to an agricultural Saini Sikh family. Their father was Sh. Sher Singh and their mother's name was Bibi Krishan Kaur. Because of poor family conditions, he couldn't study further but he was hardworking and always desired to pursue education so he passed the professional examination and became a unit instructor.
Later on, he got married to Bibi Gurdyal Kaur Banga and then they had two daughters and a son.
Subedar Joginder Singh has been a part of many battles. After a month-long Sino-Indian war which was his last battle with his inspiring leadership and devotion, he defeated them many times even after being wounded, and at last, after getting captivated he got martyred on 20 October 1962.
#Param Vir Chakra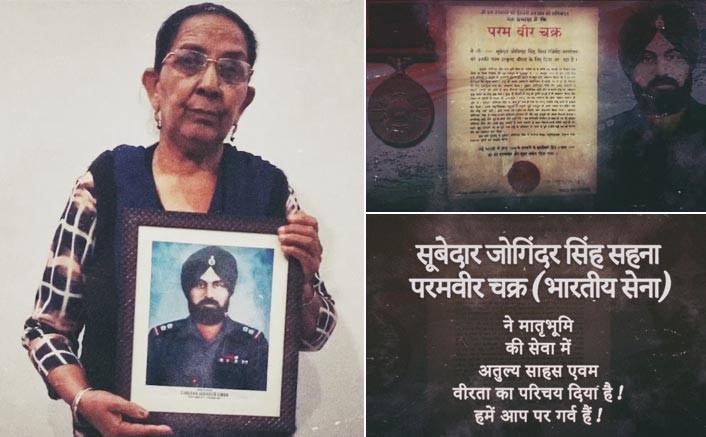 Param Vir Chakra is India's highest military award which is awarded for devotional or for brave acts during wartime. Subedar Joginder Singh was one of those soldiers who got rewarded for his bravery and supreme sacrifice by the Param Vir Chakra Award.
On May 17, 1963, the Chinese army paid tribute to his valor in battle by returning his ashes with full military honors to his unit. His ashes were later passed away to his wife Bibi Gurdial Kaur and children in a touching ceremony at the Sikh Regimental Centre in Meerut.
#Sino-India War 1962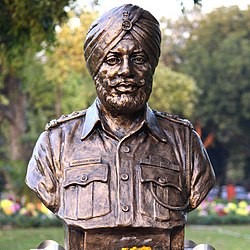 China declared war on India in 1962, which resulted in a significant number of casualties on both sides. China launched surprise attacks on two Indian fronts, one in the North-East Frontier Agency and the other in Ladakh.
Subedar Joginder was given Tongpen La pass to command his battalion of 20 troops in response to the attack.
"On October 23, 1962, at 0530 hours, the Chinese launched a massive offensive on the Bumla axis intending to break through to Tawang.
The enemy's leading battalion stormed the ridge in three waves of around 200 men apiece. The enemy for a short period halted by the massive losses incurred by Subedar Joginder Singh and his troops, who mowed down the first wave. A second wave arrived a few minutes later and was dealt with in the same manner. However, the platoon had already lost half of its members.
Subedar Joginder Singh was shot in the thigh but refused to be taken to the hospital. The unit resolutely held its ground and refused to retreat under his inspired leadership. Meanwhile, the position was under attack for the third time. Subedar Joginder Singh was in charge of a light machine gun and shot down several enemy soldiers. Despite massive losses, the Chinese continued to overpower.
When the situation became intolerable, Subedar Joginder Singh and the other remaining troops took up bayonets and assaulted the approaching Chinese, bayonetting and many of them before being overrun. Subedar Joginder Singh demonstrated an unwavering commitment to duty, outstanding leadership, and supreme bravery during this operation and sacrificed his life for the country.
#Legacy of Subedar Joginder Singh Shahnan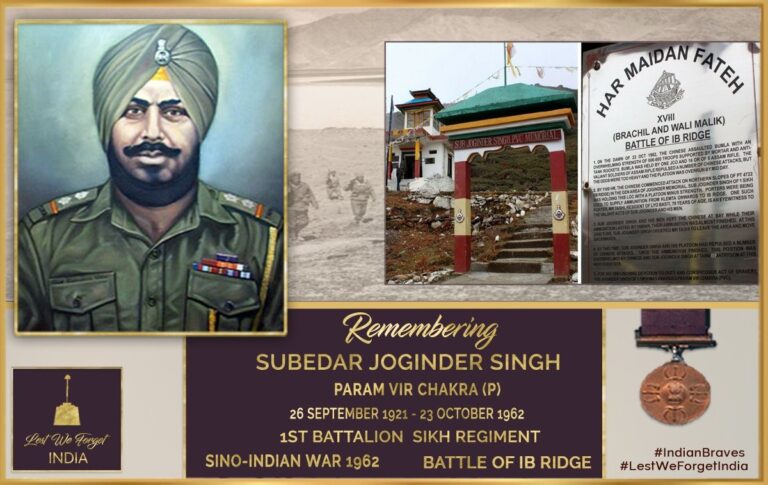 Subedar Joginder Singh received the greatest civilian honor in his hometown of Moga in 2006, when a statue of him was unveiled beside the district DC office, draped in combat fatigue.
The Indian Shipping Corporation named one of their vessels Subedar Joginder Singh PVC in honor of this wonderful man.
The Indian Army has commemorated this courageous soldier's bravery by erecting a memorial on the IB ridge's forward slope.
The PLA (the Chinese) returned Sub Joginder's ashes with full military honors to the unit on May 17, 1963, after getting to know that he was a Param Vir Chakra awardee. There is no greater homage than an enemy's declaration of heroism.
Then ashes were eventually transported to Meerut's Sikh Regimental Center, where it was received by Colonel Shamsher Singh, the commandant. The following day, the urn was honored at a memorial service conducted at the Gurdwara Sahib. The urn was then handed away to his widow Gurdial Kaur and children in a touching ceremony.
Subedar Joginder Singh has also been immortalized as a Punjabi feature film titled, " Subedar Joginder Singh", directed by Mr. Simerjit Singh and written by Mr. Rashid Rangrej.
The Housing project of Joginder Nagar in Chandigarh was named after Subedar Joginder Singh, PVC.
#About Biopic film on Subedar Joginder Singh Shahnan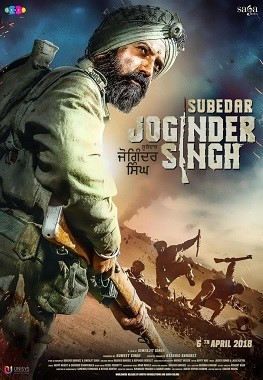 It was a biographical feature film on India's Highest Wartime Gallantry Award – Param Vir Chakra winner Subedar Joginder Singh. He fought three wars for India before achieving martyrdom in the Sino-Indian War of 1962 while commanding a platoon in North Eastern Frontier Agency (NEFA) (Now Arunachal Pradesh). The story portrays his character and motivation in the scene of battle.
Subedar Joginder Singh Punjabi movie, starring Gippy Grewal, was filmed as a tribute to Sub Joginder Singh Sahnan. Many more well-known personalities appeared in the film and paid tribute to the courageous soldiers of the Indian Army.
Gippy Grewal, Aditi Sharma, Harish Verma, and Karamjit Anmol are among the film's cast members.
The release date of Subedar Joginder Singh was April 6, 2018.
IMBD rating of movies was 7/10. The movie was appreciated by everyone for showing the part of life and bravery of Subedar Joginder Singh Ji.
Conclusion:
Subedar Joginder Shahnan Sigh was one of the bravest soldiers his sacrifice for his country was commendable. We should always remember and pay our tribute to such brave souls. He was an actual Real hero.
Navigate to this page for more details about this new blog.
Please follow and like us: