Chand Kaur (1802–11 June 1842) was the fourth king of the Sikh Empire, having been proclaimed Malika Muqaddasa on December 2, 1840. Chand Kaur was born in Fatehgarh Churian in the Gurdaspur District of Punjab in 1802 to a Jat Sikh Sandhu family. Sardar Jaimal Singh, the Kanhaiya Misl's chief, was her father. Maharani Chand Kaur was the bride of Maharaja Kharak Singh, Maharaja Ranjit Singh's oldest son, and heir. Raja Jaimal Singh of the Kanhaiya Misl was her father, Sandhu Jat ruler, Raja Jaimal Singh. She was birthed in Fatehgarh, which is now part of Punjab's Gurdaspur district. She married Prince Kharak Singh in February 1812 when she was ten years old.
Nau Nihal Singh, their son, was born on February 23, 1821, and married Bibi Nanaki Kaur Sahiba, the daughter of Sham Singh Atariwala, in March 1837.
On his way back after his father's cremation on November 5, Nau Nihal Singh passed through the Hazuri Bagh's gate with his buddy Udam Singh, Gulab Singh's son, and Dhian Singh's nephew. The gate rocks crashed from above, killing Udam Singh and injuring the prince as they went through. Dhian Singh, who was a few steps following, organized for the prince to be carried into the fort right away. No one else was permitted into the fort, including his mother, Chand Kaur, who was pounding on the fort gates with her bare hands in a panic. According to eyewitnesses, the prince looked to be very mildly hurt, was aware, and requested water before being brought into the fort.
She established her right to the throne of Lahore after the sad deaths of her spouse, the Maharaja of Punjab, and her other son, Kanvar Nau Nihal Singh, in November 1840. Atar Singh, Lahina Singh, Ajit Singh, Sandhanvalia collaterals, as well as other powerful courtiers including Bhai Ram Singh, Bhai Gobind Ram, Gulab Singh Dogra, and Jamadar Khushal Singh, had backed her.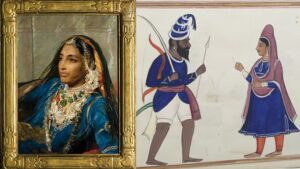 She opposed Maharaja Ranjit Singh's younger son, Sher Singh, because her daughter-in-law, Kanvar Nau Nihal Singh's widow, Sahib Kaur, was expectant and that she would assume reign on behalf of her husband's expectant legitimate heir.
Chand Kaur's determination was equaled by her bravery. She announced that she would remove her veil and exit the zenana, don a Sardar's turban, and observe the army forces' parade like a king. "Why shouldn't I follow Queen Victoria's example in England?" Sher Singh marched on Lahore after gaining the support of a competing group at the court and a section of the army.
However, the two groups reached an agreement, and Chand Kaur was appointed monarch and Raja Dhian Singh was appointed senior minister of the state. The cease-fire, on the other hand, did not last long. Dhian Singh Dogra, who wanted Chand Kaur to accept his son, Hira Singh, as the throne's heir, became alienated when he realized there was little chance of his dream being fulfilled.
In January 1841, he openly backed Sher Singh, who was acclaimed Punjab's king by the army, which had switched sides. Chand Kaur was given a pension of 9,00,000 rupees per year, and her Sandhanvalia supporters crossed the Sutlej into British territory. Chand Kaur gently retreated to the isolation of her late son's palace within Lahore's municipal limits. Gulab Singh, Dhian Singh's older brother, who was in charge of her possessions, had vanished from the Fort with cartloads of gold and silver.
Sahib Kaur, Nau Nihal Singh's widow, gave birth to a stillborn son in July 1841. Chand Kaur's dreams of renewing her claims were dashed. Courtly intrigue, on the other hand, had not abated. Dhian Singh substituted the Dowager Maharani's maidservants with hill women from his region. On June 11, 1842, he tried to kill her by poisoning her food and finally killed her by crushing her head with kitchen wooden pikes. Dhian Singh, on the other hand, had his tongue cut out to keep him from revealing the conspiracy. They were eventually put to death on his orders.
Her samadhi lies in The Royal Lahore Garden, and to the south of her samadhi, Maharani Datar Kaur, affectionately known as Mai Nakain by her father-in-law, Maharaja Ranjit Singh, is the samadhi of her mother-in-law, Maharani Datar Kaur. Between the two maharanis' samadhis, Maharani Sahib Kaur, her daughter-in-law, has a tiny samadhi.
Samadhi of Maharni Chand kaur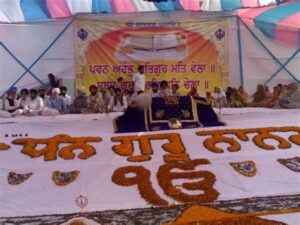 The Samadhi Maharani Chand Kaur Gurdwara was created in remembrance of Maharani Chand Kaur, the wife of Maharaja Kharak Singh, Maharaja Ranjit Singh's oldest son. Formerly, there was a samadhi of Maharani Chand Kaur with a modest Gurudwara until 2012, but the samadhi has been removed and a beautiful and large Gurudwara with a yatri Niwas has been created with the approval of the Sikh Sangat. It is located near Jewel Chowk, below the Gumat area, in the heart of Jammu city. Across the year, Guruparabs is celebrated with tremendous passion, and devotees attend the area in large numbers.
This location is near Jewel Chowk, below the Gumat neighborhood, in the heart of Jammu City. A portion of the city known as Chand Nagar is located near this Gurdwara Sahib and is known for its lodges and hotels. On the complex's grounds, there is a Khalsa School and a B Ed College. Maharani Chand Khalsa College in Jammu is the first and oldest academic private institute in the province of J&K. The management also maintains a Khalsa Hostel for Sikh students. Because of the enormous space, the important Gurpurabs are commemorated here by Big Diwans during the year. On these Diwans, the Sikh Sangat from the whole Jammu District congregates.
Please follow and like us: