Punjab is known for its extravagant, vibrant, and joyful culture which indeed is amazing. The people of Punjab are known for their welcoming and heartwarming nature. This is something that has always remained constant since always. Although the picture of Punjab has changed as in past years, the cultural values and people are still the same. Let's have a deep dive into how things have changed in Punjab from 1970 to 2022.
People of Punjab: 1970 vs 2022
Punjab has been in the agricultural business for a long time. However, the state has since opened itself to trade and commerce. A sizable portion of the population still adheres to the joint family arrangement, which has proven to be unique. The sense of connection is palpable here, as they vow to be there for each other at both happy and terrible times. Although the joint family tradition is fading away slowly, that doesn't make children stay away from their parents. It is just a matter of private space which is mutually understood by parents and children.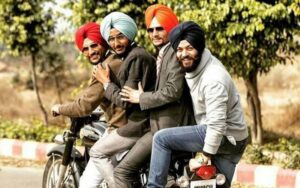 Punjabis take pride in their traditions and relationships. Every event or ceremony has its own set of rituals that must be performed to the letter. Whether it's a birth or a wedding, a haircut or a funeral, following customs is a requirement, according to them, because it deepens a relationship and exhibits proper social cordiality. This has been the same since people still carry their traditions and customs with pride. Be it 1920 or 2022 people of Punjab are widely known for being there for needy ones. The only thing that differs is the youth being modern just in attires and also their love for his (Road trips). Although on special occasions they do wear kurta pajamas only to show their love for culture.
Food in Punjab
Punjabi food is rich in aromas and spices, and it is amongst the most popular cuisines among Indians and other populations outside of India. There has always been a deep relationship between food and Punjab. People prefer Punjabi food over any other cuisine. The meal here is regarded for the strong-hearted, with gushing ghee on the chapattis! Lassi is a pleasant drink that is also regarded as a welcome drink in this country. It's a lot of milk, especially for individuals who don't come from Northern India.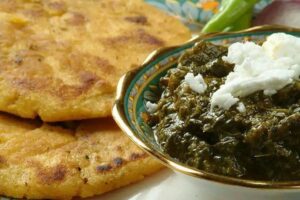 Another classic Punjabi meal is Makki di Roti (maize bread) with Sarson da Saag (mustard leaf curry). Other dishes include Chole Bhature, Rajma Chawal, and Paneer Naan, although Tandoori Chicken is one of the most popular. The best part is Makki ki roti and Sarson ka saag are still ruling all the modern-day cuisines and they always will. Still, people manufacture Gur (Jaggery) on their own and even sell it too.
Religion
Punjabi regard and show devotion to their God up to another level. Sikhs are in majority in Punjab. No Punjabi will ever accept anything bad for their religion by anyone around the corner. The practice of visiting Gurudwaras on special occasions or even daily is still there.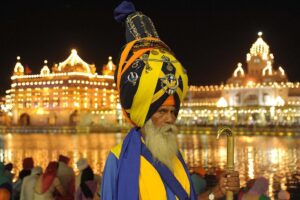 Be it young people or aged ones everyone is equally devoted. Punjab is home to a diverse range of religions. However, Hindus and Sikhs make up the majority of the population in the Indian state of Punjab. Khatris are the most common Hindus, but Brahmin, Rajput, and Baniya are also common. Because of the origins of Sikhism, the state has a large Sikh population. In Punjab, there are numerous Sikh religious sites, including the world-famous Golden Temple in Amritsar, which attracts visitors from all over the world.
Language
Punjabi is the state's official language, as well as the local language of communication. Even though there is only one indigenous language, several dialects are spoken in different parts of the country. Punjabi barely talks in any other language than Punjabi. In older times people used to talk in Punjabi only and it is the same for now.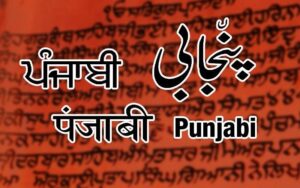 Punjabi's are not too good in other languages like Hindi. But due to that Canada string, you would be amazed to hear Punjabi talking in English. They imbibe the accent of whichever nation they moved to be in Canada or the UK. But that bittersweet relationship with Hindi remains the same as you can easily get to know if anyone is Punjabi and talking in Hindi. Although there are many poets and writers too, it doesn't apply to all of them but the majority. The main part of Punjab being so lively is the language itself as it is very casual and gives a friendly vibe that every other person loves to hear.
Agriculture
Punjab Agriculture is extremely popular in India. Punjab is well-known for its crops and agricultural activity. Punjab's land is ideal for agriculture, hence agricultural activities have taken up a large portion of the area. Agriculture has always been an integral part of Punjab and it will always remain this way. The reason is that the vast majority of Punjab's economy depends on Agriculture itself and people are invested in agriculture willingly for decades.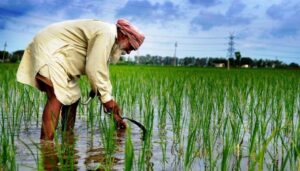 Irrigation infrastructure in Punjab is helping to alleviate the difficulties posed by insufficient rainfall in agricultural activities. Such advancements are the only part changed that too for betterment only. Wheat, maize, rice, and bajra are the most important agricultural products in Punjab. Wheat, for example, dominates the entire agricultural plantation, whilst rice and maize are limited to a few regions. Punjab produces roughly 2 million tonnes of wheat each year, making it India's largest wheat producer. Cotton is the most important cash crop grown in Punjab's agricultural industry.
Punjab Architectural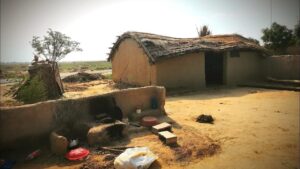 When we talk about Punjab in 1970 there were Kutcha houses but now it all is changed to kothis (apartments). This shows how Punjab has grown economically and advanced enough. Although still there are people who prefer to live in their old homes only (particularly older people). Hence, in villages, you can still spot certain small cozy homes. And to preserve the heritage of Punjab there are many places built all around Punjab for tourists and upcoming generations to depict how Punjab was in older times.
Please follow and like us: