Teeyan da mela is a festival that honours women. It is the Punjabi term for the Teej festival, which is celebrated in Chandigarh, Punjab's capital, and Haryana, where it is also known as Haryali Teej and is dedicated to young girls and sisters. Women celebrate the celebration from the third day of the lunar month of Sawan on the superb half, through to the full moon of Sawan, in the middle of the tempest season. Married women visit their mothers to celebrate the festivities. It used to be customary for ladies to spend the entire month of Sawan with their families.
Whether or not a married woman visits her people, kin sends a'sandhara' gift set to their sisters. A Gandhara is a piece of clothing that includes a Punjabi sari, laddoo, bangles, mehndi henna, and a swing. The celebration 'Teej' is named after a little red bug known as 'Teej,' which appears during the monsoon season. Teej has been spotted for a long time. As per Hindu mythology, this day commemorates Maa Parvati's arrival as Shiva's consort at his residence. Teej represents a Hindu woman's love, dedication, and respect for her spouse, as Ma Parvati took 108 years of penance over multiple incarnations to win over Lord Shiva.
History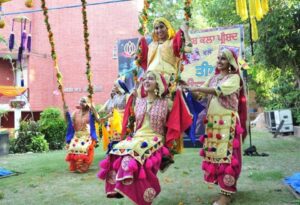 The definition of the phrase "TEEYAN," pronounced "tee-aan" in Punjabi, is a "celebration of a prosperous and beautiful married life." The newlywed females return to their parents' residence to celebrate this celebration with their friends and usher in the monsoon season. Typically, a fair is prepared for this occasion, where they can enjoy swing rides. This is a period when women in rural areas enjoy themselves by purchasing bead necklaces, bangles, and bindis, applying henna Mehandi on their feet and hands, and eating delectable foods.
Teeyan festival is associated with happiness, wealth, and enjoyment. On this extremely religious and cheerful holiday, Indian women and young newlywed girls come together to celebrate and make happy for the start of the rainy season.
Teeyan Dance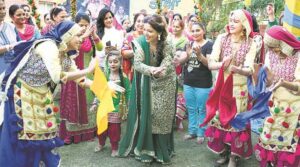 Teeyan is the Punjab region's women's dancing festival. During the ceremonies, Giddha is at its most beautiful. The dancing normally takes place on the bank of the river or pond under a large shade of trees during the month of Sawan, when the days of summer have grown lengthier and warmer. Swings are hung from the branches, and people begin singing, swinging, and dancing to the tunes that fill the air.
They can sing songs and express themselves while swinging. The event lasts until the full moon on the third lunar day of the month. Every day of the festival is greeted with vim and excitement.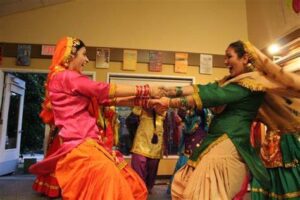 Kikli is a female-only dance genre that is also performed at the Teeyan festival. They cross their arms and grasp each other's hands while playing this song. They chant traditional melodies in circles, making them go round and round. This dance is also performed by two-girl pairs who form rings by holding hands in a cross with their friends. This dance is sometimes performed by four girls joining hands. Kikli is seen as a lighthearted dance that is more akin to a game than a dance. It is extremely popular among young women.
How is the teeyan festival celebrated?
Teej festivals in communities are likewise brimming with joy and vigour. Teej rites are carried out by women and girls jointly. Females swing on peengs, which are decorated swings, after adorning their feet and hands with exquisite Mehendi designs.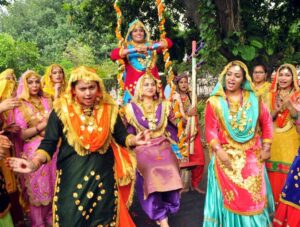 On Teej, women dedicate the Gidda dance to their future husbands. These Teej dances, which are accompanied by songs, represent ladies who are willing to give their life for their lovers and who offer prayers for their spouses' well-being following the dances. Teeyan or Teej fairs are elaborate affairs with stores and stalls selling all of the traditional wares.
Teeyan, also known as Teej, is a popular drink in northern India, particularly in Chandigarh, Haryana, Uttar Pradesh, Punjab, Rajasthan, Madhya Pradesh, Bihar, and Orissa.
On this day, married women receive gifts and clothing from their fathers and other male relatives. Every year, the ladies of Chandigarh look forward to celebrating 'TEEYAN' and begin preparing for the festival well in advance for competitions such as Charkha (spinning wheel), Giddha Dance (known as the sister of Bhangra), Bholiyan (couplets), Mehendi (Henna) art, Sidhni (mockery), and Miss Teeyan's crown. On this day, the women dress up in their nicest clothes, complete with traditional jewellery, and gather in one spot to commemorate the occasion, creating an image of beauty and colour.
Women begin getting their new outfits made and shopping for new traditional jewellery and other preparations for the celebration far too early. For the occasion, married daughters visit their parents. It was once customary for ladies to spend the entire Sawan month with their parents.
Girls and women meet in parks or green neighbourhoods and hang swings from trees, where they dance, laugh, and sing a variety of traditional Punjabi dances known as Gidha Boliyan. It's the ideal approach for them to forget about their troubles and problems and spend quality time with their buddies.
If a woman does not go to her parent's residence, her brothers nonetheless bring a 'Sandhara' gift set to her sister. Sandara used to include items such as suits, traditional phulkari, Peepe Wale Biscuits (baked biscuits), Ladoo, bangles, mehndi, and a swing, which were then dispersed throughout the area. This ritual is still followed in several parts of Punjab and beyond.
Punjabis, regardless of where they would be, never skip a festival or celebration. The Teeyan holiday is also celebrated in a big way by Punjabis in other nations.
"Teeyan Da Mela" is a whole event for females in Canada. It is usually commemorated in parks. Choosing what to wear, picking where to go to Teeyan da Mela, and determining the ticket fee to join the event are all thrilling aspects of this seasonal celebration.
So now you know the importance of the festival "Teeyan" in Punjab and how exactly it is celebrated.
Please follow and like us: