Punjab Government particularly CM Charanjit Singh Channi recently announced that the state government will provide 1 Lakh jobs within a year which is worth the praise if it is true but let us get back to the time when elections were not happening anytime soon and they were secured in their chairs. And now announcing numerous campaigns it seems more like a bribe to vote by current state Government to sustain longer most of the time parties announce various yojana's and also do vague promises but by the time they win nothing as such happens and this is the reason of reducing employment in Punjab.
If we talk about the current Punjab Government i.e Congress Government then the sole reason why they didn't offer any jobs or any progressive campaign in past few years because they weren't even sure of what they are during the rifts in between the party had become a big laugh among the country if this is how Government and politicians function then there is barely any chance of Punjab development. They cannot even solve their interrelationships then how would they work on Punjab's betterment. Employing one person among the 1000 people is not what we call employment.
As Framers bill passed and farmers opposed the law the whole concentration of government was on the bill only and that on just opposing the centre Government them helping and defending farmers is fine but not caring about other aspects was the wrong move the work they have done in recent years almost implies that they aren't going to do anything better even if they win the election.
As Cm Charanjot Singh channi announced if re-elected, the state government would provide one lakh jobs to Punjab's youth within a year, as well as free coaching for competitive examinations as the state cabinet accepted the 'Punjab Government Rozgar Guarantee for Youth Scheme (PRAGTY) 2022'.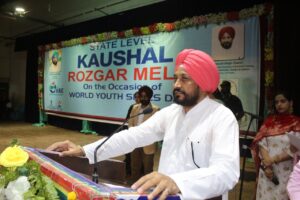 Following the late-night cabinet meeting, Channi stated that this job-guarantee scheme will also provide free tutoring to students preparing for civil service and armed forces competitive tests. He added the state government will also provide free coaching for IELTS, TOEFL and PTE to enable the youth to go overseas conveniently.
"To make it easier for young people to travel overseas and protect them from the clutches of fraudulent travel agents, the Punjab government will soon launch a scheme that will send students abroad after acquiring permissions from the Centre, ensuring that they do not fall prey to travel agencies." For this goal, the government would grant interest-free loans," he said, adding that comparable interest-free loans will be provided to young people who want to start their businesses. All state institutions will provide startup courses, which will be funded by the state government.
"To make it easier for young people to travel abroad while also protecting them from the hands of bogus tour companies, the Punjab government will eventually initiate a plan that will send students overseas after obtaining authorizations from the Centre, guaranteeing that they do not fall victim to travel agencies." "To achieve this goal, the government will issue interest-free loans," he added, adding that young people who wish to start their businesses will receive similar interest-free loans. Startup courses will be offered at all state colleges and will be supported by the state government.
This scheme, developed by the Employment Generation, Skill Development and Training department and approved by the cabinet, aims to ensure guaranteed employment opportunities, such as public sector jobs, private-sectors, foreign employment, abroad study, learning skills, such as soft skill training, freelance work, enterprise and entrepreneurship progression, and competitive examination counselling services and coaching.
Now it indeed is a progressive decision and will be fruitful if done in a manner it has been announced but here also you could sense the need of winning election polls otherwise why would they promote studying abroad and not build or develop state's or for that fact India's education system in a way that people don't go to aboard and work for foreign countries. Why not work in their own country but as it is quite evident that people of Punjab are more inclined towards foreign countries to get settles or study so offering such courses would help the government to get votes other than that competitive exam coaching is without a doubt a great step toward students good education as not everyone can afford coaching and it will help them in right guidance.
And if talk about startups funding and skill development course it is by far the best decision as it will increase the payment and eventually help in the growth of the state. The implementation of this campaign brings a major change in the lives of youth positively.
PRAGTY will be at the state and local level by the Punjab Skill Development Mission, Punjab Ghar Ghar Rozgar and Karobar Mission, C-PYTE, Mai Bhago Armed Forces Preparatory Institute, and Maharaja Ranjit Singh Armed Forces Preparatory Institute under the Employment Generation, Skill Development and Training Department. To guarantee successful service delivery, PRAGTY will be administered at the district level by the District Bureau of Employment and Enterprise (DBEE), which will be overseen and monitored by the responsible Deputy Commissioner.
Noticeably, there are a big number of Punjabi youngsters who are unable to find work for a variety of reasons. Many times, individuals are unaware of available job options, or they may not receive enough counselling and advice. To demonstrate the government's commitment to finding a solution to the problem of unemployment, and in light of the gravity of the situation and the immediate assistance that can be offered to the young unemployed, the current Scheme PRAGTY-2022 has been formulated to provide every possible assistance to the state's jobless people to assist them in finding meaningful employment.
The changes youth of Punjab longing for might be happening soon if things go as per the announcements all we could do is hope for a wise government for Punjab and its growth.
Please follow and like us: