Daughter
Gurjri (Gujari) was born in 1624 at (Jalandhar District) Kartarpur Punjab. She was the her husband Bhai Lai Subhikkhu of Lakhnar, Ambala District and the daughter of her mother Bishan Kaur. until her marriage, Gujri lived in Kartarpur.
Wife
in 1629, Gujri became betrothed at her Kartarpur home village, at about age 6, to Tayg Mall Sodhi, who would one day become Teg Bahadar(Ninth Guru). Tayg Mall was the son of Har Govind (Sixth Guru) and his wife Nankee. After 4 years passed on, at age 9, Gurjri became a wife at about when she wedded Tayg Mall, age 12. The wedding had taken place on February 4, 1633, (Assu 15, 1688 SV). until 1635, Gujri resided in Amritsar with her husband, and then in Bakala until 1664. After Guru Teg Bahadar's formal foundation, they returned to Amritsar and then moved on to Makhoval of Kiratpur to set up Chakk Nanaki, which would one day become Anandpur.
Mother
in the East, Guru Teg Bahadar traveled extensively on a missionary tour. He arranged for Gujri to stay in Patna under the good care of her bro, Kirpal Chand and the Guru's mom Nankee. At age 42, they lodged in the palace of a local Raja where Gujri became a mom when she gave birth to the Gobind Rai(guru's son.) She and her son spent much of their time in Patna and later Lakhnaur often separated from Guru Teg Bahadar whose travels and duties took him from them for an extended timeline. The boys received training in weaponry alongside with his another study.
Widow
on November 24, 1675, Gujri's husband, Guru Teg Bahadar, was martyred in Dheli when on behalf of Hindus, he appealed the Mughal court being by force converted to Islam. A widow at 51, Gujri' became respectfully denoted as Mata Gujri, mom of the Guru, when her 9-year-old son Gobind Rai became succeeded his martyred as (the tenth guru of the Sikhs) father. She arranged marriages of the alliance for her young son and took an active role with her bro Kirpal Chand in leading the Sikhs.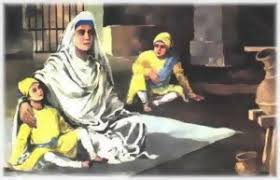 Grandmother
in 1687, Mata Gujar Kaur became a grandmom for the foremost time at age 63 with the birth of Tenth Guru Gobind Singh's elder son. She had taken an active role in raising four grandsons:
• Ajit Singh
• Jujhar Singh
• Zorawar Singh
•           Fateh Singh
Khalsa Initiate
On Vaisakhi of 1699, the tenth Guru developed the Khalsa and became denoted as Guru Gobind Singh. At age 75, during the first Amrit formalities, Gujri received the name Gujar Kaur when initiated along with the Guru's family.
Martyr
during 1705, Mata Gujar Kaur was with her family, for seven months, siege of Anandpur. When Guru Gobind Singh had refused to take away, starving Sikhs turned to his mom hoping to persuade her to leave understanding the Guru would really follow. Influenced by fake promises built by Moghul Emperor Aurangzeb, Mata Gujri was instrumental in making a decision to flee hopeless situations. On the blustery eve of a flight from Anandpur, the 81 year old Mata Gujar Kaur took charge of her two younger grandsons. While crossing the flooded river Sarsa, they became separated from the Guru. A former Servant served her protection but turned dangerous and informed the Mughals of her whereabouts.
on December 8, 1705, Mata Gujar Kaur and the two younger sahibzadas were arrested. They were delayed in an open tower denoted as Thanda Burj meaning "cold tower". They passed on several nights and days without little food and warm clothing. In their faith, Mata Gujar Kaur encouraged her grandsons to remain steadfast. Mughal efforted to convert the boys to Islam failed. On Dec 11, 1705, the two young sahibzade aged 9 and 7 were bricked up alive. They nearly smother, however, the mortar did not set and the bricks gave up way. On December 12, 1705, A.D. the boys heads were cut from their bodies. Mata Gujar she remained outlying in the tower. On learning about her grandsons' brutal fate, she passed out, suffered heart failure, and did not recover.
Later life
During the removal of Anandpur during the Mughal siege of Anandpur in December 1705 or 1704, she was going with by Zorawar Singh and Fateh Singh (young two sons of Guru Gobind Singh) when they became separated from the major group of evacuees while crossing the Sarsa rivulet, as a battle had taken place between Sikh evacuees and pursue Mughal troops. A servant, named Gangu, led Mata Gujri and her two young grandkids to his village named Saheri, situated in the present-day Ropar district. There he deceitfully betrayed them to a local Muslim officer and on 8 Dec, the three were arrested. After this, they were confined to the Thanda Burj (cold tower) situated at the fort of Sirhind. On a similar day as the execution of the young Sahibzades, Mata Gujri died in a cold tower. Seth Todar Mal, whom was a kindly and wealthy local of Sirhind, ashed the three the next day.
Please follow and like us: