10 things you should know: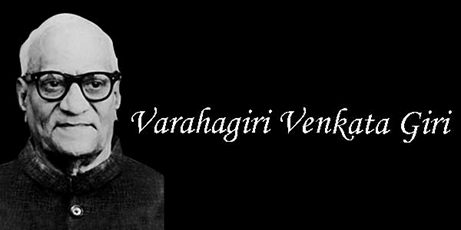 The 4th President of India, V.V. Giri, is celebrating his 126th birth anniversary today. It is a great thing to get to a big position in politics and to reach a dignified position in the country. But when V.V. Giri became the President, he created history. He has been the only President who was elected to the post as an independent candidate. V.V. Giri did a number of work for the upliftment of the laborers during his tenure. 10 things to know on his birth anniversary:
V.V.Giri was born on 10th August, 1894 at Berhampur village in Odisha. His full name is Varahagiri Venkatgiri. His father's name was V.V. Jogya was Pantulu. He was a successful lawyer of India and also an active activist in Indian National Congress politics. Not only that, V.V. Giri's mother was also very active in social and political activities. He had actively participated in the Non-Cooperation and Civil Disobedience Movement. Tell me that V.V. Giri had 14 children.
V.V.Giri was educated at Khalikot College and Utkal University. He had moved to Ireland to study law. He joined a movement while studying. Because of which he had to leave Ireland. However, he then came to Madras and continued his practice of advocacy.
V.V. Giri, who worked for the cooperation and upliftment of the society, joined Gandhiji's non-cooperation movement in 1920. He was imprisoned during this period.
In 1923, V.V. Giri joined the trade unions. He then became the President of the All India Railway Employees Federation. In 1928, Bengal-Nagpur railway organization was established under his net. The non-violent strike in The Netavata of Giri had a profound impact on the government. All the employees were re-recruited in view of the demands.
In 1927,V.V. Giri attended the International Workers' Conference on behalf of Indian workers.
In 1952, V.V. Giri became labour minister for the first time in the Congress government. This was the opportunity for them to lead the workers well during independence.
V.V. Giri had resigned as Labour Minister. Because the Congress government had rejected the demand for salaries of bank employees.
V.V. in 1957 The political journey had come to a halt. He had lost from Parvathipuram Lok Sabha seat in Andhra Pradesh.
He was made acting President after his presidency was vacant following the death of President Zakir Hussain. He became the fourth President of the country in 1969.
V.V. Giri was honored with Bharat Ratna, India's best citizen honour, in 1975 for his contribution and outstanding work. As V.V. Giri worked differently on subjects from labour. Later, an institution was established. In 1995, V.V. Giri National Labour Institute held.
He died in Chennai on June 23, 1980 at the age of 85.
Please follow and like us: