"Harnaaz Sandhu" this name is everywhere after 12th December 2021. Miss Universe 2021 made every Indian proud as after 21 long years India is honored with Miss Universe Title. Everyone wants to know more about Harnaaz Sandhu as she is just 21 years old and this is her charisma and hard work of years that she got this title. In this blog, we will share all the information about Harnaaz Sandhu from where she belongs and how her journey started.
Who is Harnaaz Sandhu?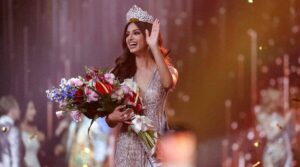 Harnaaz Sandhu represented India in the 70th Miss Universe 2021. Harnaaz was born to a Sikh family whose now residing at Shivalik city Kharar, Punjab, and originally belong to Village Kohala near Gurdaspur. And she shared that when she was born everyone at her home was really happy and had naaz (proud) on their daughter hence, named her Harnaaz which means "God's Pride". She was born on 3rd March 2000 in Punjab. In Susmita Sen's words, she is just 21 and got Miss Universe Title after 21 years for India so she was destined to be the one.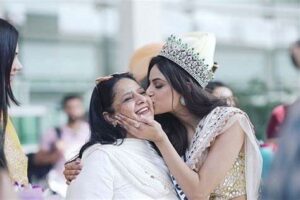 Her family, Father Pritam Singh Sandhu and Mother Dr. Ravinder Kaur Sandhu, as well as her sibling Harnoor Singh, were overjoyed when she was crowned Miss Universe 2021 in Israel. Harnaaz herself mentioned that she was able to do so due to her parents' support and blessing. In an interview they stated that Harnaaz told them the day before Finals that "I will make you Proud" and that is what she did and her win is not just for us but for the whole country and we are elated that our daughter did it at such young age because of her dedication and strong will.
Harnaaz Sandhu's Education
She is in her last year of MA Public Administration at Sector 42's Post-Graduate Government College for Girls. Nisha Aggarwal, the head of the university, was one of those who arrived to honor the parents. Harnaaz was a BA (IT) student at this college as well. She spent six years at Shivalik Public School in Sector 41, where she received an 8 CGPA in her Class 10 exams. Harnoor Sandhu, her older brother, intended to be a judge before she discovered her interest in the pageant. She's also a fantastic cook and a food lover, and she's spiritually awakened and has a strong faith in God, all of which contributed to her receiving such a title.
Harnaaz Sandhu Acting Career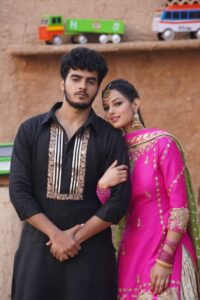 She was based on Chandigarh prior and has acted in Punjabi Films too like "Yaaran Diyan Poo Baran" and "Bai ji Kuttange" Gurpreet Ghuggi who is a renowned actor in Punjabi Film Industry and in both these films her co-actor is  Nanak who is the son of actress Upasana Singh (Kapil Sharma show fame) even both the movies are directed by Upasana Singh and she mentioned that we as a family share a beautiful bond with Harnaaz and she is a very hardworking girl and we are waiting for her to come back so we could celebrate her victory as she made us an entire country proud.
Other Titles won by Harnaaz Sandhu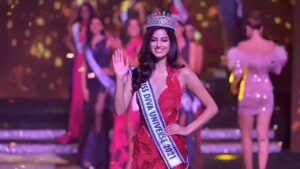 Not just Miss universe Title Harnaaz has also won a few other pageant titles before notably Title of Times Freshface Miss Chandigarh (2017), Miss Chandigarh (2017), Miss Max Emerging Star India (2018), Femina Miss India Punjab (2019) & LIVA Miss Diva Universe (2021) where she represented Chandigarh. Harnaaz was accepted as being one of the top 50 contenders for Miss Diva 2021 on August 16, 2021. She was then announced as being one of the top 20 contestants in the broadcast Miss Diva 2021 competition on August 23. Harnaaz Sandhu was named the winner by former titleholder Adeline Castellino at the end of the competition.
Miss Universe Journey of Harnaaz Sandhu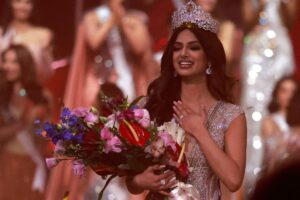 The pageant's 70th season was held in Eilat, Israel, wherein Harnaaz Sandhu the 21-year-old won the prestigious title.
Harnaaz Sandhu has won the 70th Miss Universe 2021 pageant in Eilat, Israel, and has made the entire nation proud. The former queen of Mexico, Andrea Meza, handed over her tiara to the new heir. Harnaaz joined her other finalists on stage to celebrate her victory. "Chak de phatter India, Chak de pattern," Harnaaz exclaimed, expressing joy in the country's victory.
Harnaaz defeated Paraguay, the first runner-up, and South Africa, the second runner-up. "What advice would you give to young women watching on how to deal with the pressures they face today?" the top 3 finalists were asked during the final question round.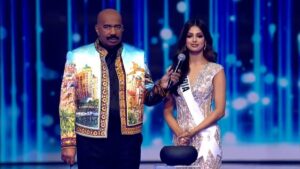 In response, Harnaaz said in her concluding comment, "Well, I believe the greatest pressure on today's youngsters is to believe in oneself. To understand that you are one-of-a-kind and that this is what makes you wonderful. Stop comparing yourself to others and instead focus on the more pressing issues that are affecting the planet. This, I believe, is what you must comprehend. You are the leader of your life, so come out and speak for yourself. You are your person with your voice. I had faith in myself, which is why I am here now. Thank you very much."
India had previously received the prestigious championship twice, with Sushmita Sen winning in 1994 and Lara Dutta winning in 2000. Harnaaz is now a member of this elite group of ladies.
More about Harnaaz Sandhu
She is a passionate supporter of women's rights and looks up to Priyanka Chopra for encouragement. Her hobbies are yoga, dancing, cooking, horseback riding, and chess for free time. Harnaaz is also an environment enthusiast. Miss Diva's panelists were impressed by her views on global warming and environmental conservation. She also holds strong opinions on climate change and global warming. Harnaaz Sandhu will now relocate to New York City, where she might live and work as a representative for many causes alongside the Miss Universe Organization during her reign.
Miss Universe Appreciation across the Nation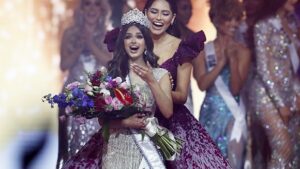 As soon as Harnaaz bagged the prestigious title of Miss Universe Celebrities, Indian citizens and the family of Sandhu started showering her with all the love and blessings. So, let's have a look at what everyone said and what was the reaction of Harnaaz Sandhu.
Susmita Sen's Post: Indian Actress and Miss Universe 1994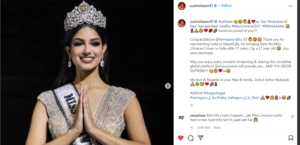 Sushmita Sen had earlier greeted Harnaaz Sandhu on Instagram by posting a photo of her with the tiara. She also expressed her admiration for her and complimented her for "beautifully portraying India." In a heartfelt post on social media, she also expressed her love for her parents and family. She penned, "@harnaazsandhu 03, congrats! Thank you for magnificently representing India and for bringing the Miss Universe Crown back to India after 21 years (you were destined to do so as a 21-year-old). May you savor every moment of learning and sharing that this great global platform @missuniverse offers… MAY YOU REIGN SUPREME!!"
Lara Dutta's Post: Indian Actress and Miss Universe 2000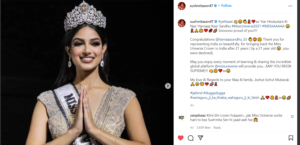 Lara Dutta also celebrated Harnaaz Sandhu'other great achievements by posting a photo of her and wishing her a 'beautiful reign.' "When I spoke to you yesterday, you promised me that 'it will be worth it!!" she wrote, recalling a discussion the two had the day before the finale. YOU ARE WORTH ALL OF YOUR VICTORIOUS GLORY AND MUCH MORE!! You have unwavering faith in yourself and KNEW you were destined for this!!" "You were born in the year I won Miss Universe!!!" she wrote, referring to Harnaaz Sandhu, who was born in the years when she (Lara) won the Miss Universe competition. That's how long we've been waiting for you to return and reclaim the crown for India!! Maybe it was meant to be!! 🤗. I am aware of what awaits you, and I wish you a magnificent reign!! May this be just the beginning of your journey to greater heights! God bless you, and my best wishes to your parents and family! The universe is now your oyster: OUR STAR".
Priyanka Chopra's words: Bollywood/Hollywood Actress and Miss World 2000
"Congratulations @HarnaazSandhu03, bringing the crown home after a 21-year absence!" Along with this note, she shared the video of the crowning moment. Priyanka Chopra is an inspiration of Harnaaz Sandhu so it was great for her to get greeted by Priyanka herself.
Harnaaz's Reaction
Harnaaz expressed her gratitude to former Miss Universe winners Lara Dutta and Sushmita Sen for their support. She stated that she was now "one of them" and that she would now be in charge of encouraging others. As she put it, it was an "unbelievable moment." "It feels out of this world because ladies like Sushmita Sen and Lara Dutta, who have been an inspiration to me throughout my journey, are standing by my side. I'm now one of them, and I'm going to encourage people."
Harnaaz's first post after she titled Miss Universe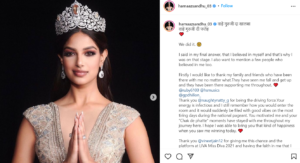 "Wahe Guri Ji Da Khalsa, Wahe Guru Ji Di Fateh," she started her message. "We did it. In my final comment, I said that I believed in myself, which is why I was on that stage. I'd like to thank a few others who believed in me as well "In the caption, Harnaaz stated.
She expressed her gratitude to her family and friends, as well as everyone who "showered me with so much love." Harnaaz also posted her first official Miss Universe pictures with the post.
In an interview, Harnaaz Sandhu discussed what aided her in reaching this extraordinary milestone, saying, "They need to be calm, humble, and grounded has always existed; this is what I've learned from my community, and these are my beliefs. I believe it is critical to keep this momentum, especially when serving your country. You are under a lot of pressure from everyone around you, and you must be at your best. Being calm and grounded is vital to me, and I believe that is the secret to success." Sandhu also discussed how it feels to be showered with praise for her accomplishment. "Before going overseas for the Miss Universe pageant, I told everybody I knew that I would win the title and make everybody proud (Naaz) because my name is Harnaaz, and I hope I did. I believe this is a once-in-a-lifetime opportunity for me."
Given that both Sen and Dutta have had great cinema careers, it's only logical to expect Sandhu to follow in their footsteps. She responded when asked if she had any such intentions, "Everything takes time; it's all about putting in the effort, and I'd want to work in Bollywood or Hollywood. I'm looking forward to that, as well as discussing the difficulties and inequalities in society that I believe we all need to address."
Facts about Harnaaz Sandhu
Harnaaz is already a model, and her Instagram profile reflects her desire to be successful in the Universe. This Punjabi beauty started modeling at an early age and proceeded to win Miss Chandigarh in 2017. She previously received Miss Diva Universe 2021, which qualified her to compete in Miss Universe 2021.
The supermodel has been volunteering at health clinics with her mom for the past couple of years to discuss problems such as menstruation hygiene and women's health. As a result, she is deeply aware of the empowerment and challenges faced by women. Harnaaz Sandhu was inspired by her mother, who is a gynecologist at Sohana Hospital Kharar.
Harnaaz was born and brought up in Punjab, where she studied at Shivalik Public School and thereafter Chandigarh's Post Government College for Girls. Sandhu has a bachelor's degree. She is obtaining a master's degree in public administration at the moment.
Miss Universe 2021 describes herself as a "closet singer" who adores imitating everyone, even animals. Harnaaz also loves composing Punjabi phrases, which she speaks fluently.
Harnaaz is very composed by nature she doesn't overflow herself with emotions and probably this is what keeps her going forward with grace.
She hid her dream of modeling from her father and told about the same after winning her first pageant to which her father reacted in a very polite way and promised her to support and told her that you don't need to hide anything just keep going with your dreams and work hard.
Please follow and like us: