Amritsar is popular for "Golden temple" which is actually called Harmandir sahib. Most divine and holy place of sikh religion this gurudwara is open for everyone Hence, not just sikh's but people from every religion loves visiting this place because of the beauty and peaceful aura of this place. Fact is not just Golden temple but there are many other spots and places in Amritsar which one must visit even the roads of Amritsar are beautiful.
The city has a pleasant and warm vibe that you must experience to really appreciate. Complement that with mouth-watering cuisine and enthralling cultural and religious places. In just a day you can experience a lot in this place also an another unique thing about this place is that it's just 25Km away from Pakistan. In this blog I'll guide you about what places you can visit in Amritsar within 24 hours and experience amazing things.
Best time to visit
Amritsar's weather is rather diverse, with extremely scorching summers and bitterly frigid winters. The seasons of October and November, as well as February and March, are ideal for a visit. December and January too are nice seasons to come if you do not really worry being a little cold. In April, the temperature begins to rise, and in July, the rain storms begin.
Food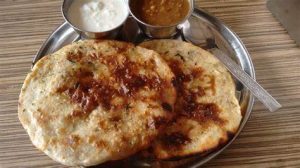 In the religious place of Amritsar, go on a binge-eating spree. Experiencing the city's amazing local delicacies and genuine meals is amongst the most valuable aspects to do in Amritsar once you're there. Even if you aren't an eater, you should taste Amritsari kulcha, tandoori luchas, keema naan, mutton tikka, tandoori chicken, phirni, and kulfa .
Golden Temple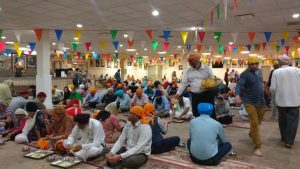 You must visit the Golden Temple whenever in Amritsar, but just don't miss to try Guru Ka Langar, a custom of offering langar that was started by Guru Nanak Dev. You could even assist in the hallowed Golden Temple's kitchens (chopping veggies, washing dishes) or mess hall (serving food) as aspect of this noble service. It's simple but wonderful, and it's a must-try on your trip to Amritsar.
Jallianwala Bagh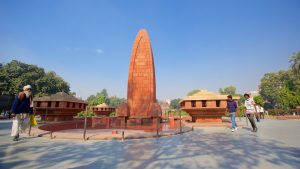 Jallianwala Bagh is a memorial built by the Indian government in 1951 at Jallianwala Bagh to honour the spirit of Indian revolutionaries and those who died in the horrific murder. It continues to inspire patriotism among the youth as a symbol of hardship and sacrifice. The Yaad-e-Jallian Museum, which features an authentic account, was inaugurated in March 2019.
Jallianwala Bagh is a public garden in Amritsar, Punjab, that is historically noteworthy. The memorial was erected to remember the innocent individuals who were slaughtered during the notorious Jallianwala Bagh massacre during British rule. You can literally relive history here and you should visit this place for sure.
Wagah Border Amritsar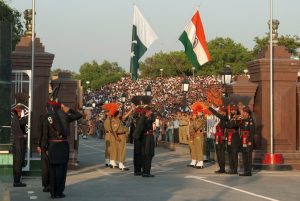 One of the most patriotic place of India as hundreds of people gather to the Wagah border, which separates India and Pakistan, every evening to witness the magnificent changing of guards, which includes the hoisting and lowering of the respective national flags. Both countries' border security forces go through the lengthy process together, culminating in an entertaining ceremony.
Partition Museum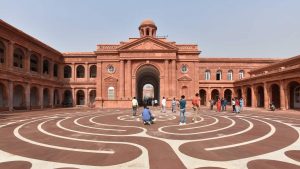 The contemporary Partition Museum in Amritsar is committed to collecting and conserving the experiences of individuals who were touched by India's 1947 partition, which had been imposed as part of the accord that granted India independence. It's one of India's best museums, and it commemorates a pivotal moment in Indian history that had far-reaching implications for global politics.
Fort Gobindgarh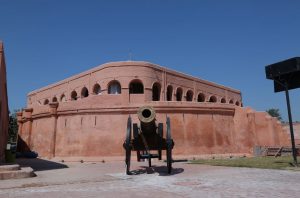 It is located on Amritsar's Old Cantt Maharaja Ranjit Singh's reign was centered on this fort. It once held an armoury and a treasury, and it also has a nearly 300-year history. In 2017, the government reopened the fort to the people. It has been transformed into a cultural centre, complete with a site devoted to the history of Punjab.
Phulkari's Shopping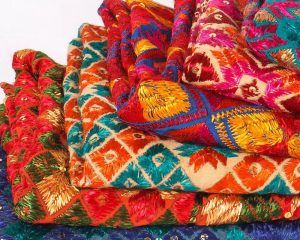 You'll definitely get things which will attract your eye in the local markets of Amritsar.  And for the one's wondering what to do in Amritsar, shopping is a great option. Don't leave Amritsar before purchasing a pair of vibrant phulkari dupattas and a set of stunning Punjabi juttis. This punjabi experience in the town's native bazaars is one of most enjoyable things to do in Amritsar.
For stay you can either book through online sites or can get a room on the spot as well under affordable prices.
Please follow and like us: