January 2022 long weekends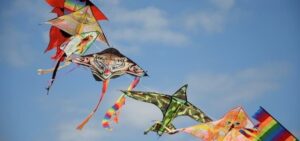 Some days are gone but don't worry. Because a good opportunity awaits you at the end of the month. To turn that opportunity into a holiday, you will need to try to take 2 leaves. See, the 26th (Wednesday) of the national holiday month. The 29th (Saturday) and the 30th (Sunday) are the closing times for the entire week. So, if you take a break on the 27th (Thursday) and the 28th (Friday), you can plan a long 5-day vacation! During this 5-day flight period, here are some suggestions. Ahmedabad for participating in the International Kite Festival, Bikaner to enjoy the Camel Fair or Auli on a ski trip. Srinagar and Kutch are also good options.
February 2022 long weekends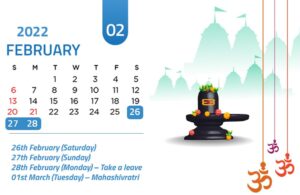 February does not have the scope of a long weekend as we found out in January, but you can plan a shorter weekend trip. Besides, the weather in February is always good in many parts of India, so it would not be a good idea to stop! And when it comes to small February holiday ideas, there is no shortage! Goa, Udaipur, Kodaikanal, Jaisalmer, Jodhpur, Coorg, and Himachal Pradesh, are all beautiful places!
March 2022 long weekends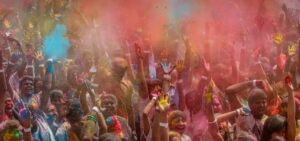 If you combine the last three days of February with the first day of March, you can find the long weekend of March 2022. The 26th and the 27th of February are Saturday and Sunday. And the 1st of March is the Mahashivratri. So, if you take a break on the 28th of February (Monday), you will get a long 4-day vacation. There is another feature of the long weekends. Holi on the 18th of March (Friday) and the weekly break on the 19th (Saturday) and the 20th (Sunday) equals a long 3-day holiday! Are you wondering about the best place to go for a long weekend in March? Visit Vrindavan and Mathura with the festivities of Holi, Ooty, and Sikkim with nature and peace, Ranthambore wildlife exploration, and Hampi historical tour!
April 2022 long weekends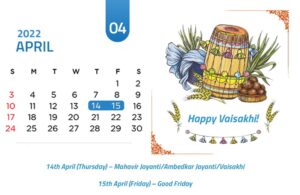 Mahavir Jayanti on the 14th (Thursday), Good Friday on the 15th (Friday) followed by the 16th (Saturday), and the 17th (Sunday). Thank you April for this long weekend and start surpassing these 4-day holiday ideas. A holiday away from the summer heat of Coorg or Jammu and Kashmir, a trip to Kodaikanal, a wildlife trip to Madhya Pradesh's Pench National Park, or Assam's Kaziranga National Park.
May 2022 long weekends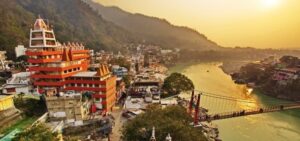 April 30th Saturday and May 1st Sunday. If Eid-ul-Fitr falls on May 3 (Tuesday) as predicted, you can take a break on 2 May (Monday). This will give you a long 4-day vacation. In addition, you will find another long 3-day weekend which includes Saturday 14th Saturday, Sunday 15th, and 16th Buddha Purnima. There are many beautiful places for the long weekend of May 2022. Rishikesh, Mussoorie, Kodaikanal, Kalimpong, Wayanad, and Spiti Valley to name a few.
June 2022 long weekends
Not so lucky, no longer the long weekend of June 2022. Therefore, you can only plan a 2-day trip.
July 2022 long weekends
You get a long 3-day weekend and we say, don't miss out! 1st July (Friday) is Rath Yatra and comes Saturday and Sunday 2nd and 3rd. We are talking about ideas for the July weekend trip. The Puri pilgrimage to witness the great Rath Yatra is highly recommended. Apart from that, Ladakh, Spiti Valley, and Dharamshala are also among the best places to visit in India in July.
August 2022 long weekends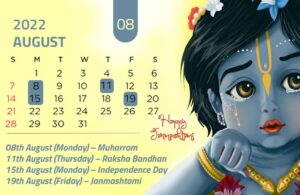 You are about to date in August this year! First, a long 3-day weekend thanks to the 6th (Saturday), 7th (Sunday), and 8th (Muharram). Then, the scope of the long 5-day weekend counting Rakhi on the 11th, carries a break on the 12th (Friday), Saturday the 13th, Sunday the 14th, and Independence Day on the 15th. And finally, another long 3-day weekend with Janmashtami on the 19th and Saturday and Sunday on the 20th and 21st. We will let you dance enthusiastically and list places you can visit. Coonoor, Cherrapunji, Mount Abu, and Ladakh. But for the Janmashtami celebration again, to get a budget for the escape weekend, Vrindavan should be your destination.
September 2022 long weekends
If you take a leave of absence on September 9, you may be able to arrange your trip. Because September 8th is Onam and September 10th and 11th are Saturday and Sunday. And on that trip, here are some of the best places. A trip to explore the Nainital lakes or a trip to witness the royal oasis in Bundi or a camping trip to Ziro.
October 2022 long weekends
5 October (Wednesday) by Dussehra. And if you can take a break on the 6th (Thursday) and the 7th (Friday), you can have an extended weekend from 8 and 9 to Saturday and Sunday. We see another feature of the long weekend. Saturday the 22nd and Sunday the 23rd followed by Diwali on the 24th! We know you are happy. So, here are the places to check out in October. Kolkata celebrates Durga Puja which is really good news for you can see. Or visit Varanasi for Diwali celebrations.
November 2022 long weekends
November can give you a long 4-day weekend. Size! 3 and 4 November on Saturday and Sunday. And Guru Nanaka Jayanti fell on November 6th. If you can take a break on November 5th, you will be ready to go! According to Guru Nanak Jayanti, a visit to the Golden Temple in Amritsar would be a good idea. Visiting the Pushkar Fair, enjoying the nightlife of Goa, and seeing the snow-capped mountains of Manali are also fascinating.
December 2022 long weekends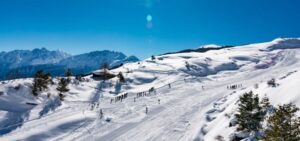 December is a great month to travel. But this year, December does not bring long weekends. But, you can take a day or two for a walking tour. Because there are so many places to visit in December. Shimla, Sonmarg, Auli, Manali, Pondicherry, Chopta, Jaipur, and Munnar, the list goes on!
Therefore, the long weekend trip of 2022 is included. We know you may need to take a few days off. Thus, you can get some work done in advance and you will be screened. On that note, we wish you a year full of many memorable trips!
Please follow and like us: