Guru Tegh Bahadur (Punjabi: (Gurmukhi); Punjabi pronunciation: [gu te bad]; 1 April 1621 – 11 November 1675) was a Punjabi Guru. Was the ninth of ten Gurus who founded the Sikh religion and the Sikh leader from 1665 till his execution in 1675. He was the youngest son of Guru Hargobind, the sixth Sikh guru, and was born in Amritsar, Punjab, India in 1621. He was a renowned spiritual scholar and poet whose 115 poems are included in Sri Guru Granth Sahib, Sikhism's fundamental book. He was considered a principled and fierce warrior.
Aurangzeb, the sixth Mughal emperor, had Guru Tegh Bahadur killed in Delhi, India. Gurudwara Sis Ganj Sahib and Gurdwara Rakab Ganj Sahib in Delhi are Sikh sacred sites that commemorate Guru Tegh Bahadur's execution and funeral. Every year on November 24, his martyrdom is commemorated as the Shaheedi Divas of Guru Tegh Bahadur.
Guru Tegh Bahadur was the sixth guru's youngest son. Guru Hargobind had one daughter, Bibi Viro, and five sons: Baba Gurditta, Suraj Mal, Ani Rai, Atal Rai, and Tyaga Mal. Tyaga Mal was born in the early hours of April 1, 1621, in Amritsar. He was granted the moniker Tegh Bahadur (Mighty of the Sword) by Guru Hargobind after demonstrating his heroism in a battle against the Mughals.
Amritsar was the Sikh faith's center at the time. As the seat of the Sikh Gurus, and with links to Sikhs throughout the country via Masands or missionaries, it had taken on the qualities of a state capital.
Guru Tegh Bahadur was raised in the Sikh tradition and was schooled in archery and horseback. He was also taught ancient texts such as the Vedas, Upanishads, and Puranas. Tegh Bahadur married Mata Gujri on February 3, 1632.
Bakala is a great place to stay.
Guru Hargobind and his wife Nanaki, along with Tegh Bahadur and Mata Gujri, relocated to his ancestral village of Bakala in the Amritsar district in the 1640s, as he neared death. According to Gurbilas Dasvin Patshahi, Bakala was an affluent town with numerous magnificent ponds, wells, and baolis at the time. Tegh Bahadur remained to reside at Bakala with his wife and mother after Guru Hargobind's death.
The Guru's Journey
Guru Har Krishan contracted smallpox in March 1664. When his supporters inquired who will lead them after him, he replied, Baba Bakala, implying that his successor could be found in Bakala. Taking advantage of the ambiguity in the dying Guru's statements, many placed themselves in Bakala, claiming to be the new Guru. Sikhs were perplexed by a large number of claims.
There is a tale in the Sikh tradition about how Tegh Bahadur was chosen as the ninth guru. Baba Makhan Shah Labana, a wealthy trader, reportedly prayed for his life and vowed to give the Sikh Guru 500 gold coins if he lived. He came to look for the ninth Guru. He went from claimant to claimant, making his obeisance and offering two gold coins to each Guru, assuming that the correct guru would be aware of his secret pledge to gift 500 coins for his safety. Every "guru" he met accepted the two gold coins and said goodbye. Then he realized that Tegh Bahadur lived in Bakala as too. Tegh Bahadur received the standard offering of two gold coins from Labana. Tegh Bahadur blessed him and noted that his donation fell well short of the promised five hundred. Makhan Shah Labana immediately made amends and ran upstairs. He began shouting from the rooftop, "Guru ladho re, Guru ladho re" meaning "I have discovered the Guru, I have found the Guru".
A Sikh Sangat landed at Bakala in August 1664 and appointed Tegh Bahadur as the ninth guru of the Sikhs. The Sangat was commanded by Diwan Durga Mal, Guru Tegh Bahadur's elder brother, who conferred Guruship on Him.
Guru Tegh Bahadur was flanked by armed bodyguards, as had been the habit among Sikhs since the killing of Guru Arjan by Mughal Emperor Jahangir. He had a frugal existence.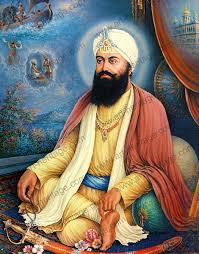 Works Guru Tegh Bahadur contributed several hymns to the Guru Granth Sahib, including the Shloks, or couplets near the end. Gobind Sahali ordered Guru Tegh Bahadur to build multiple Sikh temples at Mahali after he toured the Mughal Empire. His works include 116 shabads and 15 ragas, and his bhagats are credited with 782 bani creations in Sikhism. His works can be found in the Guru Granth Sahib (pages 219–1427). They address a wide range of issues, including God's nature, human attachments, the body, mind, sorrow, dignity, service, death, and deliverance.
Memorials and legacies
Rakab Ganj Sahib Gurdwara, Delhi
Guru Tegh Bahadur's father was Guru Har Gobind. He was first known as Tyag Mal (Punjabi: ) but was later called Tegh Bahadur in recognition of his heroism and bravery in the conflicts against Mughal armies. He erected Anandpur Sahib and was responsible for the rescue of a group of Kashmiri Pandits who were being oppressed by the Mughals.
Following Tegh Bahadur's execution by Mughal Emperor Aurangzeb, several Sikh shrines were built in his and his associates' honour. The Gurdwara Sis Ganj Sahib at Delhi's Chandni Chowk was built on the site of his beheading. Gurdwara Rakab Ganj Sahib, located in Delhi, is built on the location of a disciple of Tegh Bahadur's house, who burned his house to cremate his master's body.
Please follow and like us: