Mussoorie, based in Uttarakhand's Dehradun province, is well-known for its pleasant environment, which draws millions of visitors each year. It is one of the few spots on Indian land where the traces of the British era can still be visible. This isn't the only thing that stands out about this location. Visiting temples, with their tales and legends and religious practices, adds to the atmosphere. That's made even better by the abundance of picnic spots in the middle of nowhere. Summer is the greatest time to visit Mussoorie since it provides relief from the sweltering heat. If you want a more private vacation, go during the winter months to see the snowfall.
Here's we have listed best 25 places to visit near Mussoorie:
Surkhanda Devi Temple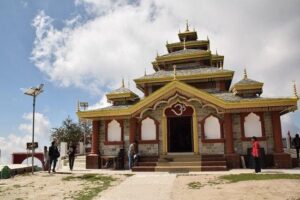 Surkanda Devi Temple is located 2 kilometers from the village of Kaddukhal. The vista from the shrine is mesmerizing, making it a trekker's dream. As per mythology, as Lord Vishnu was demolishing Sati's corporeal self and Lord Shiva was performing tandav, Sati's head dropped on this spot, which is why the temple is known as the Shri Surkanda Devi Temple. Shakti Peeths are the names given to these locations. The shrine is among India's most well-known Shakti Peeths.
Lakha Mandal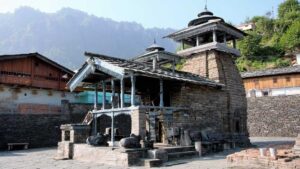 Lakhamandal is a well-known temple in the Chakrata region. Lord Shiva is the temple's deity. Several temple ruins can still be found on the Lakhamandal grounds. The Shivling is constructed of graphite, which gleams when water is poured on it. Idols discovered in this village during Archeological Survey of India excavations are now attracting Shakti and Shiva devotees as well as historians interested in antiquities. It's at least 80 kilometers away.
Landour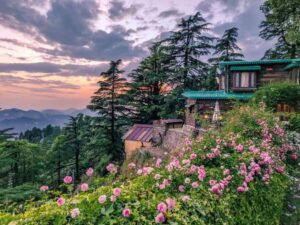 Landour is a picturesque town in Uttarakhand situated along the lower western Himalayas, hidden among a canopy of lush Deodar trees. It is a little cantonment town that, curiously, takes its title from the Welsh settlement of Llanddowrer and is rich in history dating back to the British period. Landour's intimate location and immaculate natural beauty emit a soothingly cheerful aura that is great for recharging one's senses.
Top Tibba Trek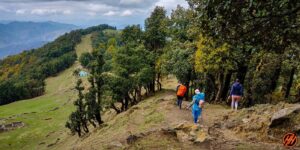 If executed right, the Top Tibba Day Hike is truly one of the best daytime hikes in Mussoorie. Top Tibba (peak) is the highest peak in the Mussoorie area, rising to around 8,500 feet above sea level.
Apart from providing stunning views of the snow-capped Himalayan peaks from the summit, Top Tibba also provides panoramic vistas of the entire valley down.
Kempty Falls
Kempty Falls is one of Mussoorie's most popular tourist attractions. Among the many Mussoorie tourist attractions, it is without a doubt the most popular. Its elevation of 1,364 meters allows tourists to take in the magnificent views of the hill station and the natural splendors everywhere throughout them. The waterfall's melodic noise is produced from afar, and once there, one is just enchanted by the tranquil sceneries on their Mussoorie scenic drive.
Lal Tibba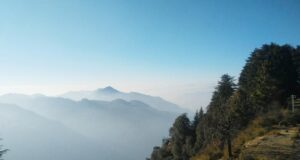 Lal Tibba, which is also a popular viewpoint and is located on the highest point of Depot Hill in Landour, about 6 kilometers from Mussoorie. Lal Tibba is amongst the most beautiful overlooks in the region, having been voted the best point on the planet.
Lal Tibba offers spectacular views of Badrinath's Nilkantha summit, Kedarnath's top, and the Bandarpoonch group of three peaks, the largest of which rises to 6,316 meters. It's also a popular spot for sunrise and sunset.
George Everest House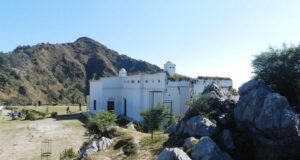 The remnants of Sir George Everest's mansion and laboratory, which he used as Surveyor-General of India from 1830 to 1843, can be found at Park Estate. On one side, there is a view of Doon Valley, and on the other, there is a spectacular view of the Aglar River valley and the Himalayan hills. This house is being converted into a museum by the department of tourism.
Mall Road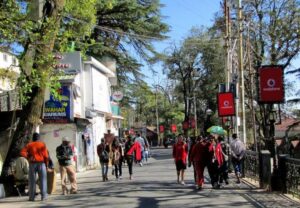 It is Mussoorie's main retail district. Mall Road, which runs through the heart of the city, connects the two bazaars of Kulri bazaar and Library Chowk. Various businesses selling it all from winter apparel and toys to gifts and souvenirs can be found.
Gun Hills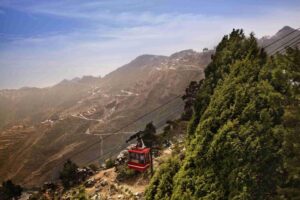 Gun Hill is Mussoorie's 2nd highest hill and a popular tourist site. It provides a scenic perspective of Mussoorie town and the Doon Valley, as well as an enticing vista of a few of the highest Himalayan ranges, including Bunderpunch, Srikantha, Pithwara, and the Gangotri group.
Jaspal Rana Shooting Range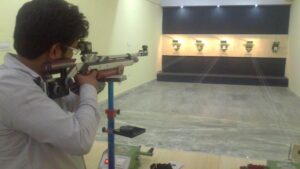 When Olympian Jaspal Rana won a medal, it spurred young people to want to be shooters like him, if not better, and thus this location was born.
Municipal Garden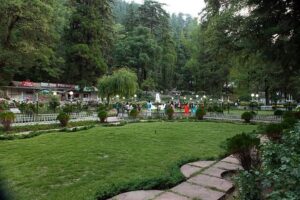 The garden, which is part of Happy Valley, is a popular spot for tourists to enjoy with their families. A waterfall, lake, gardens and a fountain add to the overall attractiveness.
Cloud's End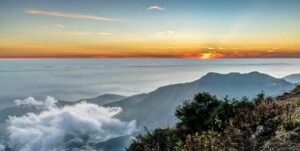 The point, which marks the geographical endpoint of Mussoorie, serves as a superb vantage point for the beauties that this hill station has to boast.
Tiger View Jungle Camp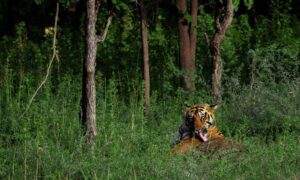 Google Khalla village is an excellent spot for adventure seekers. Camping and jungle excursions are excellent methods to learn about the natural world.
Bhatta Falls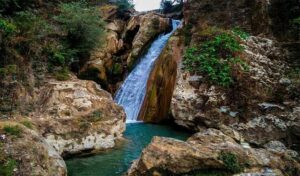 Bhatta Falls is a stunning and natural waterfall nestled in a tranquil setting. It's around 8 kilometers from Mussoorie on the Mussoorie-Dehradun road, and it contains several swimming ponds.
Camel's Back Road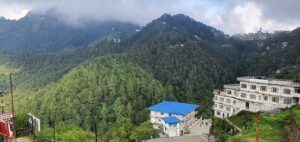 It is good for strolling and provides stunning views of the Himalayas at sunset. From this vantage point, you may view a magnificent rock structure that resembles a sitting camel.
Lake Mist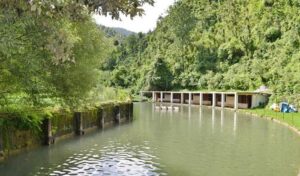 The pure Lake Mist is one of Mussoorie's most gorgeous attractions. The emerald waters are surrounded by natural forest terrains, giving the entire scene a magnificent appearance, making it ideal for relaxing with family and friends.
Shedup Choepelling Temple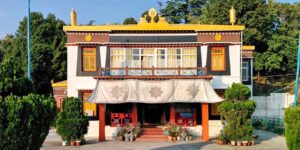 The Shed Choepelling Temple is situated within the busyness of Happy Valley's cultural center. The temple is ornamented with murals, prayer wheels, and meditative chambers and is located about 2.5 kilometers from the Company Garden on the valley's tallest peak.
Dhanaulti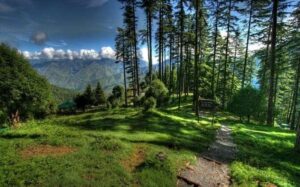 Dhanaulti is one of Mussoorie's most attractive tourist destinations. Visitors come here for the stunning vistas of the mighty Himalayas. In addition, the area is free of the tourist crowds that may be seen in Mussoorie.
Bhadraj Temple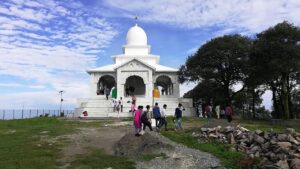 This magnificent temple in Mussoorie is considered sacred Balbhadra, Lord Krishna's brother, and is one of the most serene spots to visit in Mussoorie. The Chakrata mountains, Doon Valley, and Jaunsar Bawar region are all visible from the temple. Trekking is also a popular pastime among visitors.
Jharipani Falls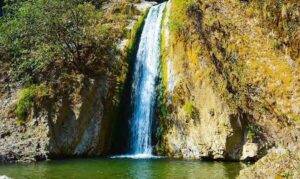 The Jharipani Falls is 6 kilometers downhill from Mussoorie and may be reached in 30 minutes on foot. The properties of Jharipani are densely packed with Mussoorie's prominent boarding schools, including St George's, Wynberg Allen, and Oakgrove.
River Aglar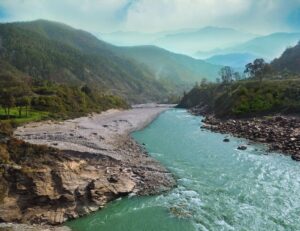 In freshwater, there are numerous options for fishing. Trout, Maund, and Mahseer fish are popular in the hill station. The Aglar River would give you plenty of trout fishing possibilities. However, you must first obtain licenses from the Mussoorie Divisional Forest Officer.
Soham Heritage & Art Centre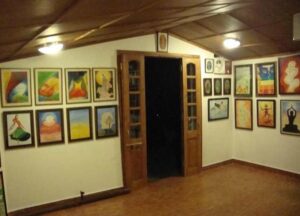 Soham Legacy & Art Centre, located on Mussoorie's Chamunda Peeth Temple Road, is a venue where visitors may learn about the Himalayan rich heritage. Paintings, murals, and scrap art reflect the unique culture of the Himalayas.
Kellog Memorial Church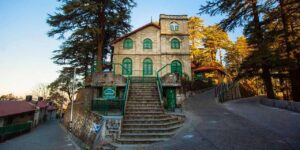 Kellogg Memorial Church is a must-see attraction in Mussoorie. This church's structure is in the Presbyterian architectural style, but it is one of Mussoorie's historic landmarks. This edifice, named after the eminent scholar Dr. Samuel H Kellogg, was once a place where Britishers could learn Hindi.
Library Bazaar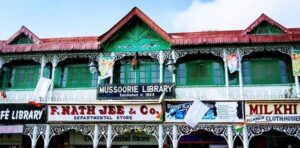 The library is on Mall Road, which is lined with hip cafés and restaurants where you may enjoy a delectable dinner. The library and market have a colonial vibe to them, which you may see on your visit.
Sister's Bazaar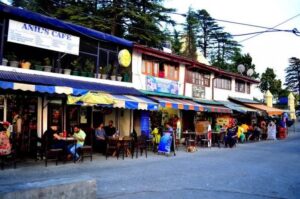 The Sister's Bazaar is one of Mussoorie's most famous tourist attractions, and it's ideal for shopaholics. It is a well-known and historic market that sells both traditional and modern goods. Aside from that, you can also have some basic cuisine.
Please follow and like us: