Destination Wedding : Top 15 Best Wedding Destination in India
If you are one of those people who believe in loud wedding that everyone and especially you and your partner will remember forever then definitely destination wedding is what you need as not just you but your entire family will cherish such wedding.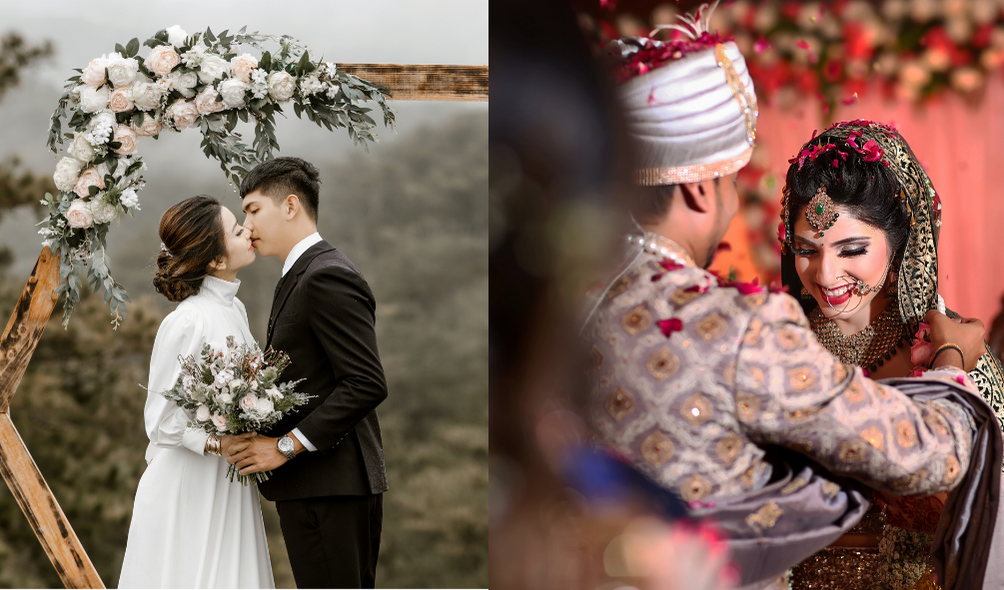 But, Destination wedding is something which requires lots of preparations and first on the list comes to decide a place of destination wedding well you've cleared first step in right direction by clicking this blog as we have shortlisted the best 15 wedding destination and hopefully it will help you to finalize the place which will suit your requirements.
You just need to make up your mind if you want royal wedding or fun wedding or what exactly because this way it'll be easy for you to finalize let's see which locations are best for destination wedding.  
1. Andaman and Nicobar Island
Andaman and Nicobar Islands is located in India's Bay of Bengal. The location is really stunning, and it is surrounded by breathtaking natural scenery. As a result of the amazing atmosphere, couples are choosing this region as their wedding destination.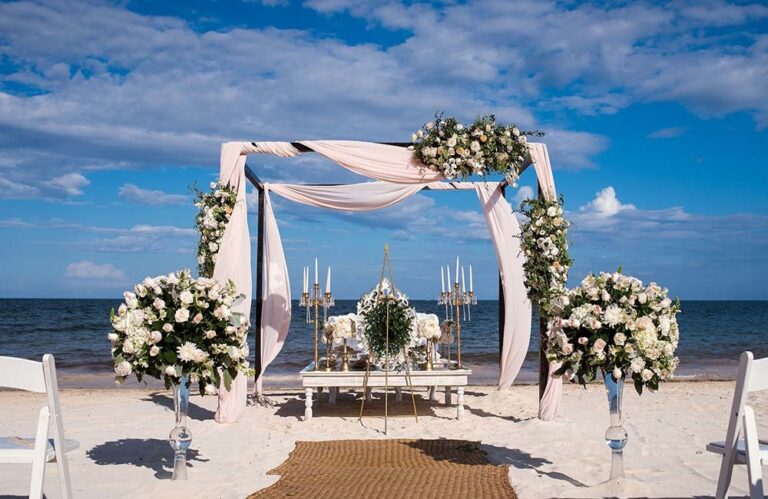 These islands' relaxing and pleasant temperature is ideal for a romantic break. The coconut trees that line the beaches of these islands offer a splash of colour to your wedding journey. The Ross or Havelock Islands are ideal locations for a wedding.
Near-desert beaches and wedding sites, as well as the surrounding area, which is rich in amazing coral reefs and stunning marine life, may make your wedding truly unforgettable.
2. Shimla Hill Station
Shimla is a fantastic year-round destination for destination weddings because of its beautiful natural setting. Shimla, surrounded by towering deodars and beautiful green pastures, is one of the most popular wedding destinations in the Himalayas. Shimla is the ideal venue for your fantasy wedding because of its pleasant environment, natural fragrances, and fresh mountain breezes.
In Shimla, there are numerous resorts that host lavish wedding festivities. If you are preparing a wedding feast, you should employ a wedding planner since they will guide you appropriately and have a lot of experience in organising everything.
Shimla is a romantic wedding destination where the couple can exchange vows while taking in a breathtaking panoramic vista of the Himalayas. The wedded couple can be assured that their guests will be captivated by the elegant and crisp feeling of the wedding event because of the city's ideal mountain and forest backdrop. Shimla adds a royal touch of nature to your wedding.
3. Jodhpur Royal Wedding
Getting married in Jodhpur will provide you with a treasure trove of memories that you will remember for the rest of your life. A destination wedding in Jodhpur will allow you to enjoy the most important day of your life at stunning sites in the centre of the Thar desert.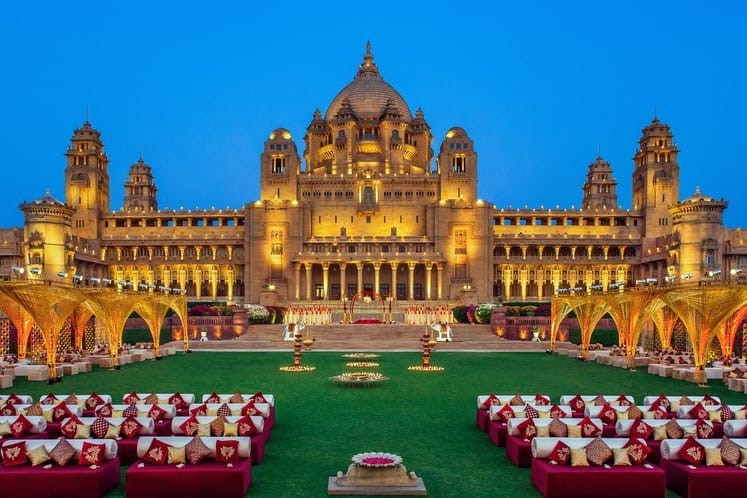 Since Priyanka Chopra married Nick Jonas at Umaid Bhawan Palace, Jodhpur has become one of the most popular wedding venues in India. We couldn't stop talking about their wedding photos with the opulent setting. If you have the financial means to arrange a lavish wedding, Jodhpur is the ideal option.
It's a charming city with a strong feeling of history and tradition. You'll come across a number of charming locations that are notable for their architectural splendour. Jodhpur's amazing buildings, gardens, and temples would easily satisfy your wish for a theme-based wedding or a traditional Indian wedding.
4. Goa – Beach Wedding
Goa is a kaleidoscope of Indian and Portuguese influences. It is one of India's tiniest cities. Despite this, it possesses everything that would lead one to declare it a paradise on Earth. When it comes to a beach-themed destination wedding, Goa has to be on the top.
Weddings in Goa provide you the opportunity to live out your fantasies. Nothing compares to the thrill of fairytale weddings set against the backdrop of dazzling blue ocean flanked by beaches. Getting married in such exotic settings like Goa is a once-in-a-lifetime experience that cannot be matched by any other destination. Goa is regarded as one of the most romantic wedding destinations in the world.
As you dance your way across the sangeet, you can hear the sea's soundwaves. We're also talking about stunning mandaps on white-sand beaches.
5. Jaipur
For royal weddings, Jaipur is a perennial choice among Indian wedding destinations. In the pink city, you'll find the most lavish wedding locations. Traditional weddings are the best fit.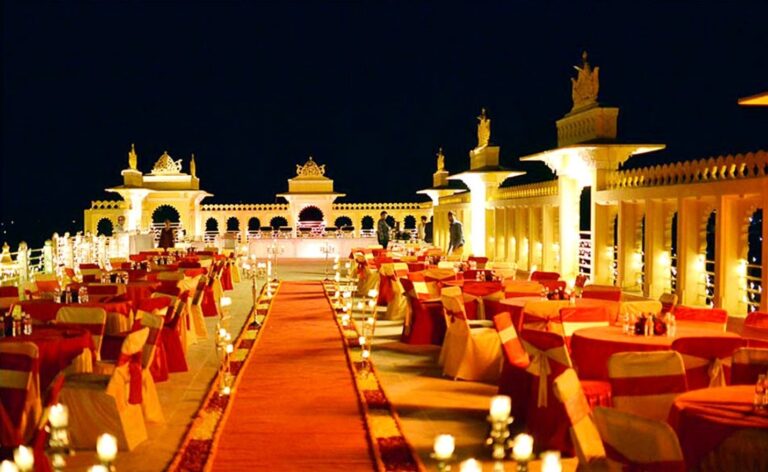 Another popular wedding venue in India is the pink city. With its rich history and natural beauty, this city is well-known for lavish wedding parties held in palaces and houses. The city itself offers a diverse range of celebratory ideas and venue options, including palaces such as Raj Palace, Gold Palace, and Samode Palace.
The palaces, together with the surrounding mountains, would make for such gorgeous backdrops that you wouldn't have to do much to make your fantasies come true! Here you'll find a variety of ideal places, including cottages and rooms.
6. Agra
Agra is home to the Taj Mahal, a symbol of love, and is thus an excellent choice for couples looking to make their wedding legendary. Agra is certainly a fantastic place for a wedding, being one of India's most visited tourist destinations and home to one of the Seven Wonders of the World. This city exemplifies the unending affection that characterises the most intimate relationships.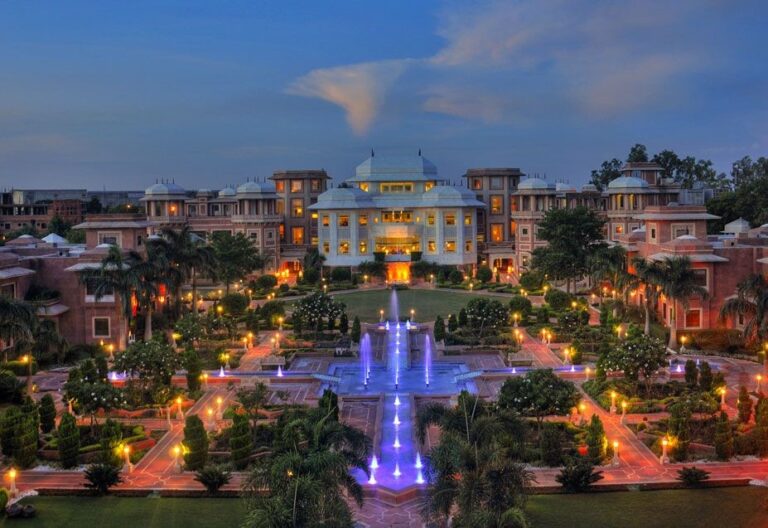 This city of love is ideal for an elegant and royal wedding event. Couples love to tie the knot in this historical location because of its exotic and pleasant atmosphere, which allows them to remember and enjoy this special moment for a lifetime. There are numerous wedding locations in Agra that are well-known for hosting royal wedding celebrations.
Numerous people hold their wedding ceremonies in this city, which offers many massive hotels and resorts with views of the Taj Mahal. Agra, enthralled by Mughal and Brij culture, provides an intriguing and delightful atmosphere.
7. Rishikesh
Head to Rishikesh for a riverbank wedding; the city boasts a vibrant blend of energy ranging from spirituality to hippy culture, making it a fascinating wedding venue in India. It's ideal for a low-budget wedding or a little private gathering.
Rishikesh is a stunning and ideal location for all of these wedding themes. Rishikesh is a wonderful location for both economical and luxurious weddings.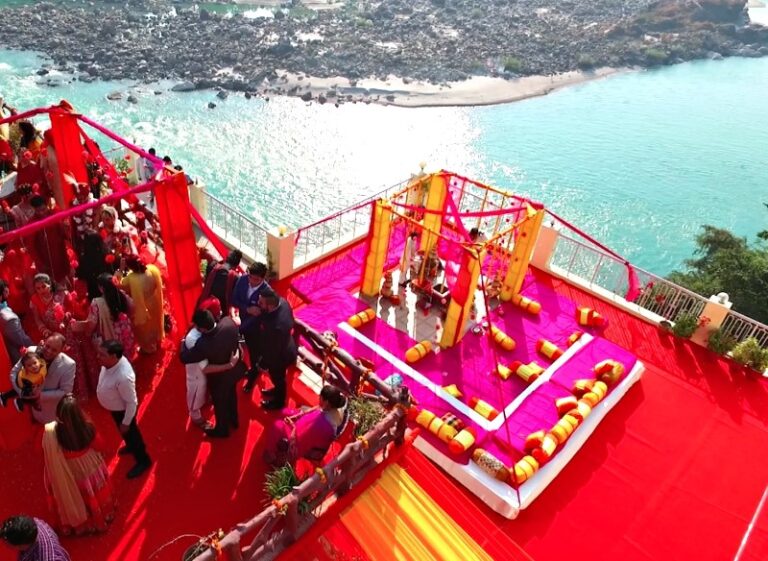 Temple weddings, beach weddings, and forest weddings are just a few of the theme wedding options available in Rishikesh. In Rishikesh, there are numerous wedding venues for luxurious weddings, royal weddings, and simple marriages. Rishikesh has everything you need to make your wedding reception a success.
8. Udaipur
Udaipur, also known as the "City of Lakes," is home to some of India's most beautiful resort complexes that overlook bodies of water. It is sometimes likened to Venice, and its beauty and Rajasthani warmth will captivate you.
Udaipur, Rajasthan's most romantic and beautiful city, is absolutely perfect for a traditional Indian wedding and is one of the most well-known Indian wedding destinations. The lovely city is home to magnificent palace buildings that have been created in a modern style. The Leela, The Taj Lake Palace, and The Trident are just a few of the best places to spend your money.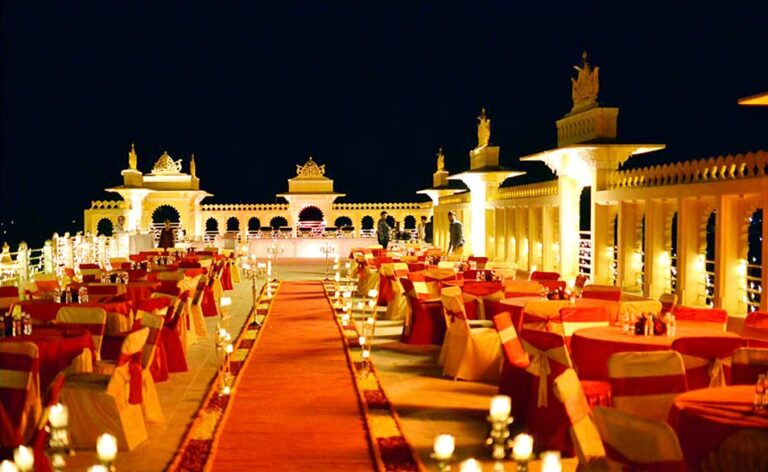 This city's architecture wonderfully balances modernity and history, providing the ideal setting for your dream wedding. Choose from exotic fort sites such as Devi Garh, Manek Chowk, Oberoi Udaivilas and many others.
9. Kerala
With its immense natural beauty, God's own nation is a wonderful location for a wedding away from home. It has a beautiful beach where a loving wedding might be held. You can hold your wedding ceremony at Varkala or Kovalam, among the strewn tea gardens of Munnar, or in the history architecture of Kochi fort, since these locations all provide stunning vistas that will last a lifetime.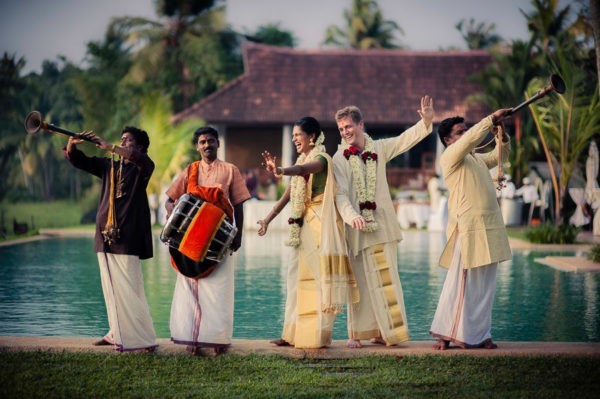 Nothing says luxury quite like a laid-back wedding amid Kerela's backwaters. On your wedding day, celebrate your dream wedding among the lovely blues and lush greens with your closest friends and family.
If you and your partner are adventurous, an underwater wedding at Grove Beach can be a good option.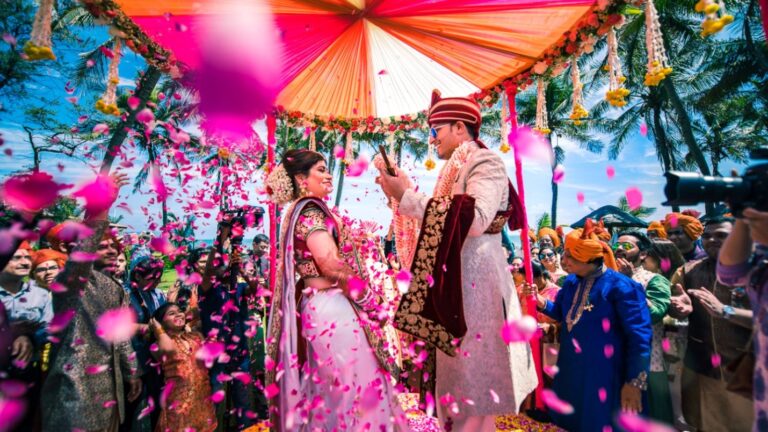 Mahabalipuram is ideal for a glitzy seaside wedding. It's one of the best wedding locations in the south, with so many beautiful resorts right on the beach that you can literally choose whatever suits you and your budget. Mahabalipuram is notably recommended for its awe-inspiring natural decor.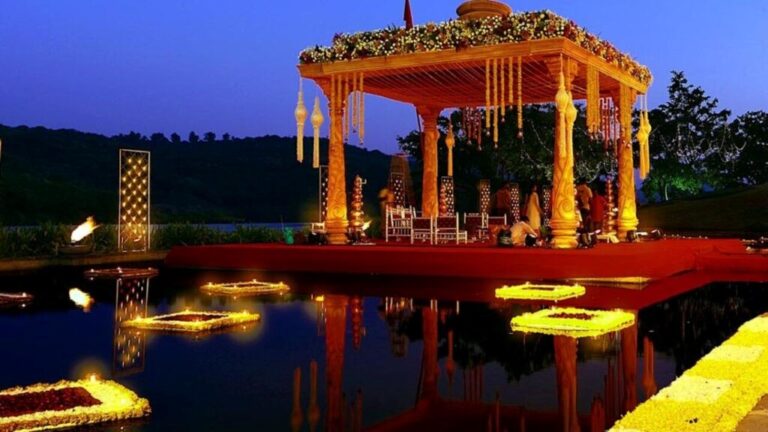 Mahabalipuram is ideal for a glitzy seaside wedding. It's one of the best wedding locations in the south, with so many beautiful resorts right on the beach that you can literally choose whatever suits you and your budget. Mahabalipuram is notably recommended for its awe-inspiring natural decor.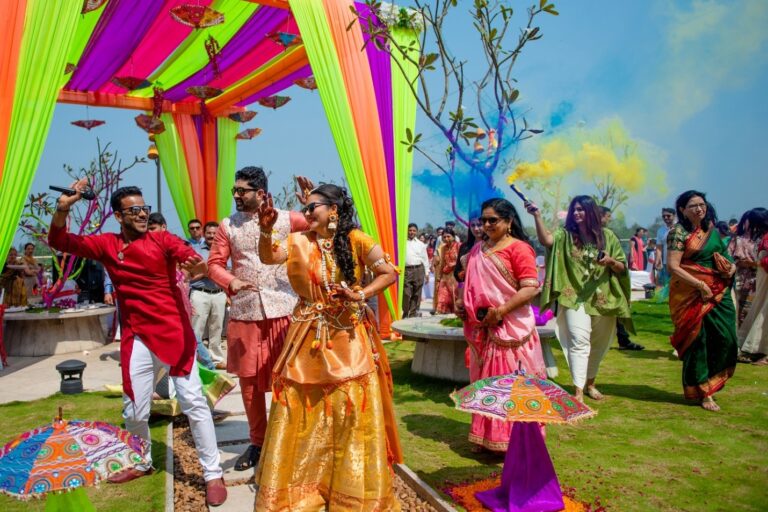 Gujarat is unquestionably a popular location for hosting great royal weddings due to the numerous stunning palaces (Forts) that provide a lovely and royal environment. In these spectacular palaces and forts in Gujarat, romantic weddings are also considered. Gujarat has a diverse range of hotels and palaces, from royal wedding venues to modern ones.
Jaisalmer is a city in Rajasthan that provides ultimate weddings for couples to make their special day lovely and unforgettable. Huge courtyards surrounded by fort walls, candle-lit cobblestone walks, dazzling mandaps, and Rajasthani folk music are just some of the things you'll encounter here.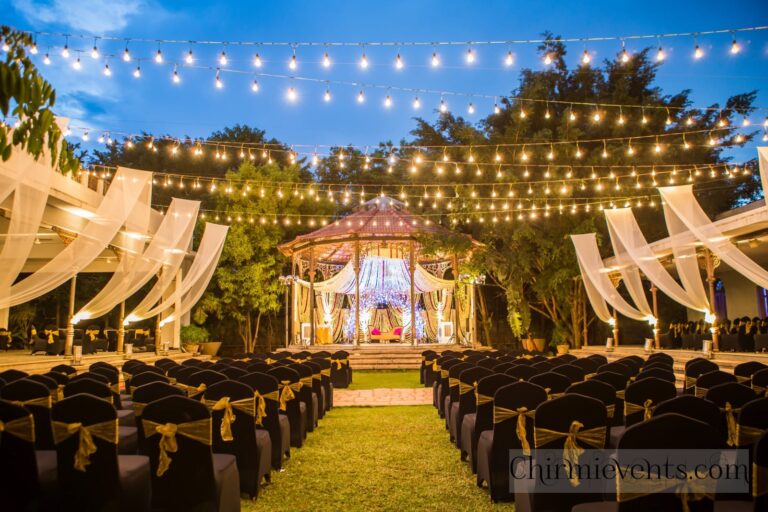 The Palace Ground is regarded as one of Bangalore's most prestigious wedding venues. It's one of the city's most elegant settings, perfect for a regal wedding with a touch of luxury. This palace has well-kept gardens, a Durbar Hall, and a ballroom where extravagant wedding ceremonies are held.
So there you have it, our top 15 wedding destinations in India. Each of the places listed above is spectacular in its own right. Make sure you choose properly while arranging your destination wedding, taking in mind your guest list and budget as well.
Navigate to this 
page
for more details about this new blog.
Please follow & Share us 🙂
Please follow and like us: